Scientists note that, contrary to popular belief, we know extremely little about shark nutrition.
A team of scientists from several universities in the United States conducted the first detailed analysis of shark intestines. The resulting 3D images amazed the researchers – they show that the shark's intestines function exactly like the one-way valve invented by Nikola Tesla.
---
Shark intestines function like the Tesla valve
Experts know little about what sharks eat, and even less about how they digest food and what role they play in the ocean ecosystem. The new study was designed to reveal at least some of these mysteries.
Surprisingly, until now there have been only "sketches" illustrating the digestive system of sharks. Perhaps for the first time, advanced technologies were used to study this issue. The researchers performed a series of high-resolution 3D scans. They obtained detailed 3D images of the intestines of nearly three dozen shark species.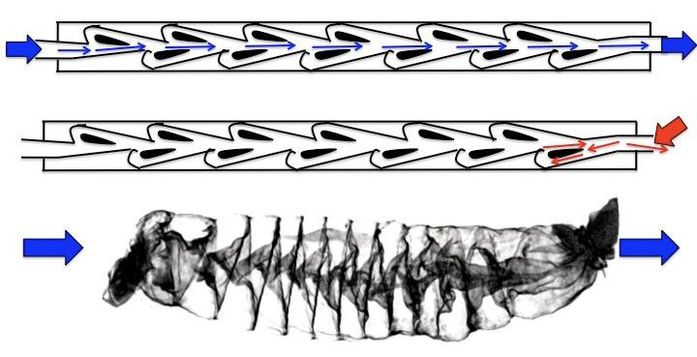 The researchers used a CT scanner from Friday Harbor Laboratories to create three-dimensional images. First, a series of X-rays were taken from different angles, and then the images were combined using a computer. This allowed us to obtain high-quality 3D images and reveal several new aspects of the functioning of the shark's intestine.
Scientists have found that shark's spiraling digestive organs slow down the movement of food and direct it down the intestines, relying on gravity in addition to peristalsis, the rhythmic contraction of the intestinal smooth muscles.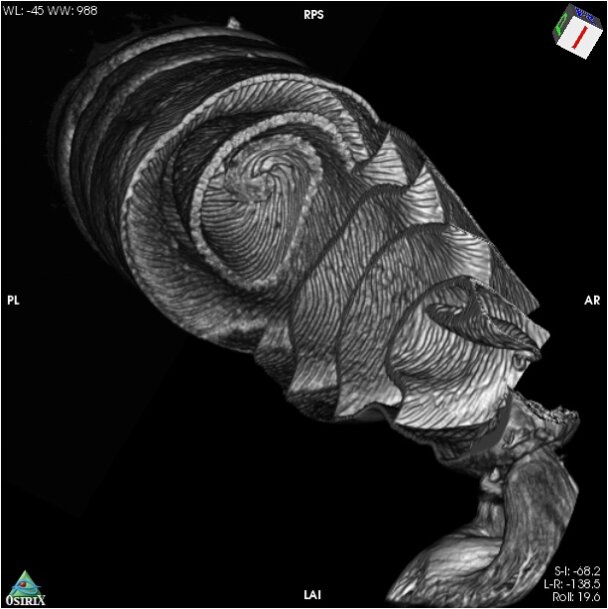 This function turned out to be analogous to the one-way valve that the famous physicist Nikola Tesla invented over a century ago. This valve allows fluid to flow in one direction without backflow and assistance from any moving parts.
According to Lee, most sharks usually spend days or even weeks between large meals. Probably, their digestive tract is also tuned to this cycle. Like Nikola Tesla's valve, their intestines are able to retain food in the body and absorb as many nutrients as possible for a long time.
The slow movement of food through the intestine, provided by its spiral device, probably allows sharks not only to retain food for as long as possible but also to consume as little energy as possible to digest it.
Scientists now have more plans to continue their studies. They intend to use 3D printers to reproduce different intestines for further testing. The team even believes that their functions can be used for industrial applications and hope that engineers would notice it as well.
If you want to know more about the famous Tesla valve, we have a separate article describing the latest discoveries about the incredible invention.
---
Join the discussion and participate in awesome giveaways in our mobile Telegram group. Join Curiosmos on Telegram Today. t.me/Curiosmos
---
Sources:
• Berman, R. (2021, July 27). CT scans of shark Intestines find Nikola Tesla's one-way valve. Big Think.
• Fox, A. (2021, July 29). Sharks' intestines Spiral like a Valve invented by Nikola Tesla. Smithsonian.com.
• Leigh, S. C., Summers, A. P., Hoffmann, S. L., & German, D. P. (2021, July 21). Shark spiral intestines may operate as Tesla valves. Proceedings of the Royal Society B.
• Ma, M. (n.d.). New 3D images of shark intestines show they function like Nikola Tesla's valve. UW News.
• Phys.org. (2021, July 20). New 3D images of shark intestines show they function like Nikola Tesla's valve.
Share Now