Scientists have discovered drawings left by Neanderthals between 45 and 65 thousand years ago in the Spanish cave of Ardales. Chemical analysis showed that the cave art in Spain was of man-made origin, and archaic people brought ocher from outside the monument. Apparently, karst formations played a symbolic role among some groups of Neanderthals. 
---
Everything you need to know about the Neanderthal cave art in Spain
1. An important stage in the development of mankind was the emergence of symbolic activity. The oldest examples may serve holes made on stones or drawn by the strip on the bone, or limestone lumps ocher. For example, such incisions on ivory dating back 300-400 thousand years have been found in Germany.
2. For a long time, it was believed that the Neanderthals did not make objects of art and jewelry at all, which markedly distinguished them from the ancestors of modern people.
3. It is widely believed that at the late Neanderthal sites there are drawings or decorations that they made under the influence of the Cro-Magnons who had already settled in Europe. Recently, however, there has been increasing evidence that they came to symbolic activity on their own.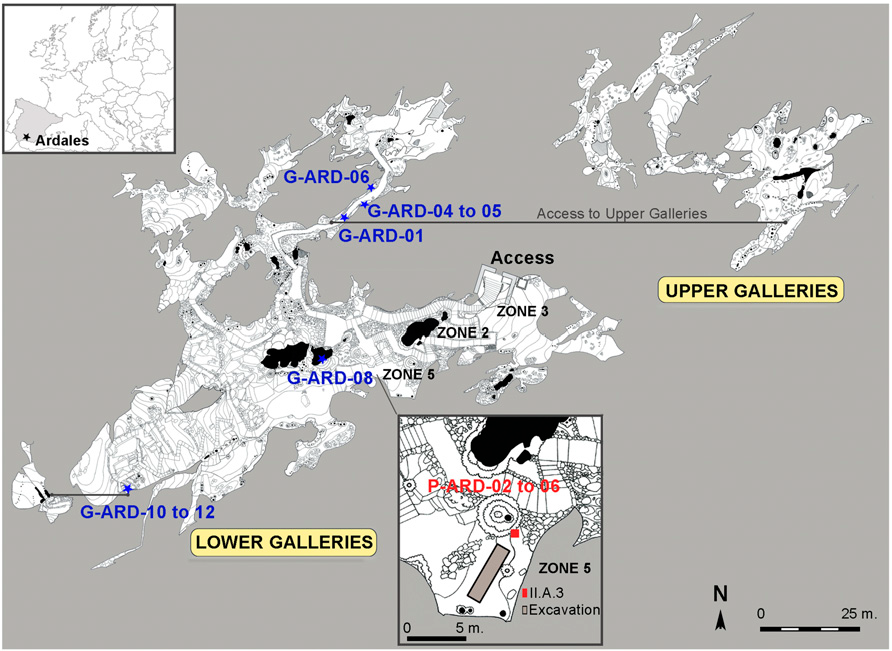 4. Probably, the Neanderthals had funeral rituals and were especially attentive to children's burials. In addition, it is known that this archaic population sought out pieces of rock containing iron oxide, suitable for the manufacture of dyes. There are several alleged caves where archaeologists have discovered Neanderthal drawings, but their identity is being questioned.
5. Africa Marti from the University of Barcelona, ​​together with scientists from Spain, Portugal, France, Norway, and Germany, conducted a study of ancient graphic cave art in Spain in the Cueva de Ardales. Radioisotope dating of calcite showed that the red pigment was applied to the walls at different times.
6. The latest drawings were made about 45.3 thousand years ago, and the earliest – at least 65.5 thousand years ago, that is, they belong to the Middle Paleolithic era when Neanderthals remained the only human population in Europe.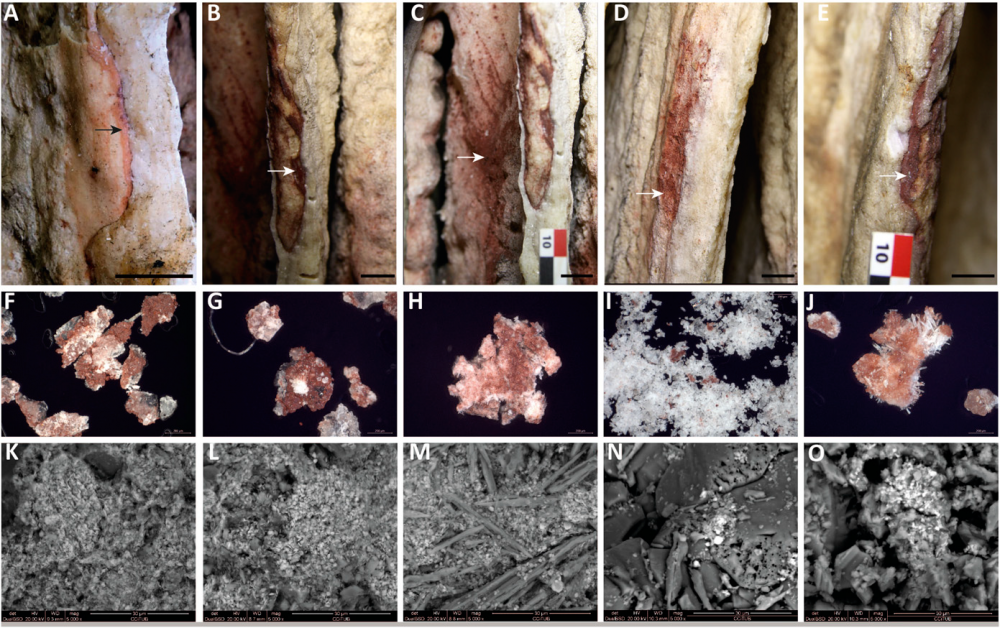 7. Analysis of micro samples collected in the cave showed that the paint is of mineral origin and cannot be interpreted as a result of the vital activity of microorganisms or a natural geological process.
8. In addition, the morphology of the drawings is characterized by bright and rich markings surrounded by halos with a reduced concentration of red matter, which also contradicts the assumption of the natural origin of the images.
9. The results of the study showed that Paleolithic artists used iron-rich chunks of minerals collected outside the cave. Scientists speculate that Neanderthals painted in this cave at least two different time periods. This is indicated by the dating and chemical analysis of the pigment itself.
10. The researchers concluded that the discovered cave art in Spain arose as a result of behavior aimed at perpetuating the symbolic meaning of space. Apparently, karst formations played an important role in the ideas of some groups of Neanderthals.
---
Join the discussion and participate in awesome giveaways in our mobile Telegram group. Join Curiosmos on Telegram Today. t.me/Curiosmos
---
Sources:
• The Guardian. (2021, August 2). Spanish cave art was made By neanderthals, study confirms.
• Martí, A. P., Zilhão, J., d'Errico, F., Cantalejo-Duarte, P., Domínguez-Bella, S., Fullola, J. M., Weniger, G. C., & Ramos-Muñoz, J. (2021, August 17). The symbolic role of the underground world among Middle Paleolithic neanderthals. PNAS.
• O'Neill, M. (2021, August 2). Prehistoric cave ART: NEANDERTHALS indeed PAINTED Andalusia's Cueva De Ardales. SciTechDaily.
• Wells, S. (2021, August 2). Look: Modern technology reveals art was central to NEANDERTHAL LIFE. Inverse.
Share Now