Apart from the spiders and their offspring, scientists also recognized the remains of a wasp and a cockroach.
Paleontologists have uncovered the earliest evidence of spiders caring for offspring. In one sample of Burmese amber, about 99 million years old, they found a spider with an egg cocoon, and in three others – newly hatched spiders, which may have been hiding in shelters with their mothers. Мost likely, spiders began to build egg cocoons and take care of eggs and young as early as the dawn of their evolution – in the Carboniferous period.
---
Scientists discovered 99-million-years-old spiders in Burmese amber
Female spiders
All types of spiders take care of their offspring to one degree or another. Females of some species simply place eggs in a protective cocoon made of cobwebs and hide them, while representatives of others guard cocoons and small spiders or carry them with them. Some spiders go even further and sacrifice themselves to feed their hungry babies with their own bodies.
Male spiders
At the same time, males take care of eggs and cubs only in two species of spiders – the solitary "Manogea porracea" from South and Central America and the social "Stegodyphus dumicola" from South Africa.
When did spiders begin to take care of their offspring?
Zoologists suggest that spiders began to take care of their offspring already in the early stages of their history, which began in the Carboniferous period about 300 million years ago.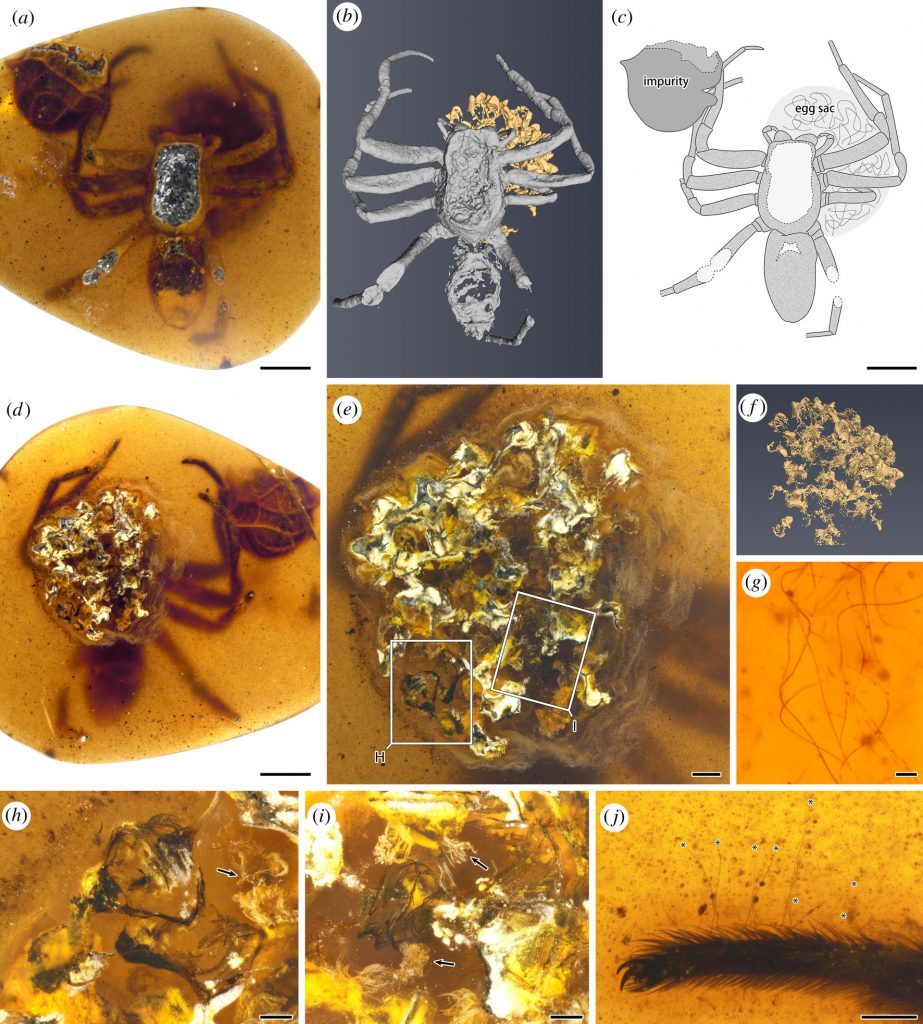 Earliest fossil evidence
However, the earliest fossil evidence of such behavior dates back only to the Cenozoic (current geological era). Spider egg cocoons are known from amber samples less than 65.5 million years old; in addition, a female spider with a cocoon clamped in chelicera was found in Cenozoic amber.
New Burmese amber samples
A team of researchers led by Dong Ren of Metropolitan Normal University in Beijing found more compelling evidence that spiders cared for eggs and young as early as the Cretaceous. They got their hands on four samples of Burmese amber over 98.8 million years old (CNU009371, CNU009431, CNU009432, and CNU009476).
Ancient species
Inside sample CNU009432, the authors found a large spider, which they identified as an adult female. Apparently, it belongs to the extinct family Lagonomegopidae, whose representatives inhabited Eurasia and North America in the Cretaceous period. Under the spider, they found a damaged egg cocoon with dozens of cubs at the pre-larva stage inside. Probably, the female wore a cocoon on herself and died along with the offspring.
How many spiders did they find?
Samples CNU009476, CNU009431, and CNU009371 contained spiders that had already emerged from their cocoons: 24, 26, and 34 individuals, respectively. They were trapped in the resin shortly after they left the cocoons. According to the authors, juvenile spiders in each individual Burmese amber sample belong to the Lagonomegopidae family.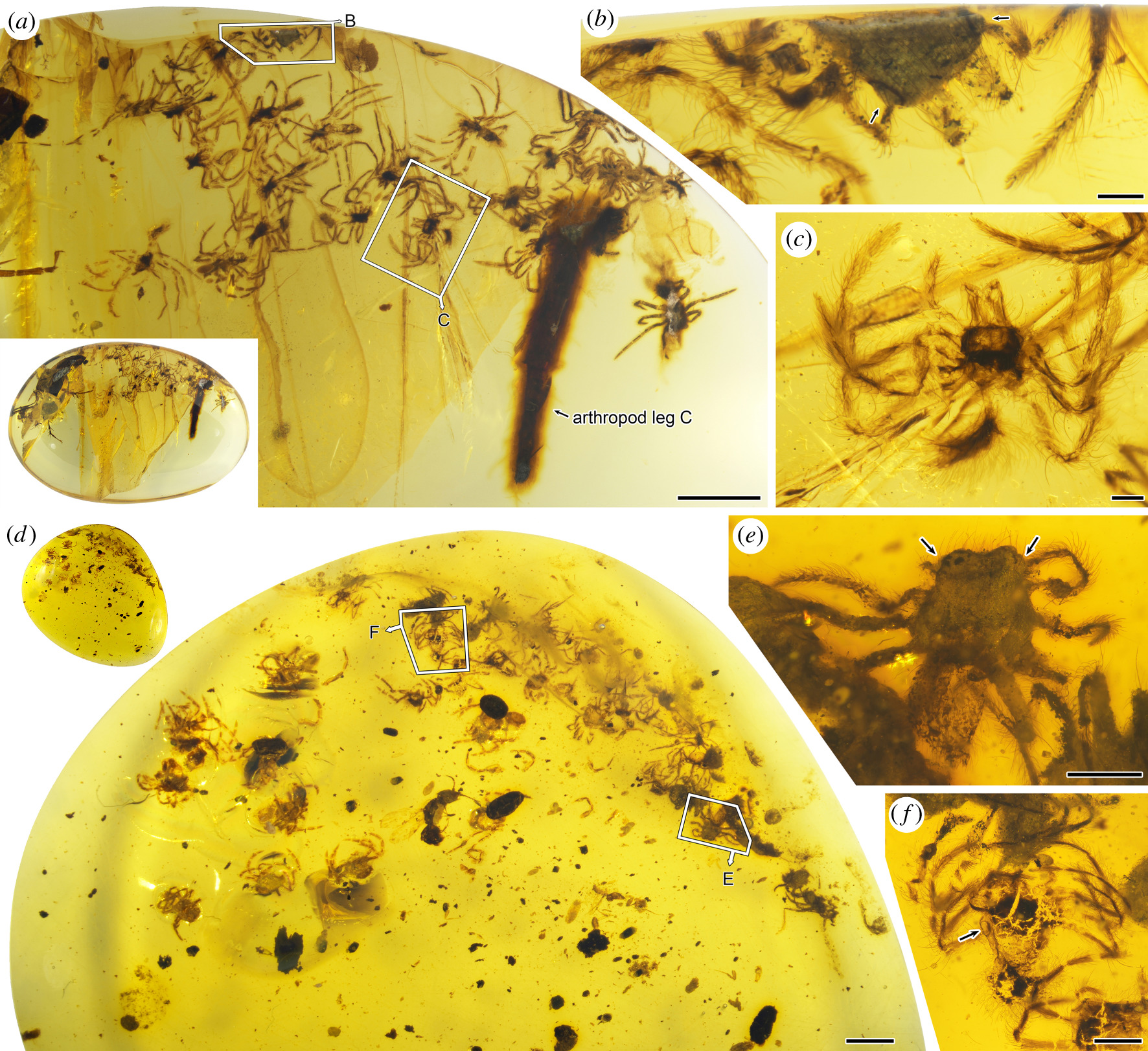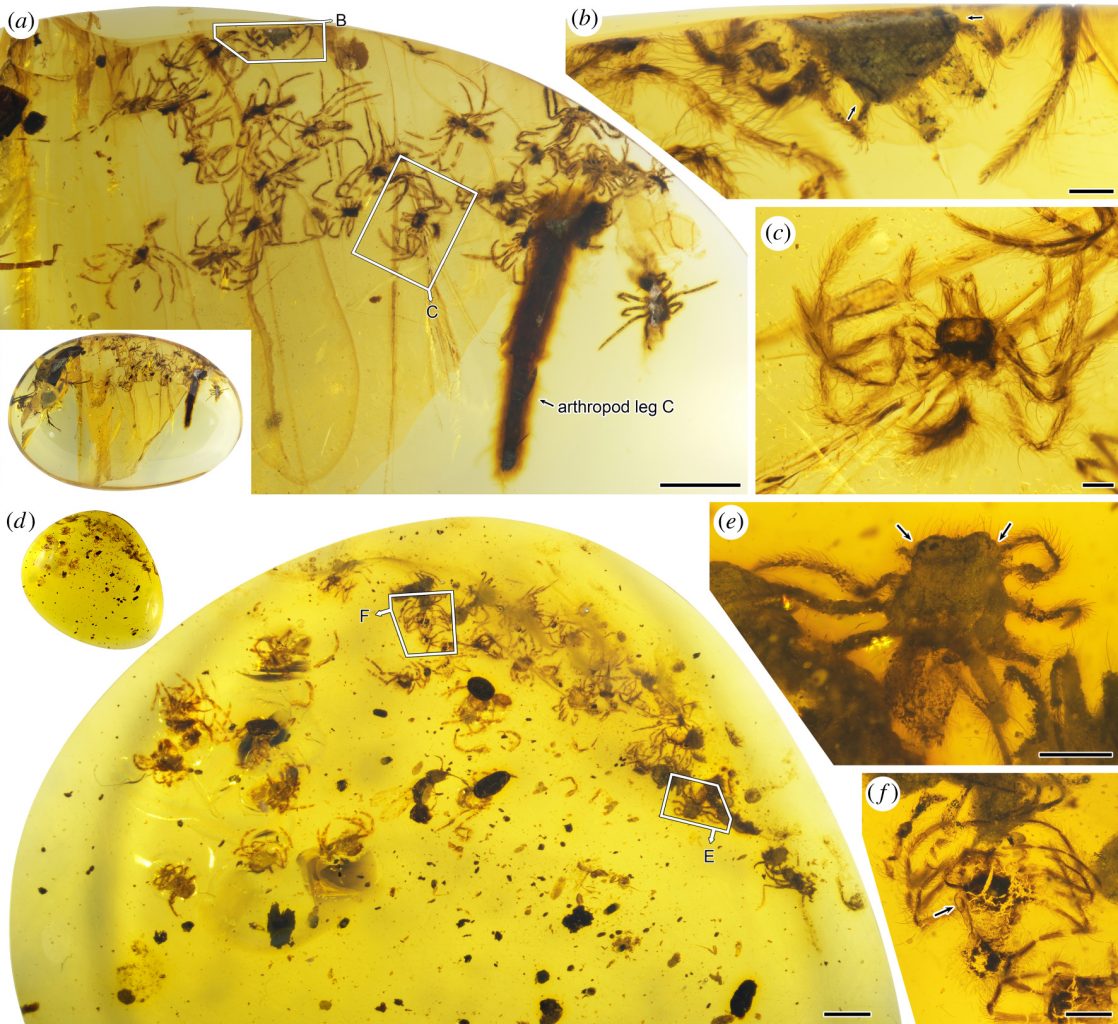 What else did the Burmese amber samples contain?
Samples CNU009476 and CNU009431 also contain fragments of limbs of arthropods, which could belong to spiders from the same family – possibly spider mothers (apart from spiders, a cockroach was found in CNU009431, and a wasp in CNU009371).
Assumptions
Dong Ren and his co-authors noticed that the spider webs from sample CNU009476 were intertwined with pieces of detritus. Perhaps they were part of a spider's nest. Perhaps, female spiders from the Lagonomegopidae family set up special shelters, where they hid from predators during cocoon gestation. The spiders that emerged from the cocoons could not leave the mother immediately, but spend some more time with her. Whether the spider fed her cubs, as representatives of some modern species do, it is impossible to tell from the available samples.
Conclusions
Thus, paleontologists were able to confirm that spiders took care of offspring about a hundred million years ago. Since the egg cocoon in the female from sample CNU009432 is very similar to those built by modern spiders, it is likely that such structures appeared even earlier.
---
Join the discussion and participate in awesome giveaways in our mobile Telegram group. Join Curiosmos on Telegram Today. t.me/Curiosmos
Share Now