Comet ATLAS, whose Coma is around 15 arcminutes in diameter, falls somewhere between the Sun (1,392,000 km diameter) and Jupiter (139,820 km), according to Space Weather Archive.
---
A truly gigantic comet is heading our way. Atlas, a massive comet estimated to be around five times the size of Jupiter, and half the size of the Sun is expected to pass next to our planet in  April of 202. As it does, it will appear (probably) brighter than Venus as seen from Earth. The comet, which was discovered in December 2019, is making its way towards the inner solar system. Eventually, it is expected to become brighter and brighter until it becomes one of the brightest objects in the sky.
Although the comet is said to be massive, mostly because it has a gigantic atmosphere developing it, the exact size of the rocky ice core isn't known but experts estimate it is no more than a few kilometers across. (some estimate that its core is around 4km in diameter.)
Nonetheless, it is gigantic because of its atmosphere. "Comet ATLAS's coma (atmosphere) is approximately 15 arcminutes in diameter," reports Michael Jäger, who took a photograph of the comet.
As of April 1, 2020, the comet is nearing Mars' orbit but is increasing in speed as it hurtles towards the Sun. It is expected to pass safely past Earth by the end of April.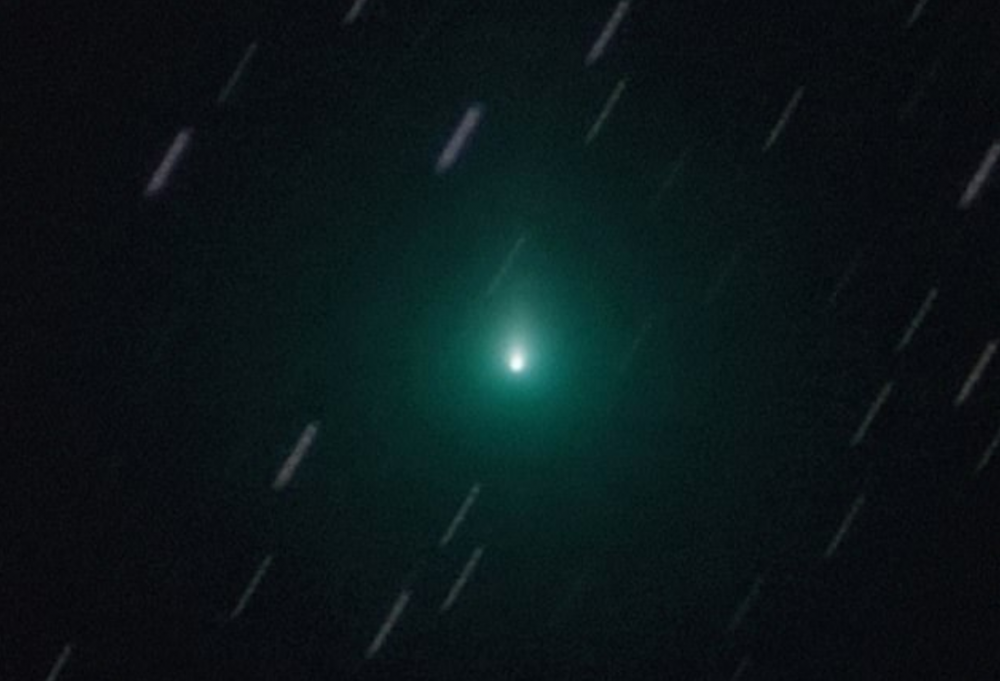 The comet has been estimated to be five times the size of Jupiter and half the size of the Sun. But that doesn't mean its rocky core is that big. If the rocky core of the comet was that large it wouldn't be a comet but a planet. The comparison above makes reference to the gaseous envelope that surrounds the cosmic body, which has been calculated at approximately 719,999 kilometers or 447,387 miles. Our Sun has a diameter of 1,392,678 kilometers (865,370 miles), Jupiter's diameter is 139,821 kilometers (86,881 miles), and the Earth is just 12,742 kilometers
(7,917 miles).
Comet Atlas last night from my backyard over a period of approximately five hours. #Astrophotography #astronomy #science #space #comet #cometatlas pic.twitter.com/R8I4oDXkzC

— ☆Matthijs Burgmeijer (@MMBurgmeijer) March 27, 2020
Although the atmosphere of the comet is so big, it possesses no danger to Earth as astronomers expect it to pass safely past Earth at a distance of 72 million miles. Nonetheless, it will be extremely bright in the sky, giving skygazers an excellent opportunity to observe it as it makes its way towards the Sun.
Astronomical observations have revealed that comet Atlas has a massive tail, which is approximately the same size as its atmosphere. This was confirmed by Michael Jager, an astronomer from Austra and one of the first people who managed to capture an image of the comet.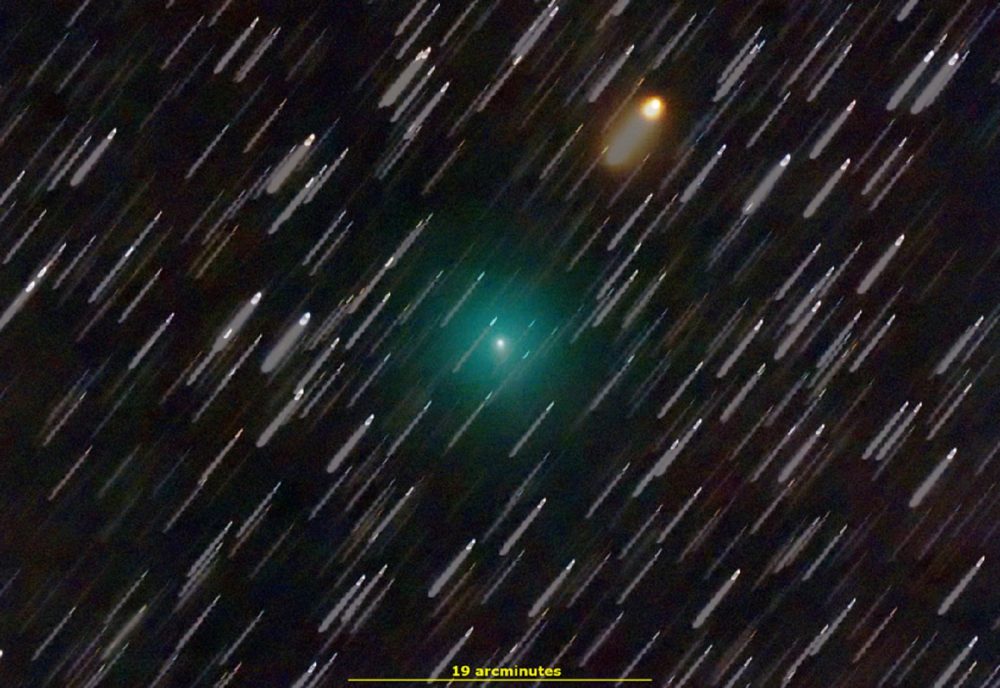 Although the comet size may seem excessive and too hard to believe, astronomers say that it inst that unusual for comets to grow so large as they spew prodigious amounts of gas and dust into space'.
As revealed by SpaceWeatherArchive, "comet 17P/Holmes partially exploded and, for a while, had an atmosphere even larger than the sun."
Furthermore, "The Great Comet of 1811 also had a sun-sized coma. Whether Comet ATLAS will eventually rival those behemoths of the past remains to be seen."
Comet Atlas draws its name from the initials of the system that discovered it: the Asteroid Terrestrial-impact Last Alert System.
Its approach to the Sun will mark an excellent sky-gazing opportunity; the last bright comet that was visible without a telescope was Hale-Bopp in 1997, which means that Atlas' approach in April 2020 is a rare astronomical event.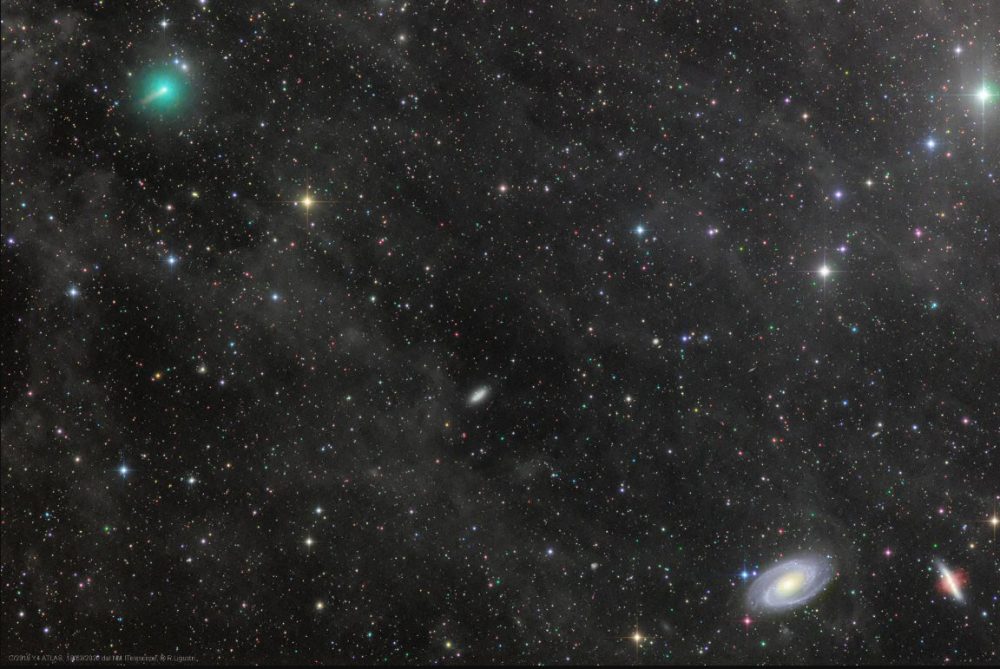 The glow of the comet is expected to be amplified by the Sun as it makes its way towards our star. As of April 1, 2020, the comet is the largest "green" object in the solar system. Its color is believed to originate from diatomic carbon, a fairly common molecule discovered in comets. Reports indicate that the comet is currently emitting enough brightness compared to an 8th magnitude star, invisible to the naked eye but perfectly visible with garden telescopes.
The comet will only get brighter as it makes its way towards the Sun. This is because as it approaches the Sun, it is releasing massive amounts of frozen volatiles (gases), and it is expected to do so as it passes next to Earth.
The comet is greatly increasing its brightness as it makes its way past the orbit of Mars. In fact, some astronomers believe that the comet may become one of the brightest comets since records began. However, that depends on whether it has a large enough nucleus with a vast store of frozen gas. This is something astronomers can still confirm. However, if it doesn't have a large nucleus, the comet can run out of gas, causing it to crumble and fate as it makes its way towards the Sun.