If you wish to observe solar eclipses, even partial ones, it is imperative that you wear an appropriate filter to protect your eyes.
On October 25, 2022, a stunning cosmic phenomenon will take place. Millions of people around the world will be able to witness a partial solar eclipse. The partial solar eclipse will be visible from most of Europe, North Africa, the Middle East, and western parts of Asia. A solar eclipse takes place when our solar system's star, the sun, is aligned with the Earth and the moon on the same plane. When Earth's natural satellite passes between the Earth and the sun, it can partially or completely cover our nearest star.  This year's partial solar eclipse will take place on Tuesday, October 25, 2022, exactly 4.2 days before the moon reaches perigee. Perigee is when an object is at the closest point to Earth in its orbit.
When and where
The partial solar eclipse will begin at 08:58:21 UTC and will culminate at 13:02:11 UTC. The maximum of the partial eclipse will occur at 11 UTC , when 0.86189 percent of the sun will be obscured. During the eclipse, the sun will be located in the constellation of Virgo. The twilight will pass through Europe, West Asia, Northeast Africa, and the Middle East, as seen in the animation below: If you wish to view a solar eclipse, even partial ones, it is imperative that you wear an appropriate filter to protect your eyes. But there is more in the sky than just this month's partial solar eclipse. Two weeks later, a total lunar eclipse will take place on November 8, 2022. This cosmic phenomenon will be visible from Asia, Oceania, Central America, North America, and the Pacific: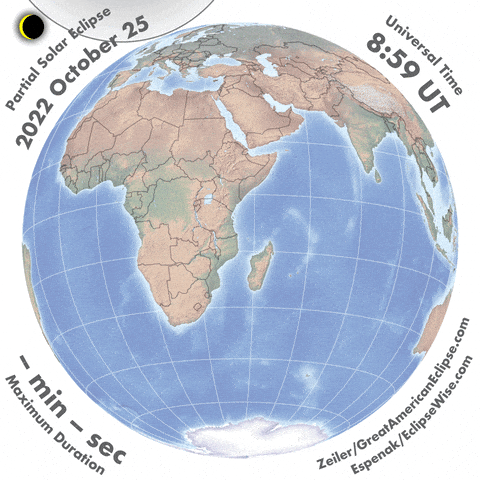 Solar eclipses
All of these eclipses occur during the same eclipse season. A solar eclipse season lasts approximately 35 days, during which at least two eclipses are inevitable, and possibly three. There are two eclipses scheduled in the current eclipse season. One on October 25 and one on November 8, 2022. A solar eclipse is a natural phenomenon that can take place in four different forms. According to NASA, the sun measures 864,000 miles (1.4 million kilometers) across, making it 400 times larger than the moon, which measures approximately 2,160 miles (nearly 3,500 km). It is also noteworthy that the moon is 400 times closer to Earth than the sun (the ratio varies because both planets have elliptical orbits); therefore, when the orbital planes intersect, and the distances align favorably, the moon (known as "new moons") can appear to completely cover the sun's disk.
Total solar eclipses occur about every 18 months on average somewhere on Earth.
---
Have something to add? Visit Curiosmos on Facebook. Join the discussion in our mobile Telegram group. 
Share Now