There's a weird asteroid that has its very own moon heading towards Earth. Classified as a "potentially hazardous asteroid" the space rock is around 1.5 kilometers in diameter and will make its closest approach this weekend.
The walnut-shaped asteroid believed to be more than a kilometer wide will make a close approach to Earth for the first time since it was discovered more than 20 years ago.
As noted by NASA, the asteroid will not pass this close to our planet until 2036.

The space rock is classified as a "potentially hazardous asteroid" by the Smithsonian Astrophysical Observatory's Minor Planet Center since it passes relatively close to Earth.
As a potentially hazardous asteroid, it has an Earth minimum orbital intersection distance of 0.0138 AU (2,060,000 km) which corresponds to 5.4 lunar distances.
A Binary Asteroid
But not only is the asteroid interesting because of its trajectory and site, but astronomers also say that we are looking at two asteroids.
It is a binary system composed of two asteroids – the largest of them about 1.5 km wide, orbited by an asteroid moon 0.5 km wide. Collectively the system is known to astronomers as 1999 KW4.
As these weird cosmic travelers make their way towards Earth, and by the time they reach their closest point, they will pass around 13.5 lunar distances of our planet, or around 5,182,015 kilometers away from Earth, with a speed of 77,446 kilometers per hour.
Astronomers expect that 1999 KW4 will also reach its maximum luminosity level, estimated at magnitude 12.5, at that time.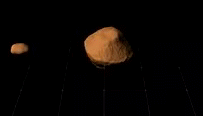 When that happens, the object will be observed by dozens of telescopes that collaborate with the International Asteroid Warning Network (IAWN), using the most advanced and varied observational techniques.
The massive asteroid will make its closest approach on May 25th and will remain visible until May 27.
The Las Cumbres Observatory describes 1999 KW4 as "slightly squashed at the poles and with a mountain ridge around the equator, which runs all the way around the asteroid. This ridge gives the primary an appearance similar to a walnut or a spinning top."