When confirmed, it will be the first moon discovered by an amateur.
In addition to the four large Galilean moons, Jupiter has many smaller moons, up to a kilometer in size. Today, 79 of them are known, but there is no doubt that the giant planet has other small satellites that we have not yet noticed. One such was recently discovered by amateur astronomer Kai Ly, bringing the total to exactly eighty.
The corresponding notification was sent to the Minor Planet Center (MPC), which coordinates such observations and maintains official catalogs. Jupiter's new moon has been provisionally designated EJc0061.
---
The 80th moon of Jupiter?
1. Kai Ly focused his research on data obtained by the 3.6-meter CFHT telescope in 2003 which was later made publicly available. Professional astronomers have already discovered more than two dozen satellites of Jupiter by using this data, but amateurs have also contributed.
2. Ly was attracted by three pictures taken on the night of February 24, 2003, when Jupiter was in opposition and its moons were especially visible.
3. He managed to spot three possible candidates, and one of them was found in images taken at CFHT at another time, as well as in images of the Subaru telescope and the Cerro Tololo observatory.
4. The magnitude of the object was about 23, far beyond the reach of the naked eye. In total, he managed to find 76 observations of the new moon of Jupiter, obtained over a decade and a half, which makes it possible to estimate its orbit.
5. It makes a complete revolution around Jupiter in 1.9 Earth years.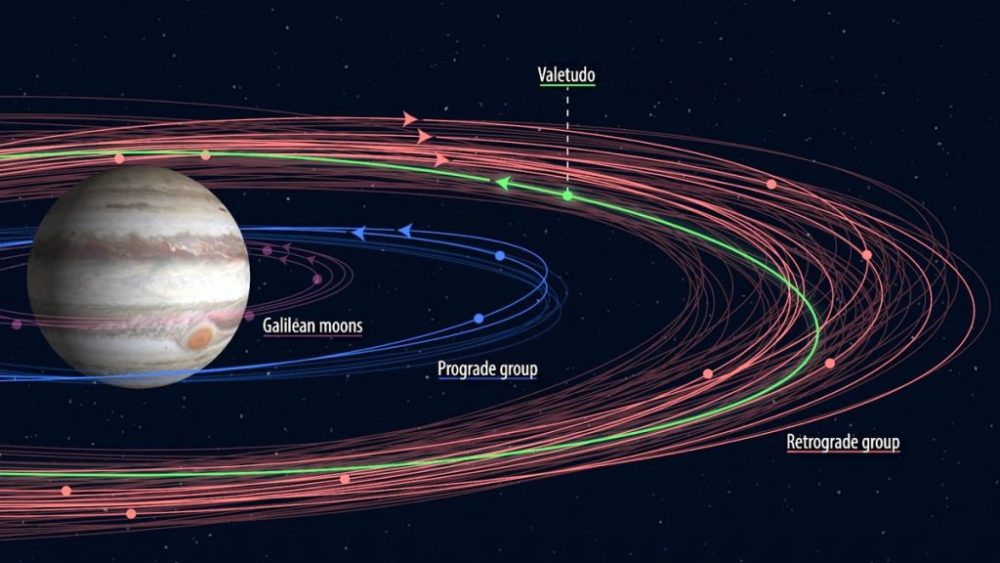 6. Jupiter's new moon has been provisionally designated EJc0061.
7. This new moon of Jupiter can receive an official name only after confirmation of its existence by independent observers and inclusion in the appropriate catalog. This is now being done by the International Astronomical Union.
8. Many objects officially recognized as Jupiter's moons are included in the specialized Carme catalog. These are small space stones with bizarre shapes. They rotate in the opposite direction to that of Jupiter itself. This rotation is called retrograde. The Carme group of objects is known to orbit Jupiter with an extreme tilt relative to the orbital plane of this giant planet.
9. It is believed that they all have a common origin and represent fragments of a larger body – possibly a deceased satellite, which had almost 50 kilometers in diameter. In order to confirm this, we need closer observations which is unlikely to ever happen since most of the moons are really small.
10. To date, 22 moons have been included in the group. Researchers believe that EJc0061 will be included in this particular group once confirmed as a new moon of Jupiter. If this happens, it will also officially become the first planetary moon discovered by an amateur but the more amazing fact is that anyone can do the same with other objects since the observational data of old and current space missions are readily available online.
---
Join the discussion and participate in awesome giveaways in our mobile Telegram group. Join Curiosmos on Telegram Today. t.me/Curiosmos
---
Sources:
• Hart, M. (n.d.). Amateur Astronomer Discovers New Moon Orbiting Jupiter. Nerdist.
• Hecht, J. (2021, July 9). Amateur Astronomer Discovers New Moon of Jupiter. Sky & Telescope.
• Urrutia, D. E. (2021, July 20). Amateur astronomer discovers a tiny moon around Jupiter. Space.com.
Share Now