The comet—including its coma and tail—measures fourteen times the size of our planet. According to Pieter van Dokkum from Yale University: "It's humbling to realize how small Earth is next to this visitor from another solar system."
A comet 14 times the size of Earth (including its coma and tail) which originated in a solar system far away has just broken up into two pieces, astronomers have reported.
---
At the end of October 2019, a mysterious object passed through the ecliptic of the solar system and made its closest approach to the sun at just over 2 astronomical units on December 8, 2019. Little did we know that that enigmatic object was a visitor from far beyond our solar system.
The object known today as 2I/Borisov, originally designated C/2019 Q4 (Borisov) is our solar systems second (known) interstellar visitor, after 'Oumuamua. Comet Borisov was found in August 2019 by amateur astronomer Gennadiy Borisov at his personal observatory MARGO in Nauchnyy, Crimea, using a 0.65-meter telescope he designed and built himself. Unlike 'Oumaumua which has a weird, asteroidal, elongated shape, Comet Borisov's nucleus is surrounded by a coma, a cloud of dust and gas.
The object was observed by Yale astronomers in November 2019. At the time, the researchers revealed the comet was not only a striking visitor from a star system beyond our own, but its size was truly gigantic: the comet, including its coma and tail, measured fourteen times the size of our planet. "It's humbling to realize how small Earth is next to this visitor from another solar system," Yale astronomers concluded. Astronomers have revealed that the comet's tail is around 160,900 kilometers (100,000 miles) long.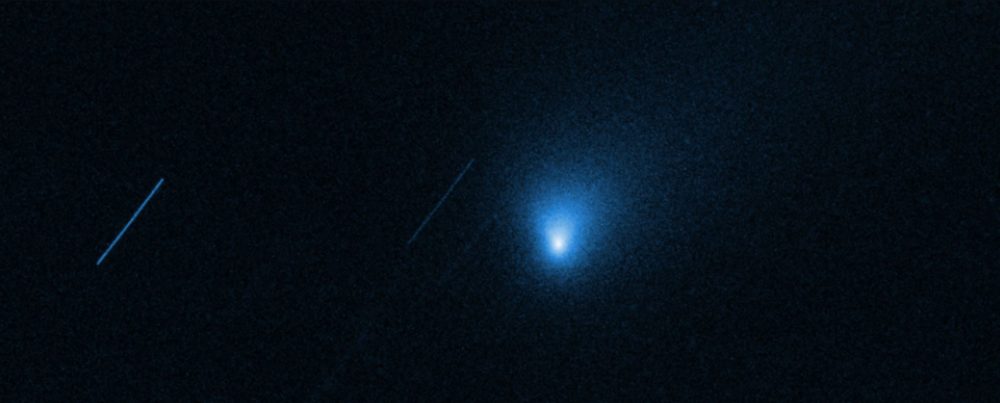 Observations so far suggest that Comet Borisov formed in a distant solar system and was eventually ejected into interstellar space, after colliding with a planet in its original star system millions of years ago.
Now, the interstellar visitor seems to be having serious problems while it is making its way across the solar system.Not long ago, astronomers reported registering fluctuations in the comet's brightness, indicating that the comet may be subject to explosions. As it makes its way through the solar system, the comet could break up into various pieces.
Now, astronomical observations have confirmed that the explosions on comet 2l/Borisov have caused it to break up into two large pieces.
Continuous images from the Hubble Space Telescope of interstellar object 2I / Borisov show a distinctive change in the appearance of the interstellar comet.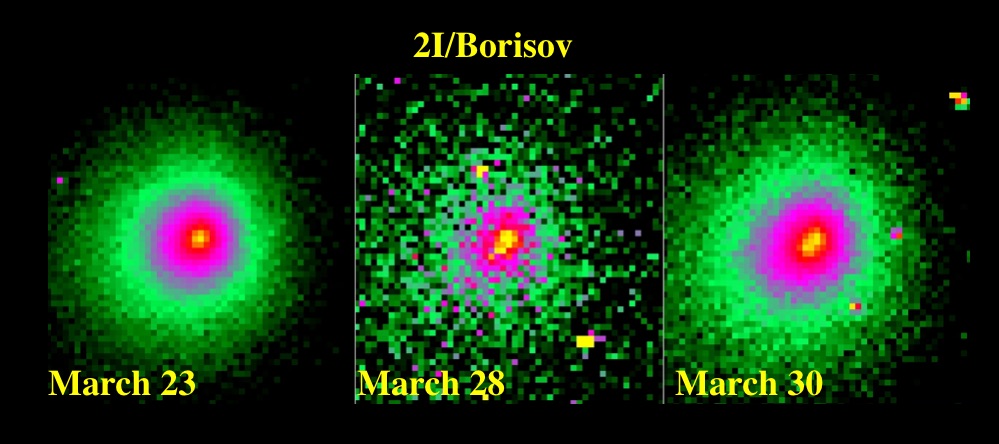 While images from March 23 show a single core of internal brightness, as seen in all previous Hubble images of the comet, observations starting from March 30 show a divided core, consistent with two unresolved components separated by 0.1 arcseconds (180 km at the distance of the comet) and aligned with the main axis of the larger dust coma.
"The double appearance, indicating the ejection of a nucleus fragment, is confirmed in HST data from UT 2020 March 28 (GO 16040). If the ejection occurred on March 23, then the estimated sky-plane speed is 0.3 m/s. This is typical of the separation speeds observed in split (solar system) comets and comparable to the gravitational escape speed of the sub-kilometer radius nucleus of 2I/Borisov. Additional HST observations are planned to monitor the development of this event," scientists report in the Astronomers Telegram.
Additional observations from the Hubble Space Telescope are planned to monitor the development of the comet.
It is not uncommon for comets to have such massive sizes. Not long ago we reported about a comet (ATLAS) half the size of the sun, which will soon be visible perhaps even with the naked eye, and may appear brighter than Venus. Comet Atlas is nearing Mars' orbit but is increasing in speed as it hurtles towards the Sun.
Share Now