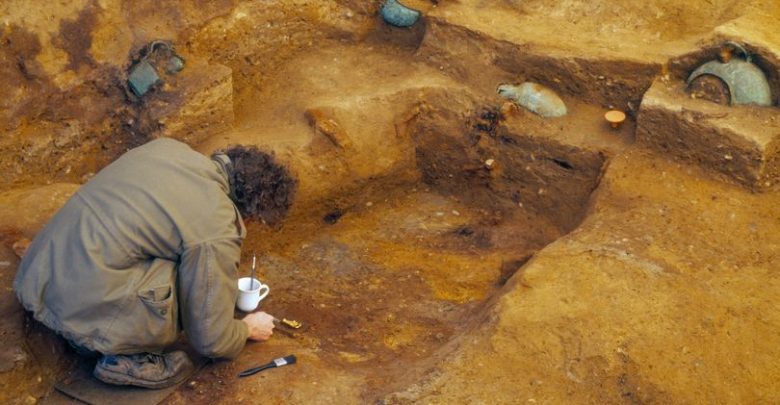 Reaches in Britain have discovered a royal burial site beneath a roadside verge in Essex.
The discovery is of such importance that archeologists behind it have dubbed it the most significant archeological discovery ever made in the United Kingdom.
Dubbed the most significant archeological find in the UK, the burial is believed to be that of the brother of Anglo-Saxon King Saebert. The archaeological site worked over by more than 40 different researchers is thought to represent a 'transitional moment' in history before Christianity took over.
Important discovery
Researchers behind the discovery argue this discovery is the British equivalent of Tutankhamun's tomb' – although there are little to no similarities in appearance.
The burial chamber which is estimated to have taken more than 110 days to complete was discovered between a pub and the Aldi Supermarket.
It contained more than 40 Christian artifacts that are believed to have belonged to ancient Essex prince Saexa.
According to experts, the recently revealed tomb is completely intact and has been preserved from looter for millennia.
Researchers from the Museum of London Archaeology (MOLA) say that the tomb is considered the oldest Christian Anglo-Saxon princely burial discovered anywhere in the UK.
Recreation of the Tomb
"This is one of the most significant archaeological finds ever seen in England. It is the British equivalent of Tutankhamun's tomb as everything in it is just as it was left 1,400 years ago," revealed Sophie Jackson, director of research for MOLA to the Daily Mail.
"It was found on an unpromising site, which is just really a grass verge, but this is an aristocratic burial site and the artifacts provide a great insight into religious life at the time," she added.
Essex in the UK was a Kingdom in the Dark ages which included the territories of London and Middlesex. The name Essex is translated to 'Land of the East Saxons'.
It was inhabited by immigrants who settled the region after traveling North Western Germany.
Saexa is thought to have been the most famous King of Essex. He ruled over the land between 616 AD, during which time he converted to Christianity.