Astronomers have found new evidence for a unified model of active galactic nuclei. They revealed a ring-and-disk dust structure that obscures the supermassive black hole in the active core of the M77 galaxy.
What is the unified model of active galactic nuclei?
A unified model of active galactic nuclei was developed at the end of the last century. It says that all active galactic nuclei have a similar structure and contain a supermassive black hole surrounded by a rotating accretion disk and generating jets of matter that are directed perpendicular to the disk.
The whole system is surrounded by a thick dust torus, and the observed differences in the properties of the nuclei are explained by differences in the viewing angle – the torus is able to partially obscure the black hole from the observer or completely hide it.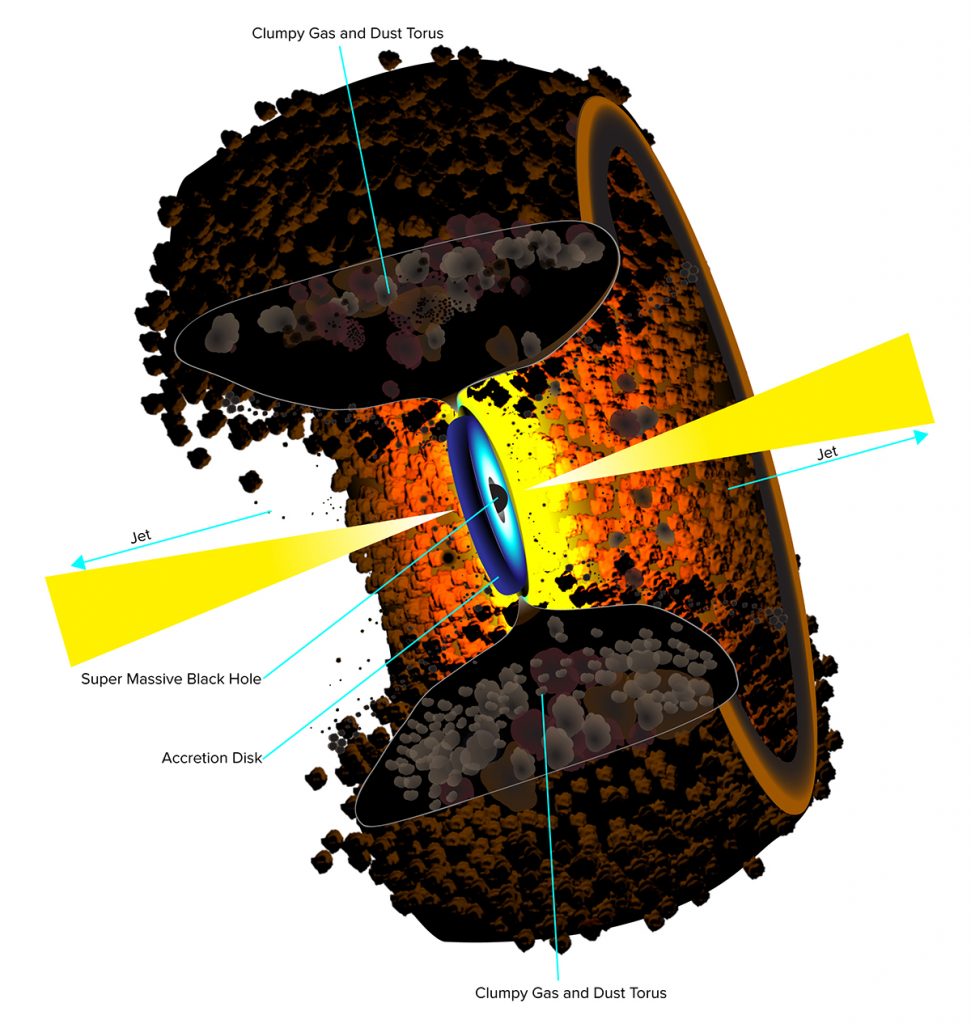 Types of active galactic nuclei
Astronomers distinguish several types of AGNs: quasars, blazars, as well as active nuclei in Seyfert galaxies and radio galaxies. Some of them emit powerful bursts of radio waves, others are characterized by a continuous spectrum in all ranges of electromagnetic radiation, and some AGNs, such as Messier 77, do not differ at all from ordinary spiral galaxies in the optical range.
Astronomers have previously found some evidence to support a unified model, including after the discovery of hot dust forming an annular radiating region at the center of Messier 77. However, there were doubts whether this dust could completely hide the black hole and therefore explain why this AGN shines. less bright in the visible range than others. The new work partly dispels doubts.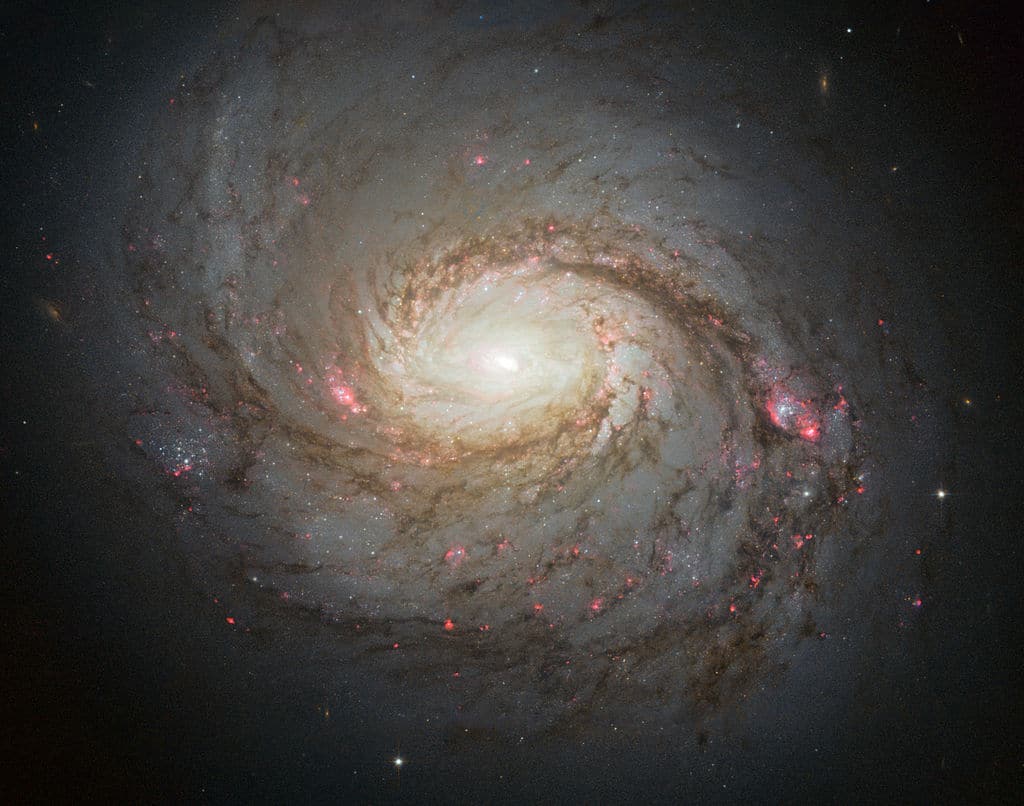 Astronomers found a black hole in a ring of cosmic dust
A team of astronomers led by Violeta Gámez Rosas of the University of Leiden in the Netherlands has published the results of an analysis of observations of the M77 spiral galaxy, which has an active nucleus and is located 47 million light-years from the Sun.
The observations were carried out in the infrared range using the MATISSE (Multi AperTure mid-Infrared SpectroScopic Experiment) spectrograph mounted on the VLTI interferometer.
Scientists wanted to understand the structure of the galactic core based on mapping the temperature distribution of dust near a black hole. Observational data from the ALMA radio telescope were also used in the work.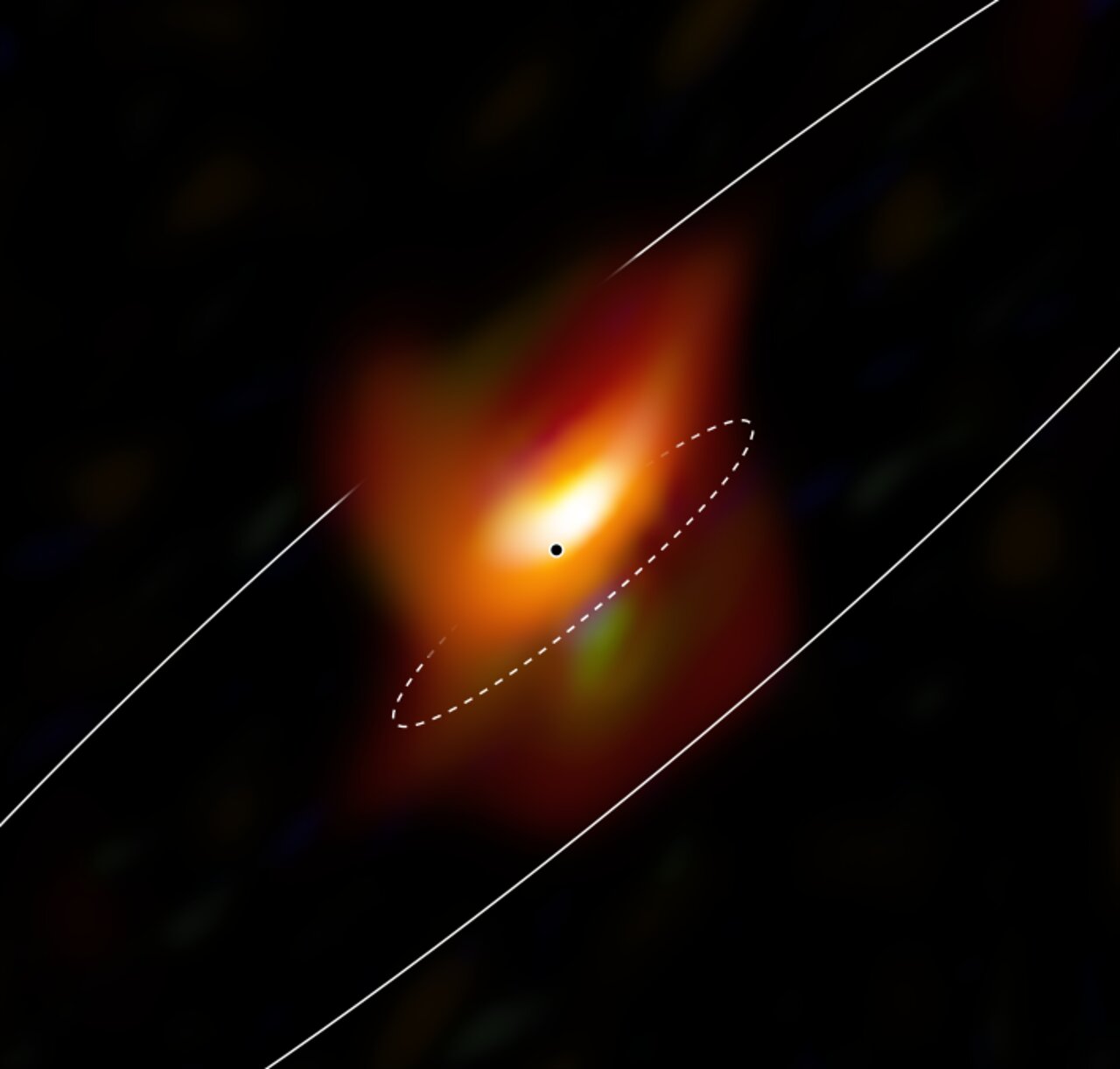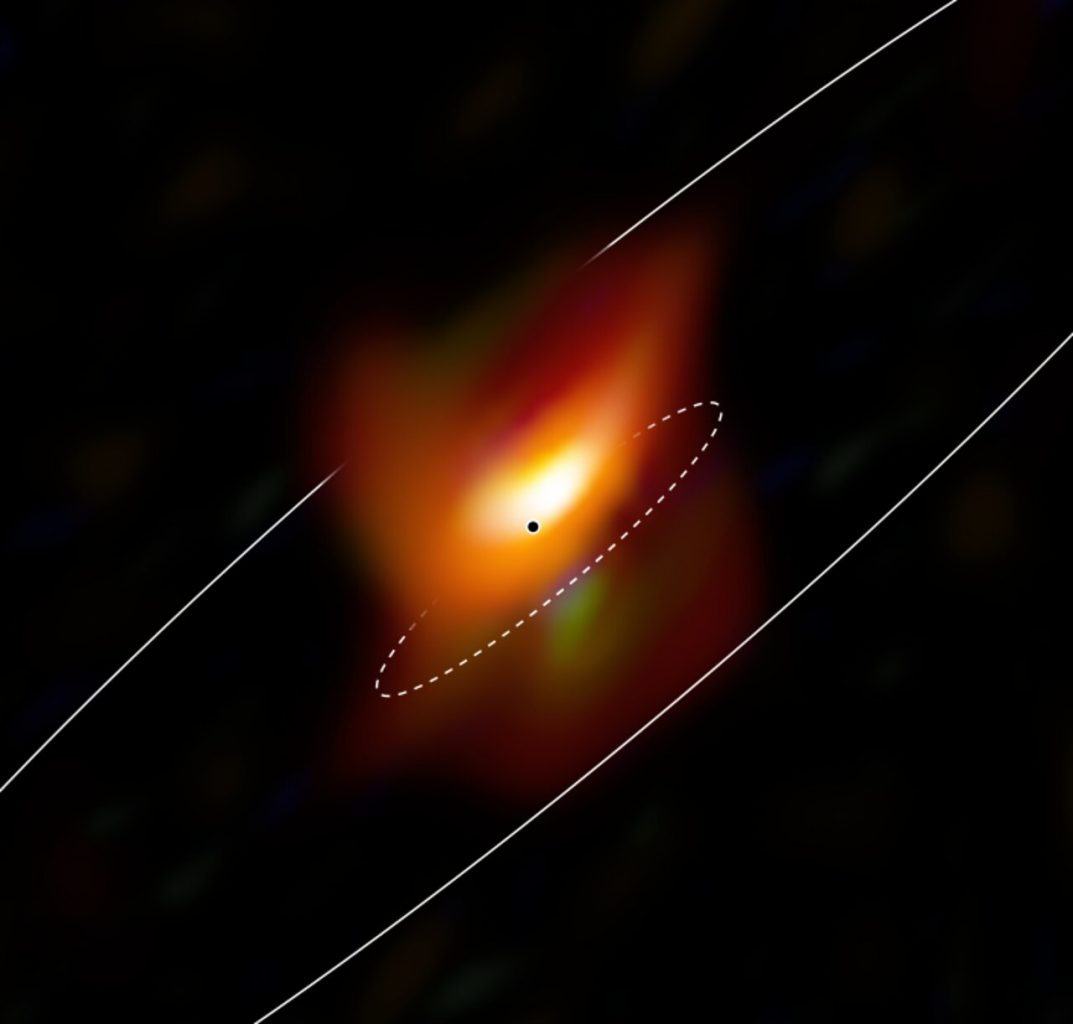 The researchers identified a dust structure consisting of an optically thick ring covering the central machine (a black hole with an accretion disk) on a parsec scale, and a less optically thick disk extending at least ten parsecs. This structure obscures the black hole from an Earth-based observer looking at the disk almost edge-on, as predicted by the Unified Active Nuclei Model.
In addition, scientists have registered the emission of polar streams from the black hole, as well as dust blowing. At the same time, the dust in its properties differs from the typical interstellar dust of the Milky Way.
It is possible that the dust grains in the center of M77 are submicron olivine particles rich in magnesium and with little carbon. Future VLTI observations of other active galactic nuclei are expected to provide further evidence for a unified model.
---
Join the discussion and participate in awesome giveaways in our mobile Telegram group. Join Curiosmos on Telegram Today. t.me/Curiosmos
---
Sources:
• ESO. (n.d.). Supermassive black hole caught hiding in a ring of Cosmic Dust.
• Gámez Rosas, V., Isbell, J. W., Jaffe, W., Petrov, R. G., Leftley, J. H., Hofmann, K.-H., Millour, F., Burtscher, L., Meisenheimer, K., Meilland, A., Waters, L. B. F. M., Lopez, B., Lagarde, S., Weigelt, G., Berio, P., Allouche, F., Robbe-Dubois, S., Cruzalèbes, P., Bettonvil, F., … Zins, G. (2022, February 16). Thermal imaging of dust hiding the black hole in NGC 1068. Nature News.
• Mathewson, S. (2022, February 16). Scientists spot supermassive black hole hiding inside thick cosmic dust. Space.com.
• O'Neill, M. (2022, February 16). Supermassive black hole caught hiding in an immense ring of Cosmic Dust. SciTechDaily.
• Phys.org. (2022, February 16). Supermassive black hole caught hiding in a ring of Cosmic Dust.
Share Now