A team of researchers has confirmed the discovery of two rare Einstein Crosses different from any previously known quadruply lensed object.
With an amateur telescope, you can see a much greater variety of objects in deep space – an abundance of clusters, globular and diffuse, nebulas and nearby galaxies. But there are extremely spectacular and interesting phenomena that only powerful astronomical instruments can detect. Among these treasures of the universe are the events of gravitational castings, such as the so-called Einstein Crosses. 
Albert Einstein gave the world the very phenomenon of the gravitational lens. In particular, it derives from his general theory of relativity. In fact, this is the effect of massive matter on light. Under the influence of the gravity of large objects, the trajectory of the light beam bends.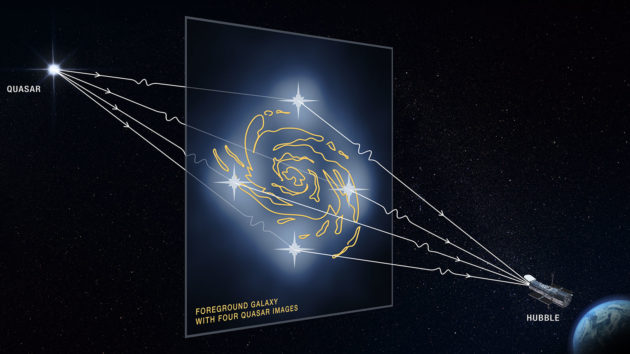 Any massive object, such as a star, galaxy, galaxy cluster, thickening of dark matter, or even a planet, can act as a gravitational lens. The scheme of action is simple. Between the Earth and the distant object of interest is the gravitational lens. Rays of light pass through it and bend under the action of a strong gravitational field. Thanks to this, the object behind it increases the brightness and becomes more visible to us.
Until recently, science knew about only several gravitational lensed objects like the Einstein Crosses, one of which is in the cover image above.
A new study by Italian researcher Nicola Napolitano has confirmed the existence of two new Einstein crosses, discovered in the images made by the Very Large Telescope (VLT) in Chile.
Unlike the previous Einstein crosses which already were incredibly rare and unusual, the lensed sources of these phenomena were galaxies and not quasars.
Blue Nuggets: Lensed galaxies that form an Einstein Cross
How are the latest Einstein Crosses explained in the large study which you can read in whole HERE?
Let's divide galaxies into two categories – large and small. If a large galaxy is lensed by a foreground object, it would normally appear as either a ring or an arc.
On the other hand, if a compact galaxy is lensed by a foreground object, it could either appear as a ring or an arc, but also as a quadruple image like the ones we know as Einstein Crosses.
There is actually a name for such compact galaxies that are quadruply lensed – post-blue nuggets. And evidently, this is what the two latest discovered Einstein Crosses exactly are.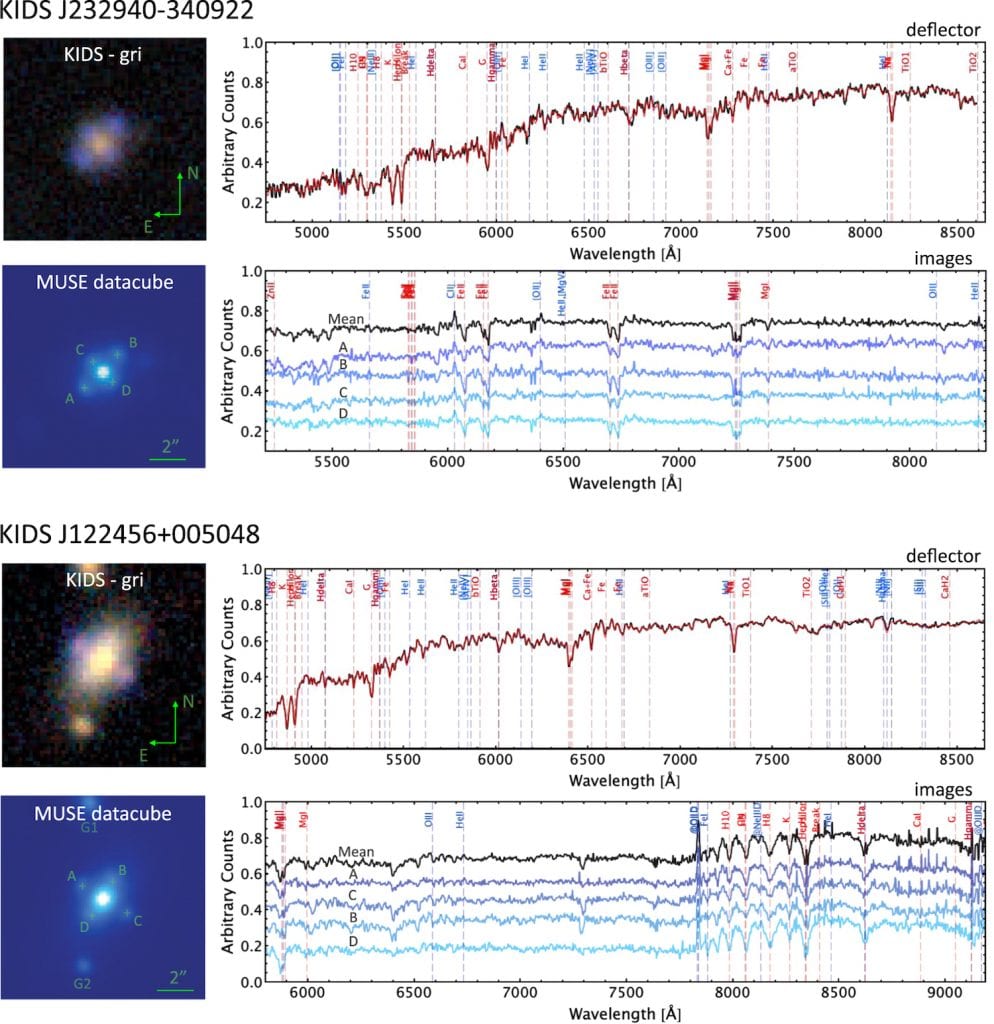 As this discovery was made during the Kilo-Degree Survey (KiDS), the two discovered compact galaxies have been named KIDS J232940-340922 and KIDS J122456+005048.
Sources:
• From AAS NOVA: "Nugget Galaxies Cross in the Sky". (2020, December 10).
• Kohler, S. (2020, December 09). Nugget Galaxies Cross in the Sky.
• N. R. Napolitano et al 2020 ApJL 904 L31. Discovery of Two Einstein Crosses from Massive Post-blue Nugget Galaxies at z > 1 in KiDS*
Share Now