Almost half a century has passed since humanity sent the legendary Arecibo message and scientists have created a brand new updated version. But is it a good idea?
The newly proposed "A Beacon in the Galaxy", a binary message created by scientists as an update to the old Arecibo message, might actually be more dangerous for us than beneficial. It includes key information about us – our location, our DNA structure, and even an image of the naked human body. 
Should we give aliens such vital details about Earth and humanity? This question has been around for ages and countless renowned scientists have expressed their concerns in the past. Even Stephen Hawking explained that a hypothetical alien civilization could be hostile. 
---
Is the Beacon in the Galaxy better than the Arecibo message?
While the old radio signal included important information about Earth and humanity, it was more like a postcard with difficult-to-understand images. The new "Beacon in the Galaxy" message was created like a presentation with complex illustrations and explanations.

New universal concept
Scientists believe that complex mathematics might be unrecognizable for any potential alien intelligence while binary has a better chance to be universal. It is the simplest form because it involves simple oppositions – zero/one, yes/no, etc. Therefore, scientists assume that there is a bigger chance that aliens would understand this simple binary code.
Introducing binary and decimal systems
The new message starts with a slide that introduces binary and decimal systems, as well as prime numbers and the largest known prime number.

Particle Physics, DNA Structure, Solar System
Scientists wanted to include all the vital information about Earth and humanity in the smallest possible message. After the introduction of binary in the opening slide, they introduced the main laws of particle physics, the structure of our DNA, as well as the Solar System, and our planet in it.




Location in the Milky Way and an Invitation to aliens
Scientists used globular clusters in the Milky Way that should be known to hypothetical alien astronomers to pinpoint our location in the galaxy. They also included an invitation to anyone that may find the "Beacon in the Galaxy" message to send one back to us.

How can this message be sent into space?
The team of scientists hopes to use one of two telescopes – the Allen Telescope Array in California or the FAST Telescope in China. This is mainly because these are the two telescopes that SETI researchers use in their work while most other observatories tend to close their doors to this type of work. The other issue, for now, is that both of these observatories can only search for signals and not yet send such into space.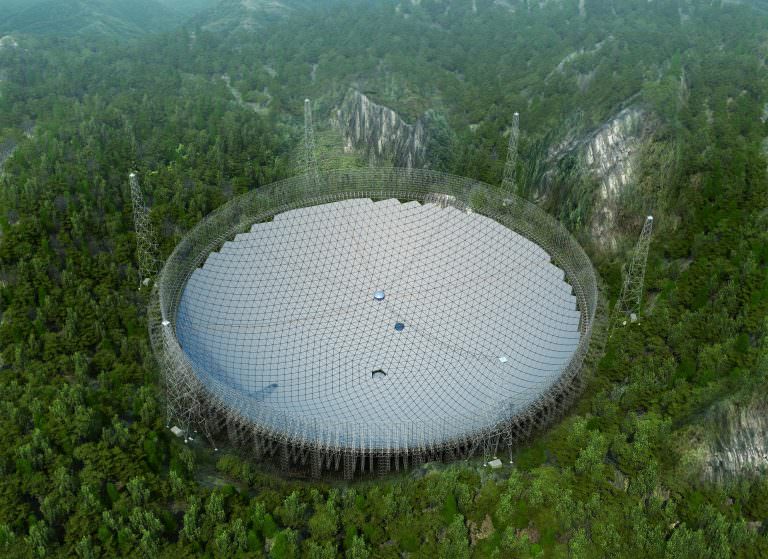 Where will the new message be sent to?
Assuming that the new message gets approved, it will be sent towards a concentric ring that is about 13,000 light-years away from the center of the Milky Way. Scientists noted that it is impossible to guess the right direction for the radio signal. So, they picked a target that has attracted the attention of SETI researchers in the past. Previous studies suggested that if alien life exists somewhere in our galaxy, it would be near the galactic center.
Is there any point in sending more messages to the aliens?
Obviously, we have not received an answer to the Arecibo message which was sent out in 1974 and there is no surprise here. Estimations suggest that if we send the Beacon in the Galaxy, it could take 50,000 years before we get a hypothetical answer. In truth, experts hope to find signs of alien life using other more advanced and quicker methods.


Could such a message be dangerous for humanity?
How can we know if hypothetical alien civilizations would be peaceful or hostile? This argument has been around for decades since before the original Arecibo Message. What if send key information about humanity such as our location and technological level and the extraterrestrial intelligence that intercepts it wants war. My imagination can come up with various scenarios in which such a message could have a devastating result but what do you think?


Perhaps alien civilizations already know about us?
Messages like Arecibo and Beacon in the Galaxy are just a couple of examples and scientists have sent multiple other signals into space in the past. Moreover, we have practically been broadcasting our existence ever since humanity started transmitting radio waves. In other words, alien intelligence can notice us even without such messages. If alien astronomers use the same or at least similar techniques to detect technosignatures and biosignatures, they would have already found us by now.
---
Join the discussion and participate in awesome giveaways in our mobile Telegram group. Join Curiosmos on Telegram Today. t.me/Curiosmos
---
Sources:
• Hood, A. L. (2022, March 31). NASA scientist creates new message for aliens, including human DNA. Futurism.
• Jiang, J. H., Li, H., Chong, M., Jin, Q., Rosen, P. E., Jiang, X., Fahy, K. A., Taylor, S. F., Kong, Z., Hah, J., & Zhu, Z.-H. (2022, March 24). A beacon in the galaxy: Updated arecibo message for potential fast and SETI Projects. arXiv.org.
• Oberhaus, D. (2022, March 30). Researchers made a new message for extraterrestrials. Scientific American.
• Williams, M. (2022, March 29). Astronomers come up with a new message to let the aliens know we're here. Universe Today.
Share Now