The nova was discovered by an amateur astronomer.
The coolest thing about astronomy is that you do not have to be a scientist or an expert to do it. An amateur astronomer from Japan recently discovered a new bright nova in the Cassiopeia constellation.
---
Amateur astronomer Yuji Nakamura documented his space discovery and then presented it to the international astronomical community. The discovery did not go unnoticed and it was immediately confirmed by professional astronomers from Kyoto University working at the Okayama Observatory. Their verdict is a typical white dwarf consuming its neighbor star.
The celestial object was cataloged as PNV J23244760+6111140 but then received a proper simpler designation – V1405 Cas. The fact that it was first spotted by Yuji Nakamura, an amateur astronomer, also means that you can observe it too. In fact, the white dwarf outburst is becoming brighter and brighter.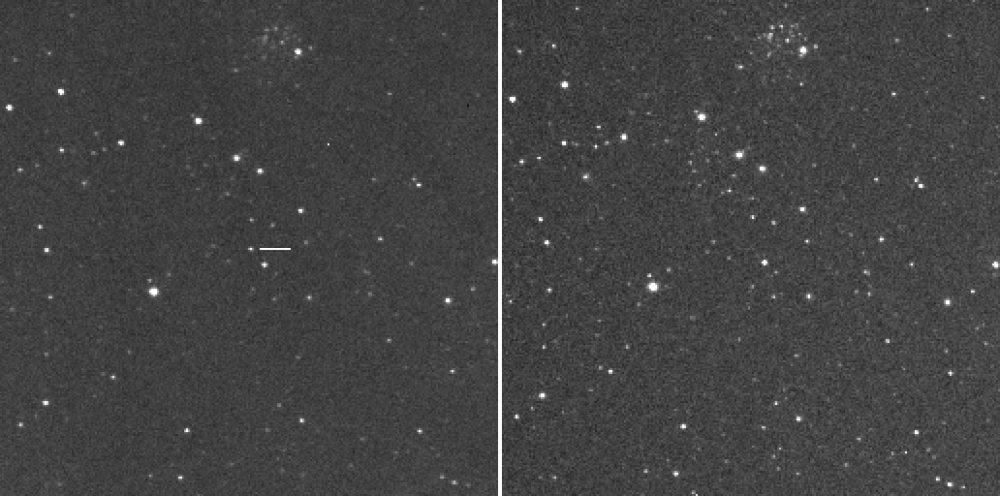 When it was discovered three days ago, scientists evaluated that its brightness was at magnitude 9.6. A day later, it was already significantly brighter at magnitude 7.8.
This important event for astronomy was further assessed by the University of Michigan researcher Kirill Sokolovsky, who had previously discovered the previous outburst of a new star in the same constellation. He gave a simple scientific explanation of the celestial object.
According to him, the discovery of the star is interesting because it is located close to other new stars – at about 1.7 kiloparsecs (5,500 light-years, – ed.) away from it. Such close objects appear about once every three years. Even now, the star can be seen through binoculars – it is getting brighter. There is a chance that soon it will become so bright that it will be possible to observe it with the naked eye, but only in the darkest hours of the night.
He also explained how a new nova appears in the sky. When a Sun-like star exhausts its nuclear fuel (hydrogen), it begins to cool down and ends up as a white dwarf.
In the case when another star is in close orbit, the white dwarf can absorb matter from the nearby object. Once it absorbs too much matter, this triggers powerful nuclear reactions that increase its brightness thousands of times to the extent that we can see it even with the naked eye.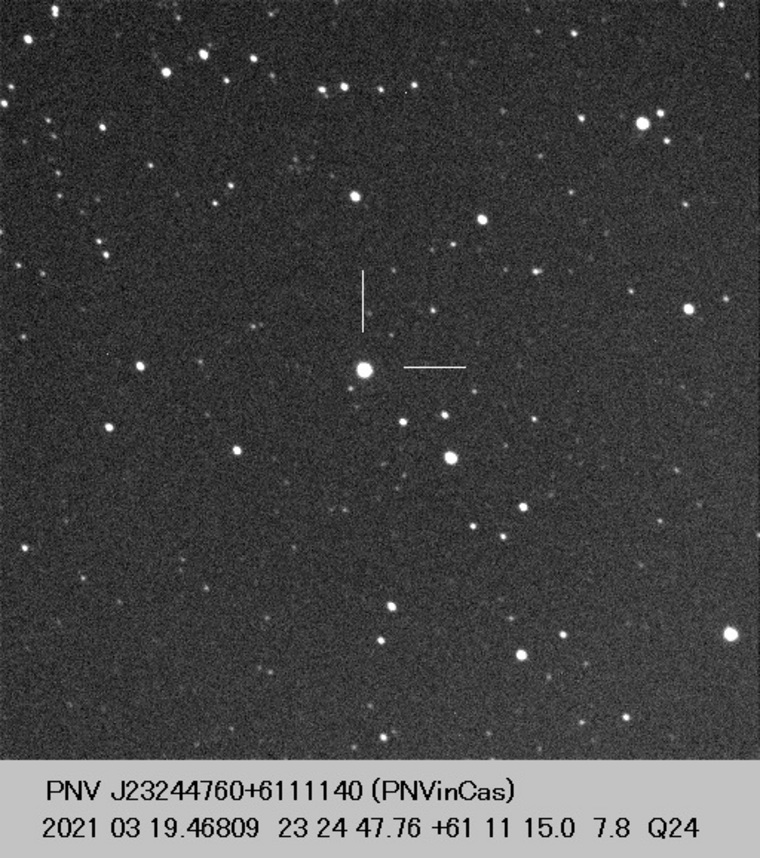 Astronomers were also able to calculate the speed at which the bright nova ejects material – approximately 1,600 kilometers per second. At this speed, it would take you less than 3 days to reach Mars. Absolutely astonishing!
Observing the new bright nova will be easier for people in the Northern Hemisphere. As a start, you will have to find the Cassiopeia constellation. The bright nova is located near two significant celestial objects – below the NGC 7654 star cluster (M52) and at approximately 30′ east-southeast of the magnificent Bubble Nebula (NGC 7635).
Astronomers have not yet revealed any information as to how long the bright nova will be visible in the night sky. For now, it is only getting brighter. Novae are often surprising. It may fade, then brighten up again several times but we highly recommend observing it as soon as possible in order not to miss it.
For stargazers with advanced astronomical equipment, you can simply use the following coordinates (provided by Astronomy.com) to find it in the night sky:
Right Ascension: 23h 24m 47.60s
Declination: +61° 11′ 14.0″
---
Join the discussion and participate in awesome giveaways in our mobile Telegram group. Join Curiosmos on Telegram Today. t.me/Curiosmos
---
Sources:
• AAVSO. Alert notice 735: Nova IN Cassiopeia: N CAS 2021 = Pnv J23244760+6111140 = CzeV3217.
• Japanese amateur Astronomer discovers new Nova in Cassiopeia.
• Klesman, A. (2021, March 19). Observe: There's a New nova you can see in Cassiopeia right now.
• Tran, T. (2021, March 20). A new object just appeared in this constellation.
Share Now