The most complete Type Ia supernova template to date.
Imagine that you are a famous astronomer and everyone is waiting for your next great discovery. Suddenly, on a cloudless starry night, as you sit and watch the sky, you see something very interesting. A star bursts into bright light right in the corner of your eye, and you're sure it wasn't there until a few hours ago, but now its light is more visible than a lighthouse. As an astronomer, you immediately think of the only possible explanation – it could only be a supernova.
An international team of astronomers has recently made a breakthrough research regarding Type Ia supernovae. We will discuss it below but first, a brief explanation of what a supernova actually is.
What happens when a star explodes?
The shining point you see in the night sky is an exploding star that reaches the end of its life, or in other words, a supernova. You know that stars, like our Sun, have a nucleus that constantly converts hydrogen into helium (which serves as fuel). 
Scientists call this process "nuclear fusion," and it is because of this that the stars glow so brightly and emit light that we can see, even though a star may be millions of light-years away. You guessed it, after years of burning fuel, the star will eventually wear it all out and the nuclear fusion will stop.
When this happens, gravity begins to draw the star inward to itself. When the star begins to shrink (let's put it this way), its shell hits its core, creating a huge shock wave. This is when the star explodes and the supernova is born.
The explosion is so powerful that it can briefly blind entire galaxies and emit as much energy as our Sun during its entire lifetime. According to NASA, supernovae are "the biggest explosions in the universe." 
However, not every star becomes a supernova, most of them are not so lucky. Many stars gradually cool down and by the end of their days are white dwarfs and later black dwarfs. 
But when we say that not all stars explode, do not think that this phenomenon is rare. Yes, in a small galaxy like ours, it happens once every 50 years, but the universe is so large that, according to many astronomers, every minute, somewhere in this vast space, a star turns into a supernova and explodes.
New Discoveries about Type Ia Supernovae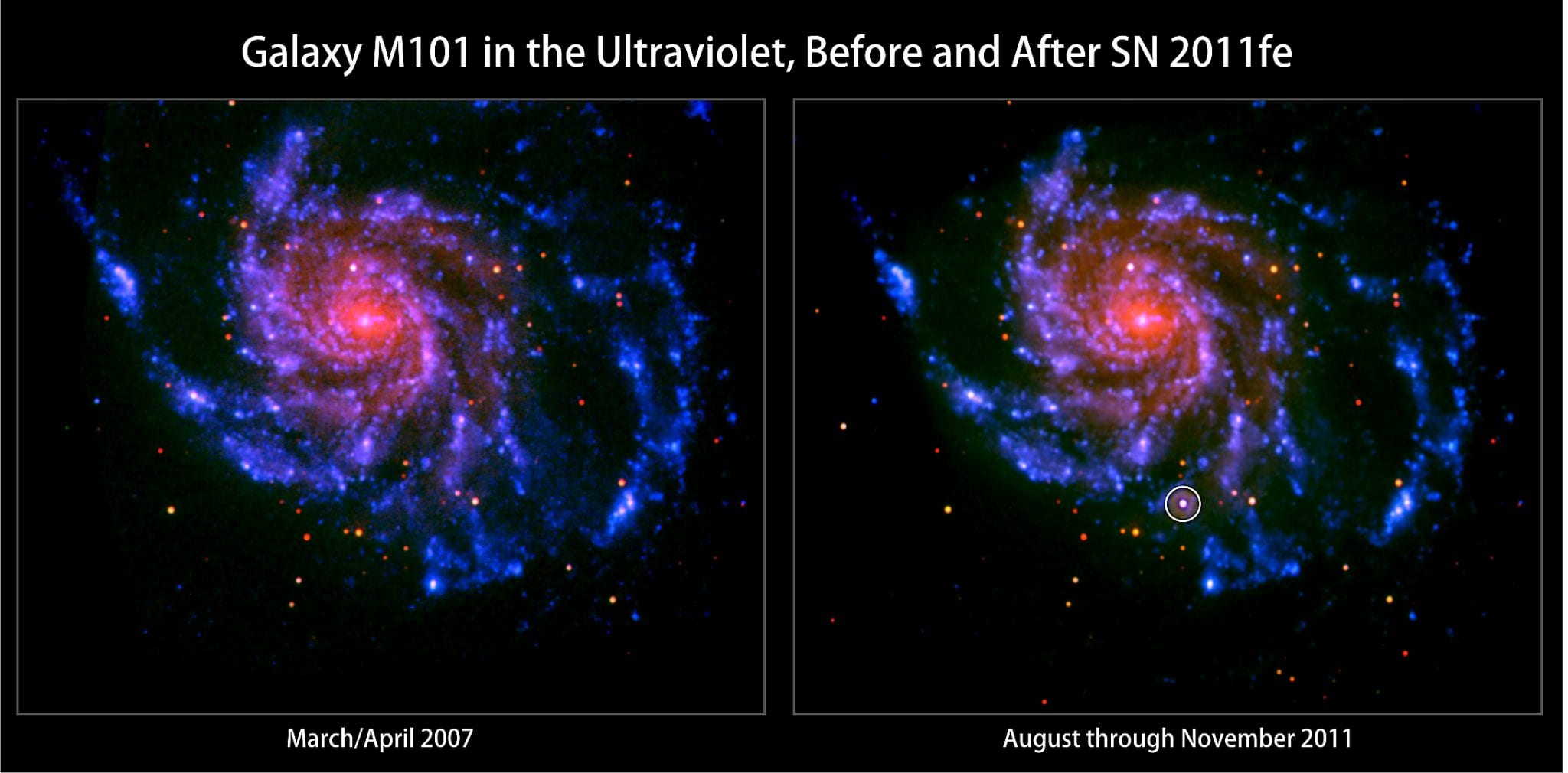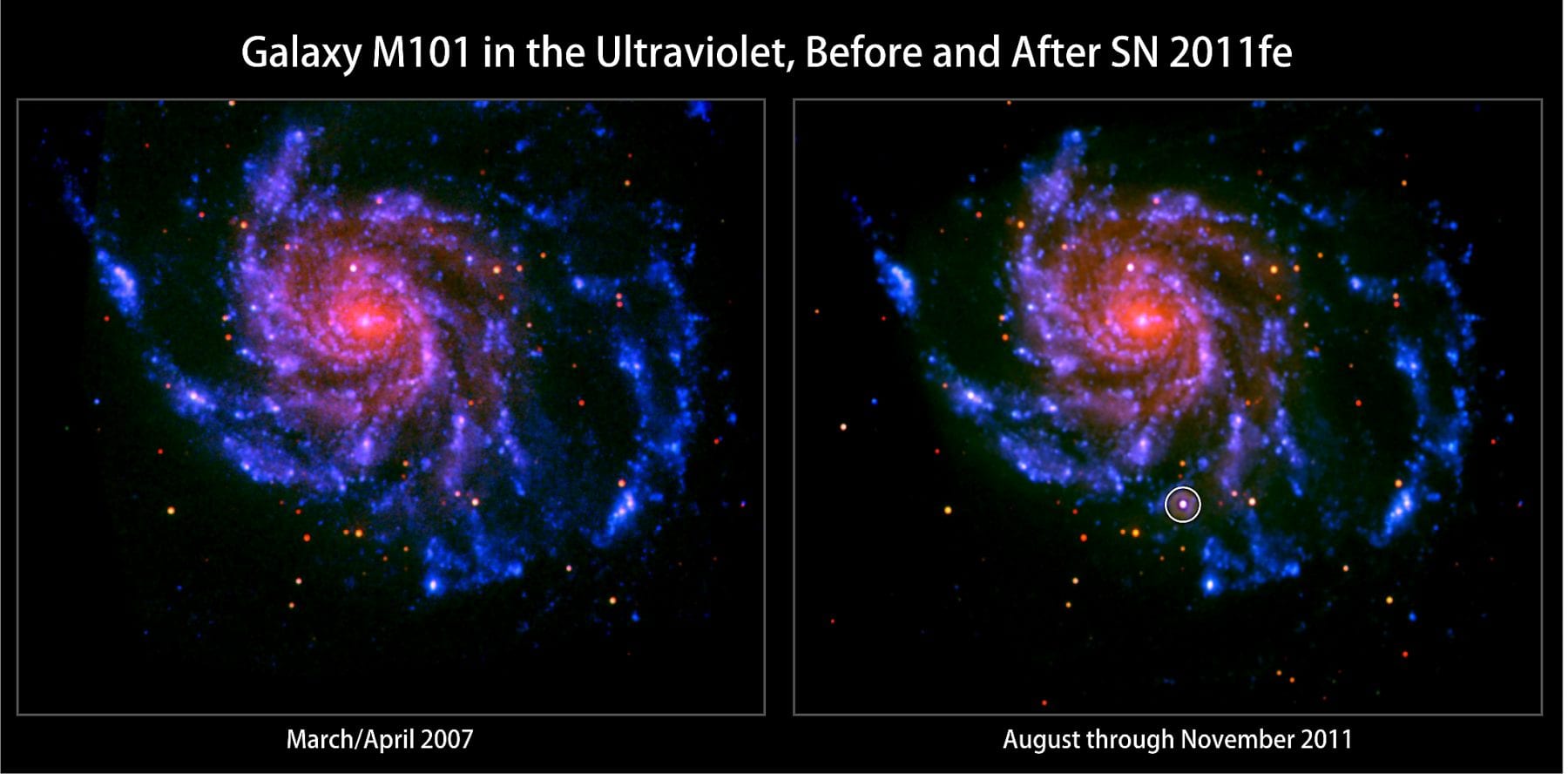 Supernovae have been divided into two classes or types – I and II. The simple difference between them is whether they exhibit hydrogen emission lines or not. Type I does not while Type II supernovae do.
Of course, each type has its own subtypes and since this new research focused on a Type Ia supernova, we only have to focus on those.
A Type Ia supernova occurs with the explosion of a white dwarf which is accreting matter from a second star which can either be massive or even a smaller white dwarf. Once this white dwarf star feeds with enough material to surpass 1.4 solar masses, gravity steps in and we know what happens next – the star explodes.
This latest research was conducted by an international team of astronomers on a Type Ia supernova called SN 2017cbv. The results were the most complete light curve and spectral templates ever obtained by science.
Until now, the behavior and explosion mechanism of Type Ia supernovae were a complete mystery. Now, these advanced templates will be given as an example in studies and discussions connected to Ia supernovae.
With this new research, scientists calculated the possible maximum of the synthesized nickel mass during such an explosion. They also managed to create an explosion model based on the collected data.
Overall, this research is a huge leap forward in supernovae studies and would lay the foundations of many more since Type Ia supernovae are of extreme importance for science.
---
Join the discussion and participate in awesome giveaways in our mobile Telegram group. Join Curiosmos on Telegram Today. t.me/Curiosmos
---
Sources:
• Drake, N. (2014, August 28). Type 1a Supernovae: Why Our Standard Candle Isn't Really Standard.
• Type Ia supernova. (2020, November 29).
• Type Ia Supernova: COSMOS.
• Wang, L. (n.d.). Optical and Near-infrared Observations of the Nearby SN Ia 2017cbv.
• Yuan, L. (2021, January 08). Chinese researchers obtain the most complete type Ia supernova template.
Share Now