Astronomers have discovered the fifth and brightest representative of cosmic "cows" – an unusual class of flashes of massive stars in the final of their lives. It is assumed that the explosion of AT2020mrf produced a millisecond magnetar or a stellar-mass black hole surrounded by an accretion disk, which ensured the flare's high luminosity in the X-ray wavelength range. 
---
Types of Supernovae
Thanks to observations of supernova explosions over the past 20 years, astrophysicists have found that massive stars die in astonishingly diverse ways. Of particular interest is the group of optical transients FBOT (Fast Blue Optical Transient), associated with supernova explosions, which were discovered just a few years ago. They are characterized by a rapid increase in brightness (less than 12 days to peak), a strong optical flux, and a blue color.
However, they are difficult to study and record due to the rapid drop in brightness, which was corrected by sky surveys using automatic telescope systems.
Currently, scientists distinguish three different subtypes of FBOT: subluminous supernovae of type Ib/IIb with a broken shell, bright supernovae of types IIn/Ibn/Icn, and the brightest and shortest (less than 2.5 days to peak) flares, called "cows" – in honor of the transient AT2018cow discovered by the ATLAS system in 2018.
In total, four 'cosmic cow' flares were discovered, which are characterized by a huge luminosity, which reaches 10 43 ergs per second, and were found in low-mass star-forming galaxies.
The high luminosity indicates the existence of dense circumstellar matter, which indicates a significant loss of mass by the progenitor star before the explosion.
The nature of such flares is still not understood, but the rapid variability of the soft X-ray flux suggests the existence of a central source of energy (central engine), which can be a compact object or shock waves.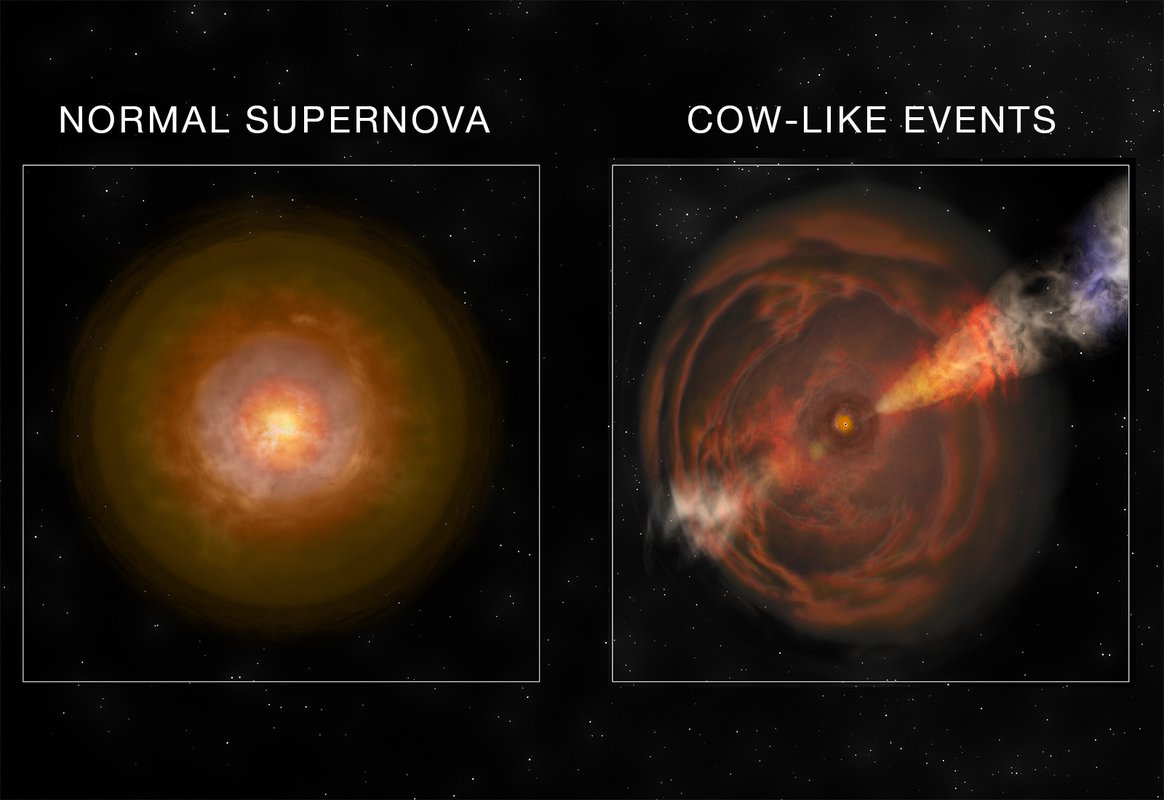 Astronomers discovered the brightest cosmic 'cow' to date
A group of astronomers reported the discovery of a new "cow" type flare, which was the optical transient AT2020mrf (or SRGe J154754.2+443907). It was initially detected by the ground-based ZTF (Zwicky Transient Facility) telescope system on June 12, 2020, and on June 14 the flash was seen by the ATLAS (Asteroid Terrestrial-impact Last Alert System) system.
In the period from July 21 to 24, 2020, AT2020mrf was observed by the eROSITA X-ray telescope installed on the Russian-German orbital observatory Spektr-RG, which conducted the second survey of the entire sky. The Keck Observatory, the Subaru Telescope, and a number of other ground-based optical telescopes also took part in the studies of the transient.
AT2020mrf became the brightest representative of its class, the peak of the flash brightness was reached already 3.7 days after it began. AT2020mrf flared in a galaxy with a redshift of z=0.1353, which has a stellar mass of 108 solar masses and a specific star formation rate of 10–10 solar masses per year, which supports the idea that flares like AT2018cow predominantly occur in dwarf galaxies.


The cosmic 'cow' exhibited curious behavior in the X-ray wavelength range. eROSITA data obtained 35–37 days after the start of the flare revealed an X-ray flux with quantum energy of 0.3–10 kiloelectron volts and a luminosity of 2 × 1043 erg per second, which is about 20 times greater than that of AT2018cow.
At the same time, the shape of the X-ray spectrum and the variability of the radiation flux resembled the first representative of the cosmic"cows". 328 days after the outburst, AT2020mrf came into view of the Chandra telescope, which determined that the luminosity of the source is 1042 ergs per second, which is more than 200 times greater than that of AT2018cow and CSS161010. At the same time, the X-ray flux remained variable.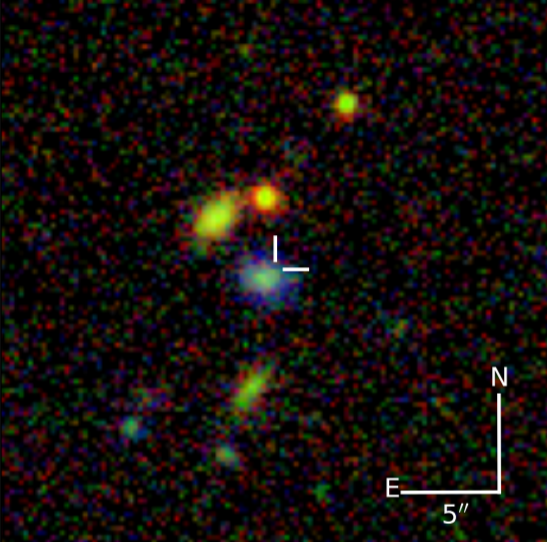 The radio luminosity of AT2020mrf was 1.2×1039 erg per second at 261 days after the outburst, which is similar to other "cows" and can be explained by synchrotron radiation from the interaction between shock waves and the dense circumstellar medium.
As for the X-ray emission of AT2020mrf, two objects born as a result of the explosion of a massive star can act as a central engine: a young millisecond magnetar (a neutron star with a magnetic field at the level of 1.4 × 1014 gausses) or a stellar-mass black hole surrounded by an accretion disk.
The discovery of AT2020mrf confirms the idea that cosmic "cows", along with long gamma-ray bursts and SLSN-I flares, represent a separate class of explosions of massive stars, where the central engine plays a large role. It is interesting that all these three classes of explosions most often occur in dwarf galaxies, and the low metallicity of progenitor stars may play a certain role in such outbursts.
Scientists hope that new representatives of both FBOT-type transients and new cosmic "cows" will be discovered in the near future.
---
Join the discussion and participate in awesome giveaways in our mobile Telegram group. Join Curiosmos on Telegram Today. t.me/Curiosmos
---
Sources:
• Grossman, L. (2019, August 8). The cosmic 'cow' may be a strange supernova. Science News.
• Kruesi, L. (2022, January 21). An X-ray glow suggests black holes or neutron stars Fuel Weird Cosmic 'cows'. Science News.
• Yao, Y. (n.d.). The Most X-ray Luminous Cow-like Supernova.
• Yao, Y., Ho, A. Y. Q., Medvedev, P., J., N. A., Perley, D. A., Kulkarni, S. R., Chandra, P., Sazonov, S., Gilfanov, M., Khorunzhev, G., Khatami, D. K., & Sunyaev, R. (2021, December 1). The X-ray and radio loud fast blue optical transient at2020mrf: Implications for an emerging class of engine-driven massive star explosions. arXiv.org.
Share Now