Astronomers have recently reported the discovery of massive cosmic superbubbles that act like humongous particle accelerators, 100 times more powerful than the Large Hadron Collider.
The discovery was made in a galaxy called NGC 3079 located 67 million light years from Earth.
The massive cosmic superbubbles were observed by astronomers using NASA's powerful Chandra X-ray Observatory. the structures stretch for thousands of light years.
Researchers spotted the cosmic bubble in space appearing as two bright masses that out on opposite sides of a 'supermassive black hole' at the very center of the galaxy.
According to a statement from the Chandra X-Ray Observatory, "the pair of balloon-like regions stretch out on opposite sides of the center of the galaxy: one is 4,900 light years across and the other is only slightly smaller, with a diameter of about 3,600 light years. For context, one light year is about 6 trillion miles or 9 trillion kilometers."
Although we still do not know for sure how the bubbles are created, astronomers believe that matter falling into the supermassive black hole could act as a gigantic cosmic particle accelerator.
As noted by NASA, the massive bubbles are up to one hundred times stronger than the LHC in Geneva.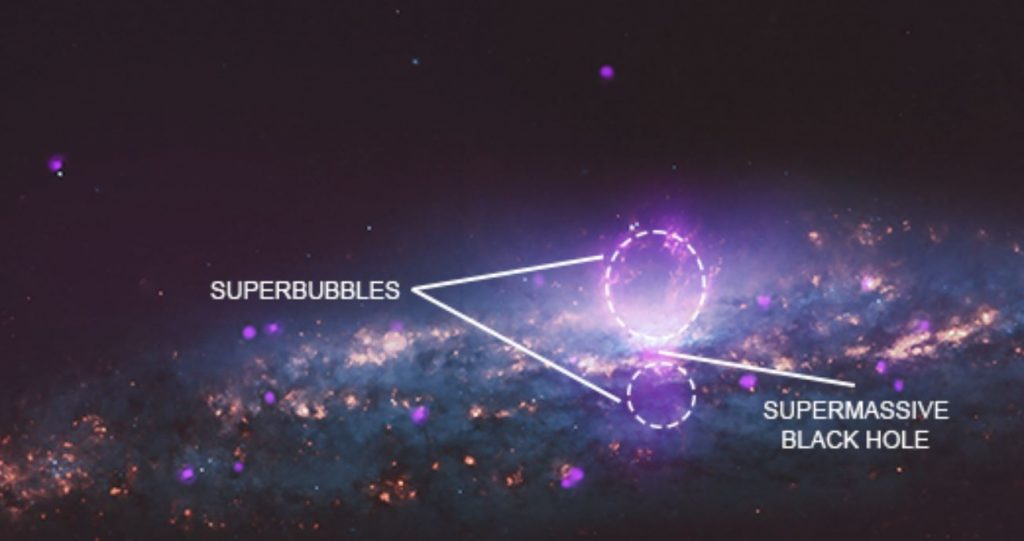 According to NASA, "The superbubbles, shown in purple on the image right, are so hot they emit X-rays detected by NASA's Earth-orbiting Chandra X-Ray Observatory. Since the bubbles straddle the center of NGC 3079, a leading hypothesis is that they were somehow created by the interaction of the central supermassive black hole with surrounding gas."
"Alternatively, the superbubbles might have been created primarily by the energetic winds from many young and hot stars near that galaxy's center. The only similar known phenomenon is the gamma-ray emitting Fermi bubbles emanating from the center of our Milky Way Galaxy, discovered 10 years ago in images taken by NASA's Fermi satellite."
"Research into the nature of the NGC 3079 superbubbles will surely continue, as well as searches for high-energy superbubbles in other galaxies."
Furthermore, as noted by Chandra, the discovery of the superbubbles in NGC 3079 provide evidence that they and structures similar to them could be the source of high-energy particles called "cosmic rays" that regularly bombard the Earth.
Scientists note that NGC 3079's superbubbles are younger cousins of "Fermi bubbles," first located in the Milky Way galaxy in 2010.