Astronomers have unveiled 14 new active galactic nuclei.
With the Spectrum-RG spacecraft's and terrestrial telescopes' aid, Russian astronomers have charted X-ray sources in the east Galactic sky, unveiling 14 new active galactic nuclei (AGN). The study was published on June 6 in Astronomy Letters. These AGNs—compact, intensely radiant areas at galaxy centers—surpass the luminosity of their host galaxies. Their high energy levels stem from black holes or star-formation activities within the galaxy's core.
14 New Active Galactic Nuclei
AGNs are typically classified into two types based on emission line features. Broad and narrow emission lines denote Type 1 AGNs, while Type 2 AGNs exhibit only narrow emission lines.
Guided by Grigory Uskov from the Russian Academy of Sciences, the team focused on hard X-ray sources in the eastern Galactic half, employing SRG's ART-XC and eROSITA telescopes, along with the 1.6-m AZT-33IK and 1.5-m Russian-Turkish telescopes.
Revealing the New X-ray Sources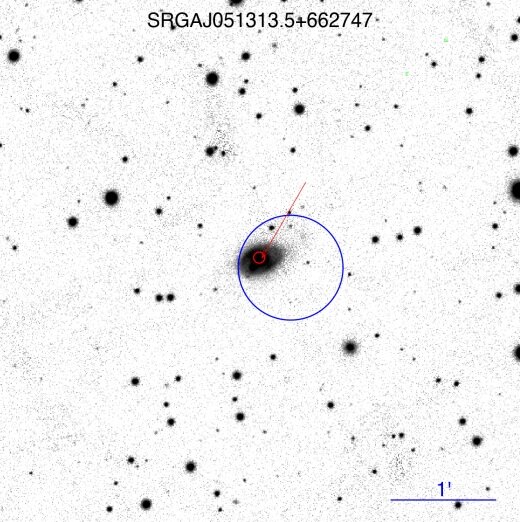 The study culminated in the identification of 14 X-ray sources in the 4–12 keV energy band on the combined map of the initial five all-sky surveys from December 2019 to March 2022, the researchers elucidated.
These 14 newly discovered AGNs, nestled within Seyfert galaxies, are relatively close to us with redshifts ranging from 0.015 to 0.238. Their X-ray luminosities span between 1–100 tredecillion erg/s, a norm for current-era AGNs.
Deriving Black Hole Masses and Bolometric Luminosities
Constructing broadband X-ray spectra, the team managed to calculate black hole masses and bolometric luminosities for four of the new AGNs. These figures range from 12–260 million solar masses, and 170–1,800 tredecillion erg/s, respectively.
The astronomers underscore the significance of their findings in the continuous quest for AGNs. They anticipate the completion of eight planned sky surveys to culminate in a large, statistically complete sample of around 2,000 AGNs.
PLEASE READ: Have something to add? Visit Curiosmos on Facebook. Join the discussion in our mobile Telegram group. Also, follow us on Google News. Interesting in history, mysteries, and more? Visit Ancient Library's Telegram group and become part of an exclusive group.
Share Now