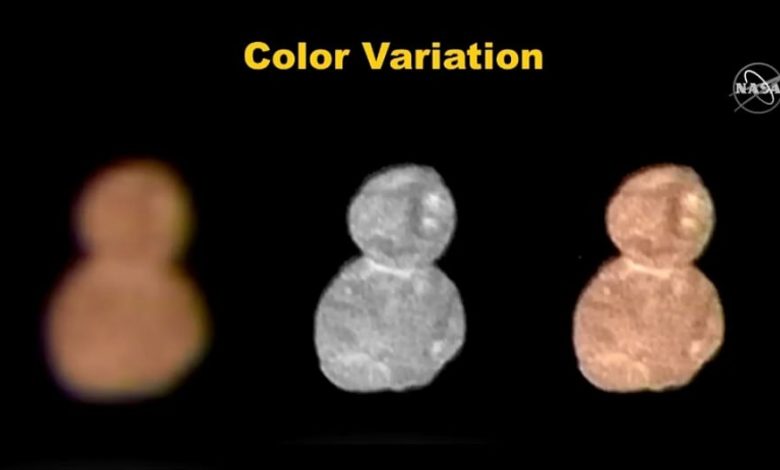 NASA has recently revealed stunning, never-before-seen images of the most distant object ever visited by mankind.
And to the surprise of many, the mysterious object is cover in a reddish-color and is composed of TWO objects that are fused together, giving off the strange appearance of a snowman in space.
The New Horizons Spacecraft made its closest approach on Ultima Thule at 12:33 a.m. (ET) Jan 1st, at a mind-bending distance of 4 billion miles from Earth.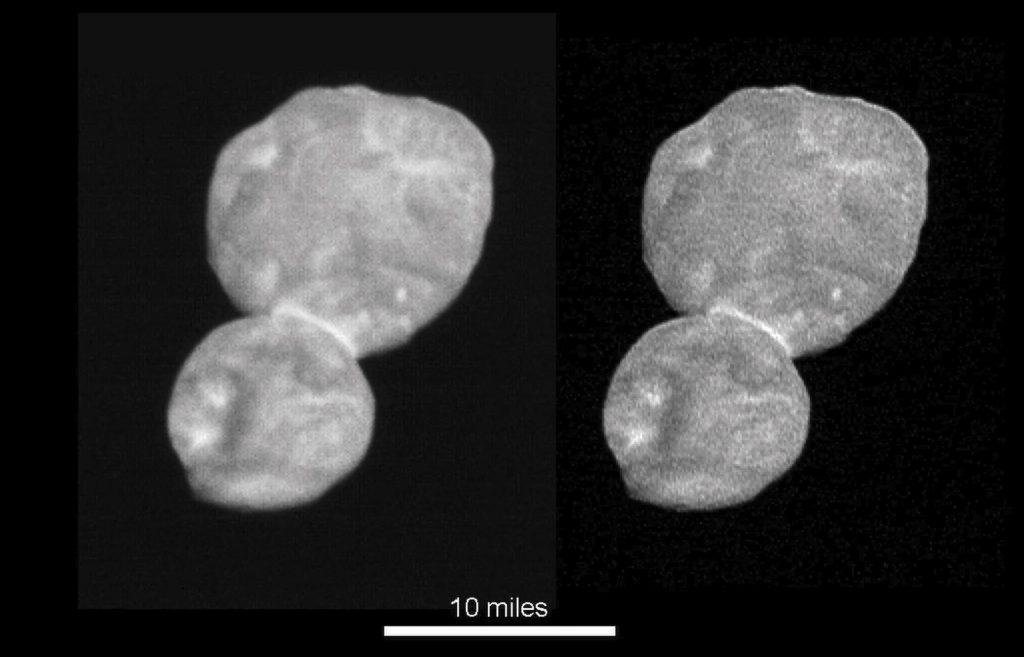 As the spacecraft approached the mysterious object it collected a plethora of scientific data and snapped countless images which will take at least 20 months to arrive back to Earth.
However, the first images snapped of the object show what appears to be one object sitting atop another.
This strange snowman-like arrangement is what scientists call a contact binary and it is the first of such objects ever visited by mankind.
Principal Investigator Alan Stern said in a press conference that photographing Ultima Thule, located at more than 4 billion miles away from Earth is a "technical success beyond anything ever attempted before in spaceflight."
The accomplishment is fascinating taking into consideration that some 4 years ago we didn't even know the object existed.
"It's really only the size of Washington D.C., and about as reflective as garden variety dirt," Stern explained.
"We were ultimately chasing it down in the dark at 32,000 miles per hour," Stern added.
And the next batch of pictures will show Ultima Thule with more precision.
"I've said it a number of times, I think New Horizons is an example — one of the best examples in our time — of raw exploration, and the term Ultima Thule, which is very old, many centuries old, possibly over a thousand years old, is a wonderful meme for exploration," Stern further explained.
"That's why we chose it. I would say that just because some bad guys once liked that term, we're not going to let them hijack it."
As explained by scientists, the two mysterious sphere-like objects that makeup Ultima Thule came together in a gentle accretion process, as the two objects became bound by gravity.
Ultima Thule was 'born' this way, and did not evolve or deform through time to take the shape it has today.
Jeff Moore, New Horizons Geology and Geophysics team lead explained that "New Horizons is like a time machine, taking us back to the birth of the solar system."
"We are seeing a physical representation of the beginning of planetary formation, frozen in time. Studying Ultima Thule is helping us understand how planets form — both those in our own solar system and those orbiting other stars in our galaxy," Moore explained.