Unveiling a captivating cosmic revelation, the James Webb Space Telescope has pointed its cameras "venturing" beyond our solar system to capture an extraordinary sight: the very first infrared images of an asteroid belt.
The James Webb Space Telescope has exposed an unexpected complexity within the debris disk structure around the young star Fomalhaut, shedding new light on our understanding of planetary systems and photographing, for the first time, an asteroid belt beyond our solar system.
Asteroid Belt Beyond Our Solar System
While examining the warm dust around Fomalhaut with the James Webb Space Telescope, astronomers discovered three nested belts extending 14 billion miles from the star. This intricate configuration contrasts with our solar system's simpler asteroid and Kuiper dust belts.
Fomalhaut's Role as a Debris Disk Archetype
Lead author, András Gáspár of the University of Arizona, suggests Fomalhaut is the archetype of debris disks, as it possesses components similar to those in our solar system. Studying these patterns could help researchers visualize what planetary systems should look like, even if the suspected planets remain unseen.
Webb's Infrared Imaging Unlocks Inner Belt Mystery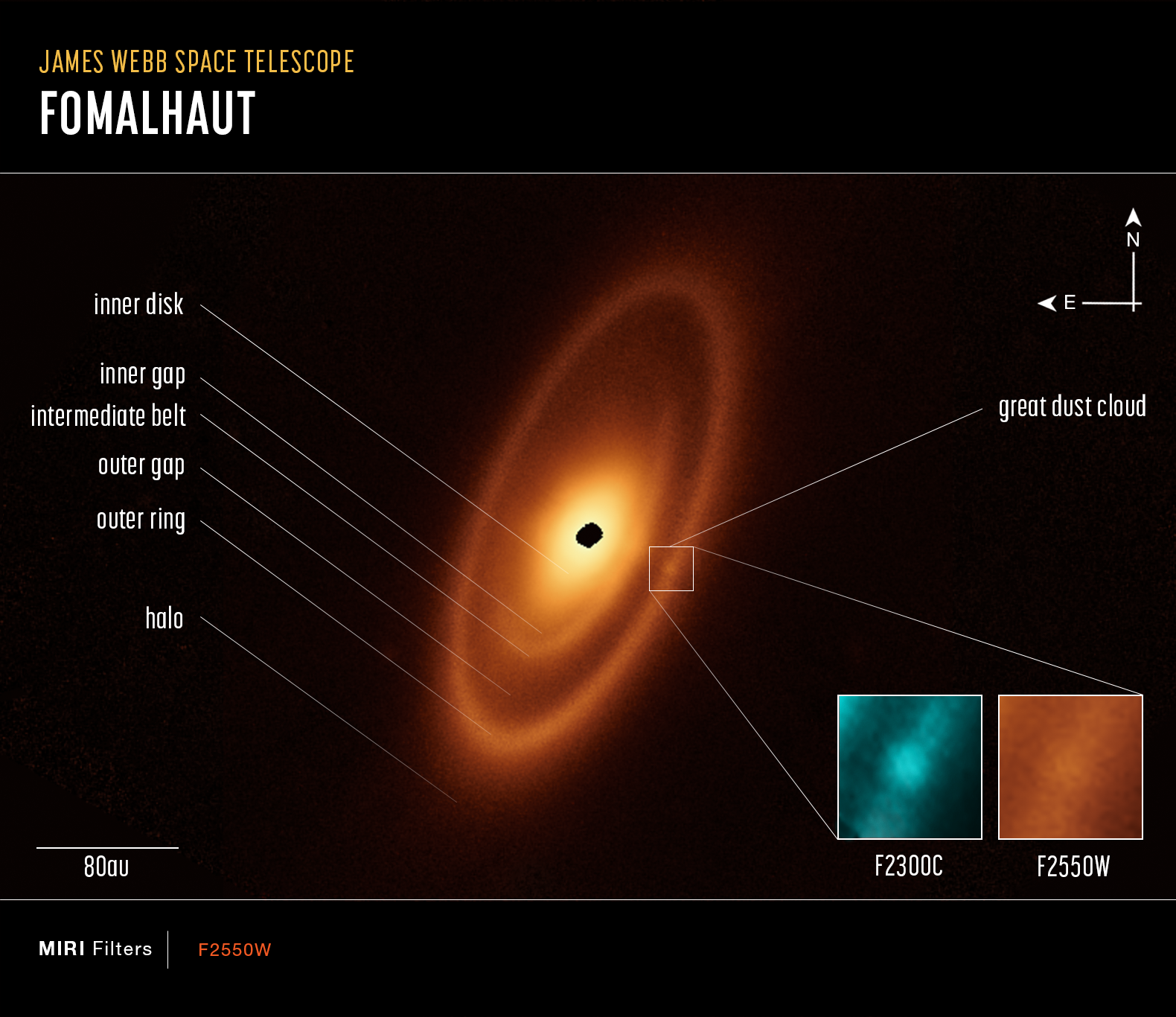 Hubble, Herschel, and ALMA previously captured images of Fomalhaut's outermost belt, but none revealed any inner structure. Webb's infrared capabilities allowed scientists to resolve the inner belts for the first time, shedding light on debris disks around numerous stars.
The Influence of Hidden Planets
The belts' formations are likely shaped by the gravitational forces of unseen planets, similar to how Jupiter and Neptune sculpt our solar system's belts. As Webb studies more systems, researchers will gain insights into the configurations of exoplanetary systems.
A Brief History of Fomalhaut's Dust Ring Discoveries
Fomalhaut's dust ring was first identified in 1983, and various telescopes have since studied it. The complex structure, including the recently discovered intermediate belt, intrigues astronomers who suspect embedded planets may be shaping the rings.
Photographing an Asteroid Belt Beyond Our Solar System
Webb's imaging captured what Gáspár calls "the great dust cloud," potentially evidence of a collision between two protoplanetary bodies in the outer ring. This feature differs from a suspected planet inside the outer ring that Hubble observed in 2008 but has since vanished.
The Evolution of Protoplanetary Disk Theory
The concept of protoplanetary disks dates back to the late 1700s when astronomers Immanuel Kant and Pierre-Simon Laplace independently proposed that the Sun and planets formed from a rotating gas cloud. Observations of debris disk dust can provide unique clues about exoplanetary system structures, reaching down to Earth-sized planets and even asteroids.
The research team's findings are being published in the journal Nature Astronomy. The study further expands our knowledge of the complex debris disk structure around Fomalhaut and improves our understanding of planetary systems.
Have something to add? Visit Curiosmos on Facebook. Join the discussion in our mobile Telegram group.