At the end of the experiment, which lasted 420 hours, the scientists returned the tardigrade to normal conditions by placing it in water, where it regained its active state.
Scientists from several countries have reported the results of an experiment in which they used a tardigrade to change the state of a transmon qubit entangled with another qubit under conditions of very low temperatures and pressures. The tardigrade survived this experiment, breaking the record for the extreme physical conditions in which the species can survive. 
---
Quantum superposition
Quantum superposition is a phenomenon that occurs in quantum mechanics that has no analogs in the classical picture of the world. It lies in the fact that the quantum states of objects can be represented as a sum of states corresponding to different values ​​of any physical observable.
If there are several interacting objects in the system, then their many-particle states can also turn out to be superpositional, realizing quantum entanglement – a fundamental correlation, thanks to which quantum computing and quantum communication are possible.
Decoherence
Strictly speaking, any interaction of something with an object in a state of quantum superposition must lead to quantum entanglement. If it is something large enough in size and contains many degrees of freedom (physicists often call such bodies "warm and wet"), then the quantum superposition dissipates, and the object goes into one of the states with a certain observable. This process is called decoherence.
Physicists are still debating the interpretation of this process. One of the arguments in this dispute was a thought experiment with Schrödinger's cat, which, being a macroscopic biological object, obviously fits the definition of warm and humid. Thus, in physics, a boundary of scales has formed, beyond which quantum effects disappear very quickly.
Despite this, scientists are trying to move it as far as possible into the area of ​​large objects, including living ones. Recent advances in quantum biology thus formed include the quantum superposition of a biological molecule consisting of 15 amino acids, and even the entanglement of a single bacterium light, which, however, was only indirectly confirmed.
Scientists built a tardigrade into a qubit
One scientific team went further and reported that they had succeeded in creating a quantum superposition between two transmon qubits, one of which was associated with the tardigrade by electrostatic interaction. According to the authors themselves, a multicellular organism was first transferred by them into a state of quantum superposition. In addition, the researchers set a record for the extreme conditions that a complex life form can withstand.
As the object of study, scientists chose the Danish population of individual species of tardigrades Ramazzottius varieornatus. Tardigrades are known for their vitality, which is due to the state of anhydrobiosis, that is, anabiosis caused by desiccation. The species selected by the authors is characterized by drying up to 100-150 micrometers with a length of 200-450 micrometers in an active state.
Process and results
First, physicists placed a sleeping tardigrade on capacitor plates in a superconducting transmon qubit at a temperature of 10 millikelvin and a pressure of 6 × 10 −6 millibars, which led to a shift in its resonant frequency by eight megahertz. They modeled this effect by imagining the tardigrade as a dielectric cube with an edge length of 100 micrometers. It was reproduced for a dielectric constant of about four, which corresponds to the lower limit of the dielectric properties of proteins.
Then the researchers built a microscopic model of the interaction of the qubit with the tardigrade, describing the charge fluctuations in the latter using Nharmonic oscillators. Moreover, they limited themselves to only two possible states of the oscillator system, in fact considering the tardigrade as the third qubit.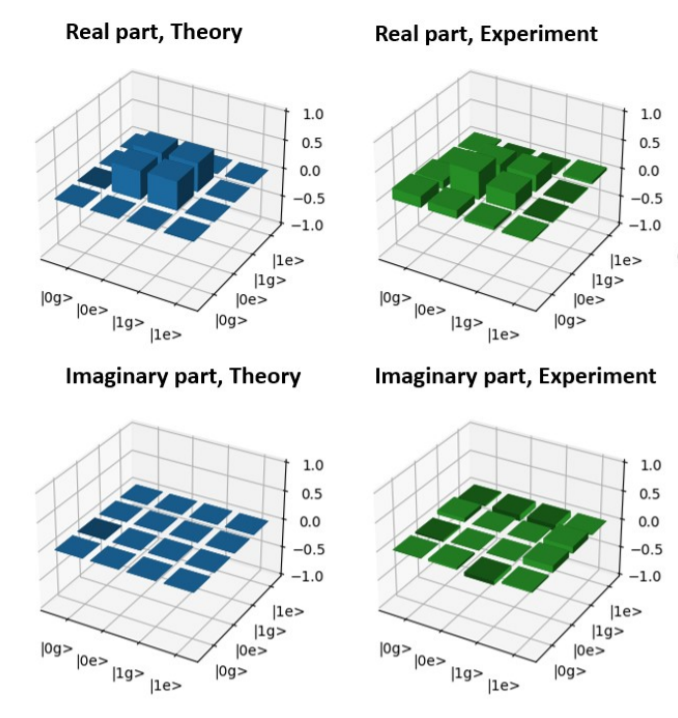 In the second part of the experiment, physicists connected the "qubit + tardigrade" system with another qubit and transferred them to a superposition state using the CNOT operation. The authors performed tomography of quantum states in a four-dimensional subspace, the basis of which included two states of the new qubit and two states of the "qubit + tardigrade" system. Comparison of the constructed density matrix with theoretical predictions showed a fidelity of 82 percent.
At the end of the experiment, which lasted 420 hours, the authors returned the tardigrade to normal conditions by placing it in water, where it regained its active state. This is a new temperature record for tardigrade survival at low pressure, which previously was 50 millikelvin.
---
Join the discussion and participate in awesome giveaways in our mobile Telegram group. Join Curiosmos on Telegram Today. t.me/Curiosmos
---
Sources:
• Bowler, J. (n.d.). Physicists claim they've quantum entangled a tardigrade with a qubit. but have they? ScienceAlert.
• Discover Magazine. (2021, December 22). How a tardigrade "micro animal" became quantum entangled with superconducting qubit.
• Lee, K. S., Tan, Y. P., Nguyen, L. H., Budoyo, R. P., Park, K. H., Hufnagel, C., Yap, Y. S., Møbjerg, N., Vedral, V., Paterek, T., & Dumke, R. (2021, December 16). Entanglement between superconducting qubits and a tardigrade. arXiv.org.
• Specktor, B. (2021, December 20). Frozen Tardigrade becomes first 'quantum entangled' animal in history, researchers claim. LiveScience.
• Tangermann, V. (2021, December 22). Scientists claim to entangle entire animal in Quantum State. Futurism.
Share Now