For the first time ever, scientists have observed the torus structure within the radio galaxy Cygnus A, in a sensational astronomic achievement.
This is great news, and it's even more awesome because alter this well, we may get the very first photograph of a black hole's event horizon.
The Cygnus A Galaxy
There are all kinds of galaxies in the cosmos. Some of them, called radio galaxies (like Cygnus A) are home to particular highly active black holes that appear to be extremely bright in radio wavelengths.
These types of black holes are found to be surrounded by a gigantic dis of matter that makes its way into the black hole, and around that massive disk, there's a supermassive doughnut-shaped torus of dust.
The torus imaged by scientists is located in Cygnus A is more than 800 Million light years away. Nonetheless, Cygnus A is one of the brightest observable radio sources in the sky.
Located at the very center of the galaxy is a Black hole that scientists believe is equivalent to the mass of approximately 2.5 billion suns. It's massive. It's somewhat scary. And we just took a peek at it.
The black hole is actively accreting a huge amount of matter. Along the way, it is also shooting relativistic jets of plasma light-years into space from its poles.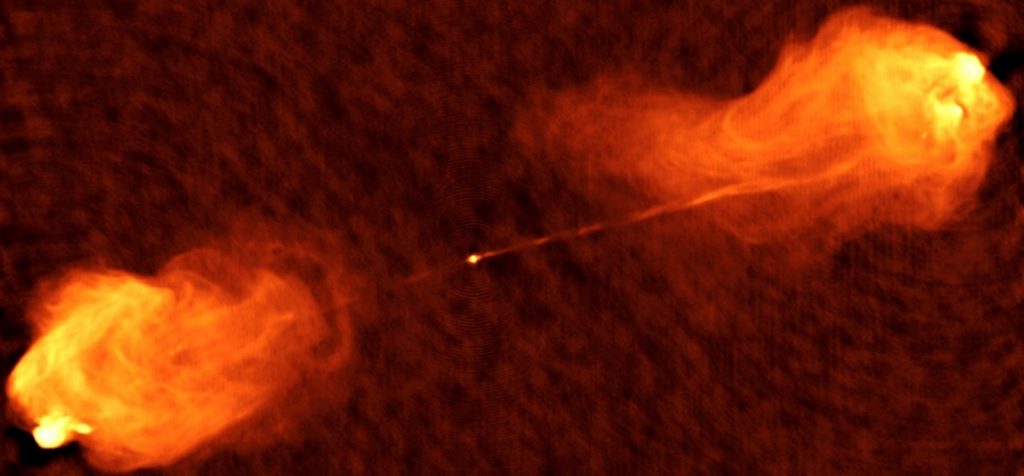 The AGN Phenomenon
An active galactic nucleus (AGN) is a compact region at the center of a galaxy that has a much higher than normal luminosity over at least some portion of the electromagnetic spectrum with characteristics indicating that the luminosity is not produced by stars.
Such excess non-stellar emission has been observed in the radio, microwave, infrared, optical, ultra-violet, X-ray and gamma-ray wavebands. A galaxy hosting an AGN is called an "active galaxy".
The radiation from an AGN is believed to result from the accretion of matter by a supermassive black hole at the center of its host galaxy.
The supermassive black hole, as well as the accretion disk and the shooting relativistic jets of plasma, make up a kind of unified model of the active galactic nucleus (AGN). Depending on the type of galaxy they are in, these nuclei can look very different.
According to astronomers, radio galaxies and Seyfert galaxies, as well as Quasars and Blazars are found to have extremely bright active galactic nuclei., but very different properties.
Astronomers say that these peculiarities could be explained by a massive, dusty torus that shades away some of the features of the AGN, depending on our view-angle of the system. In other words, it greatly depends on our observational angle.
"The torus is an essential part of the AGN phenomenon, and evidence exists for such structures in nearby AGN of lower luminosity, but we've never before directly seen one in such a brightly-emitting radio galaxy," explained astrophysicist Chris Carilli of the National Radio Astronomy Observatory (NRAO).
"The torus helps explain why objects known by different names actually are the same thing, just observed from a different perspective."
Observing Cygnus A
From our perspective, Cygnus A's AGN is side on, and the torus obscures the black hole. This galaxy is also located ten times closer to us than any other galaxy of similar radio brightness. That's why astronomers turned to the Very Large Array (VLA) radio interferometer to attempt and get a closer look at the theorized torus.
Luckily, the theory proved right and they observed a supermassive torus of gas, around 900 light-years across.
Astronomers spotted massive clumps of gas surrounding the supermassive black hole at the center of Cygnus A.
Last year, scientists also found that the torus at Cygnus A is bound by a massive magnetic field that keeps it in place.
To understand more about its nature, astronomers expect that further observations could reveal more about the dynamics of the torus, as well as what sort of role it plays in the AGN system.
"It's really great to finally see direct evidence of something that we've long presumed should be there," Carilli concluded.