Another strange object has been photographed by the Perseverance rover on Mars. Its origin unknown, and it seems to be "stuck" on the rover.
A hair-like structure can be seen in an image taken by NASA's Perseverance rover sampling area on Mars. The mission's 12th sample was successfully extracted, sealed, and stored according to information downloaded from the rover on August 4.
After the coring activity was complete, the sample collection system was photographed using various components. Two small pieces of debris can be seen in those images: a small object in the drill carousel and a small hair-like object in the chuck.
According to NASA, the team is investigating their source and whether they were generated by the rover or by external debris from the EDL system that was discarded at the start of the mission. An analysis of the images of the workspace is performed to determine whether any remains of foreign objects are visible.
In addition, the robotic arm turret will rotate so that the chuck and drill carousel can be seen from a more oblique viewpoint. Additional imaging and diagnostic activities may be necessary to understand these objects better.
Both the Perseverance Rover as well as Curiosity have had their fair share of strangeness they've encountered on Mars.
Both robotic explorers have photographed odd objects on the Martian surface, leading many people on Earth to speculate that there is more to Mars than what we are being told.
One of the mysteries Persy encountered was visible in imagery captured by the rover's Right Hazard Avoidance Camera (Hazcam) on July 12, when the rover photographed a strange spaghetti-like object on the Martian surface. There was no sign of the object four days later.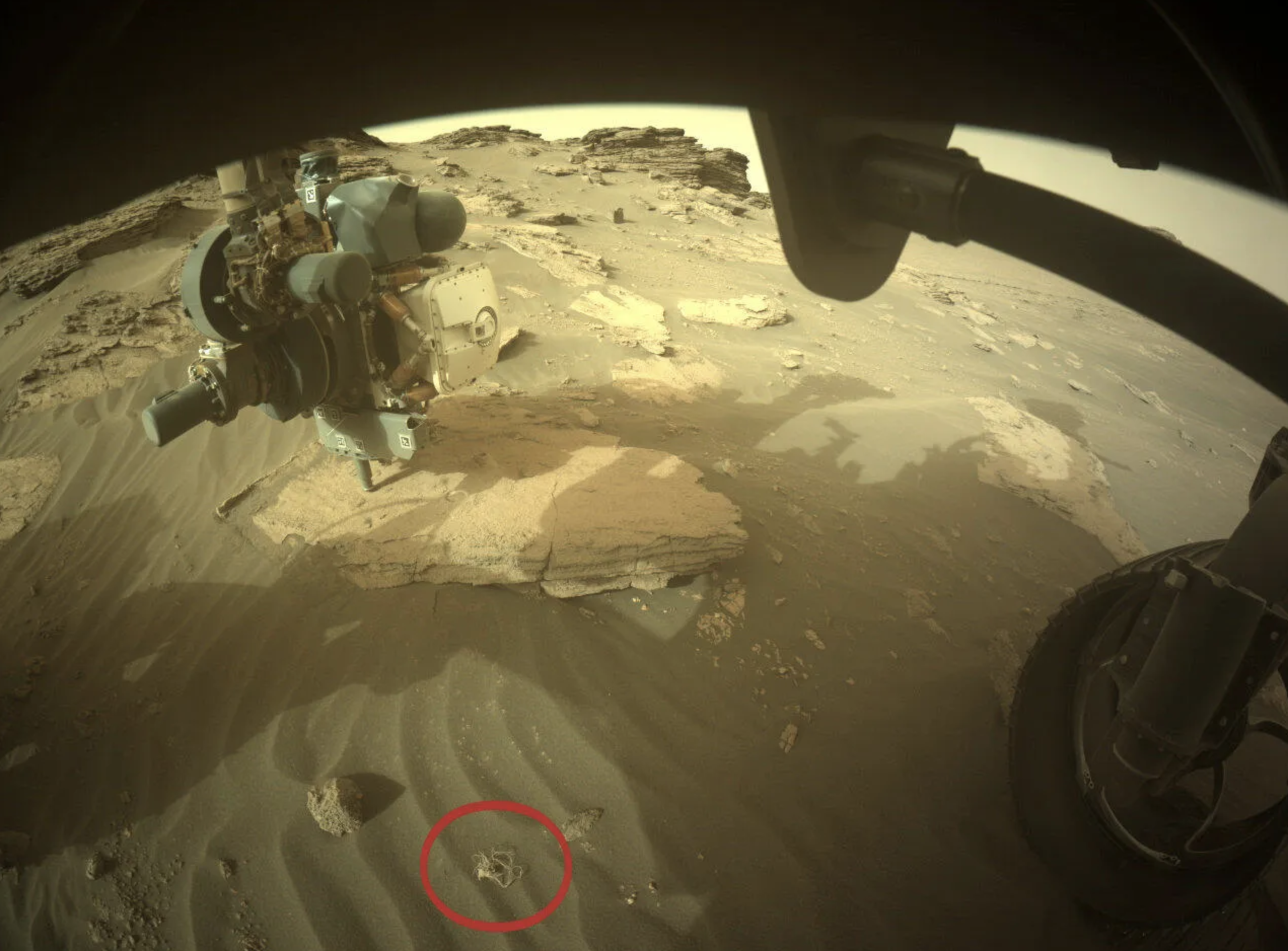 A number of objects have been observed that resemble pyramids, doors, cannon balls, and even crab-like monsters. Although these crazy discoveries may be nothing more than the mind playing tricks on us, we wouldn't be shocked if we did discover evidence of life on Mars.
Mars is the closest planet to Earth and is thought to have had vast oceans, lake systems, and even rivers in the distant past. Life as we know it may have evolved at some point on its surface.
To find out whether this was the case and if there is perhaps life on Mars today, Perseverance and Curiosity are probing the planet. Perseverance has successfully packed its first package with Martian dirt, set to return to Earth in the near future for further analysis.
"Returning a sample from Mars has been a priority for the planetary science community since the 1980s, and the potential opportunity to finally realize this goal has unleashed a torrent of creativity," explained Michael Meyer, lead scientist for NASA's Mars Exploration Program based at NASA Headquarters in Washington.
---
Join the discussion and participate in awesome giveaways in our mobile Telegram group. Join Curiosmos on Telegram Today. t.me/Curiosmos
Share Now