It is described as some of the brightest visible-light events known in the cosmos.
In a perplexing cosmic event, the Hubble Space Telescope has identified a rare, eerie burst of light known as a Luminous Fast Blue Optical Transient (LFBOT), situated far away from any host galaxy, hinting at a potential new understanding of these celestial phenomena.
LFBOTs, described as some of the brightest visible-light events known in the cosmos, flash unexpectedly similar to camera bulbs, illuminating the universe's vast expanses. Until now, only a handful have been discovered since the initial detection in 2018, with about one LFBOT being identified annually.
Hubble's Sharp Eye Pinpoints 'The Finch'
The recent LFBOT, labeled AT2023fhn and nicknamed "the Finch," showcased all typical characteristics of an LFBOT, shining brightly in blue light, and evolving rapidly, reaching peak brightness before dimming again within days. This behavior starkly contrasts with supernovae, which take weeks or months to dim.
But what sets the Finch apart from its predecessors is its peculiar location – nestled in isolation between two neighboring galaxies, approximately 50,000 light-years from a nearby spiral galaxy and about 15,000 light-years from a smaller galaxy.
Ashley Chrimes, lead author of the scientific paper, emphasized the importance of Hubble's observations, stating, "The Hubble observations were really the crucial thing. They made us realize that this was unusual compared to the other ones like that, because without the Hubble data we would not have known."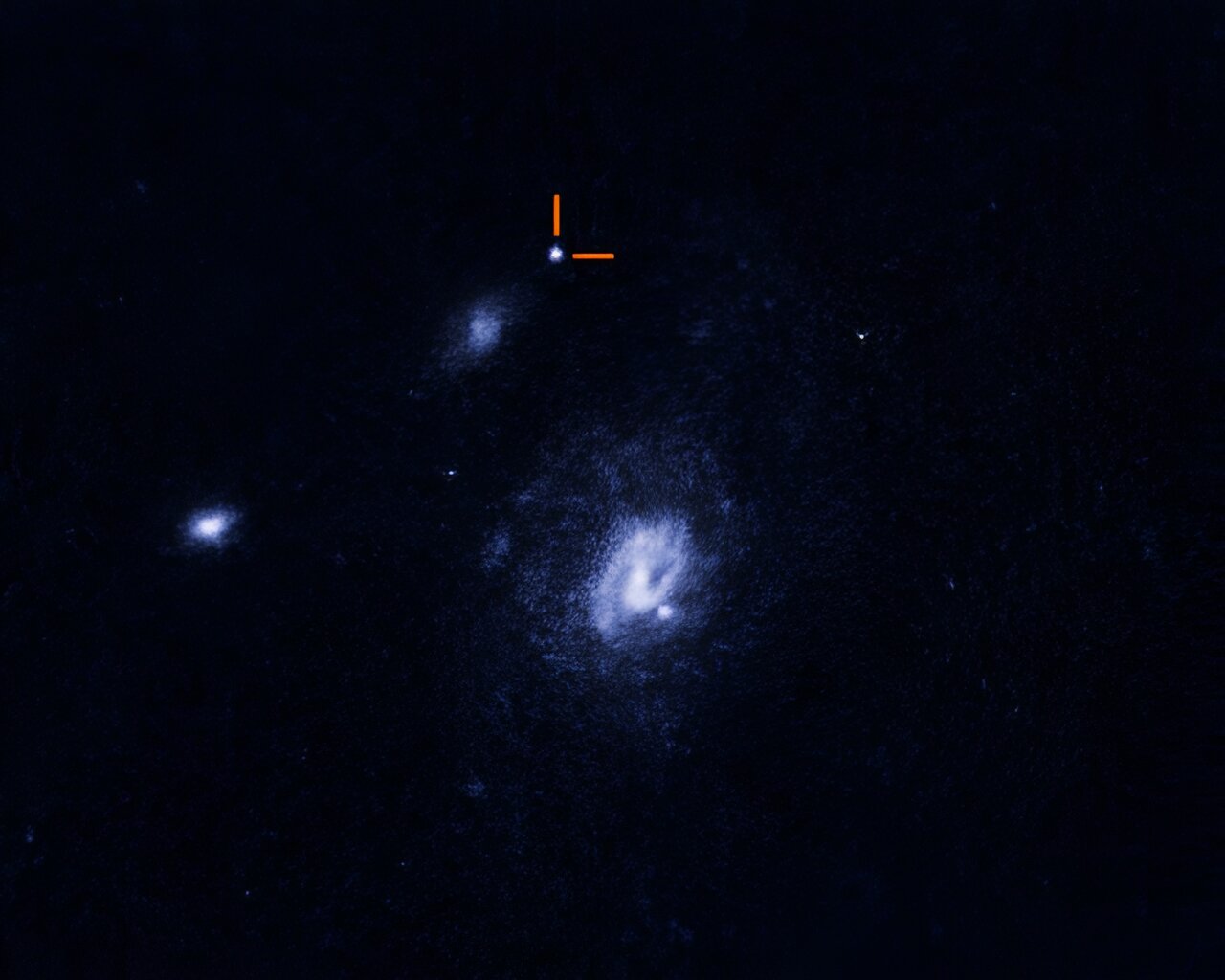 Unraveling The Mysteries of LFBOTs
Traditionally, LFBOTs have been associated with core-collapse supernovae, occurring within vibrant star clusters in the spiral arms of galaxies. However, the Finch's isolated location challenges this notion, sparking curiosity and broadening the scope of investigations into the nature and origins of LFBOTs.
Chrimes noted, "The more we learn about LFBOTs, the more they surprise us. We've now shown that LFBOTs can occur a long way from the center of the nearest galaxy, and the location of the Finch is not what we expect for any kind of supernova."
The Road Ahead: Broader Sky Surveys and New Discoveries
The data obtained from the Finch has opened a plethora of questions, urging the astronomical community to delve deeper. The Finch's discovery was initially alerted by the Zwicky Transient Facility, followed by an orchestrated observation plan utilizing various telescopes across the electromagnetic spectrum. The collaborative efforts helped in determining the Finch's scorching temperature of 20,000 degrees Celsius and confirming its identity as an LFBOT.
Chrimes encapsulated the essence of this discovery, "The discovery poses many more questions than it answers. More work is needed to figure out which of the many possible explanations is the right one."
PLEASE READ: Have something to add? Visit Curiosmos on Facebook. Join the discussion in our mobile Telegram group. Also, follow us on Google News. Interesting in history, mysteries, and more? Visit Ancient Library's Telegram group and become part of an exclusive group.
Share Now