The Hubble Space Telescope has imaged two galaxies that make up the so-called Arp-Madore 608-333 pair in a galactic dance.
The NASA/ESA Hubble Space Telescope captured this image of the two galaxies that make up the Arp-Madore 608-333 pair in an interacting cosmic dance. Even though both galaxies seem serene and unperturbed, mutual gravitational interaction is warping and distorting them. This long-distance galactic interaction was captured by Hubble's Advanced Camera for Surveys.
Using Hubble, ground-based telescopes, and the NASA/ESA/CSA James Webb Space Telescope, we will study these galaxies in more detail to build up an archive of interesting targets. Developing this archive required sifting through existing astronomical catalogs to identify targets across the night sky. In order for Hubble to be able to observe any object, no matter which direction it pointed, they hoped to include objects that had already been identified as interesting.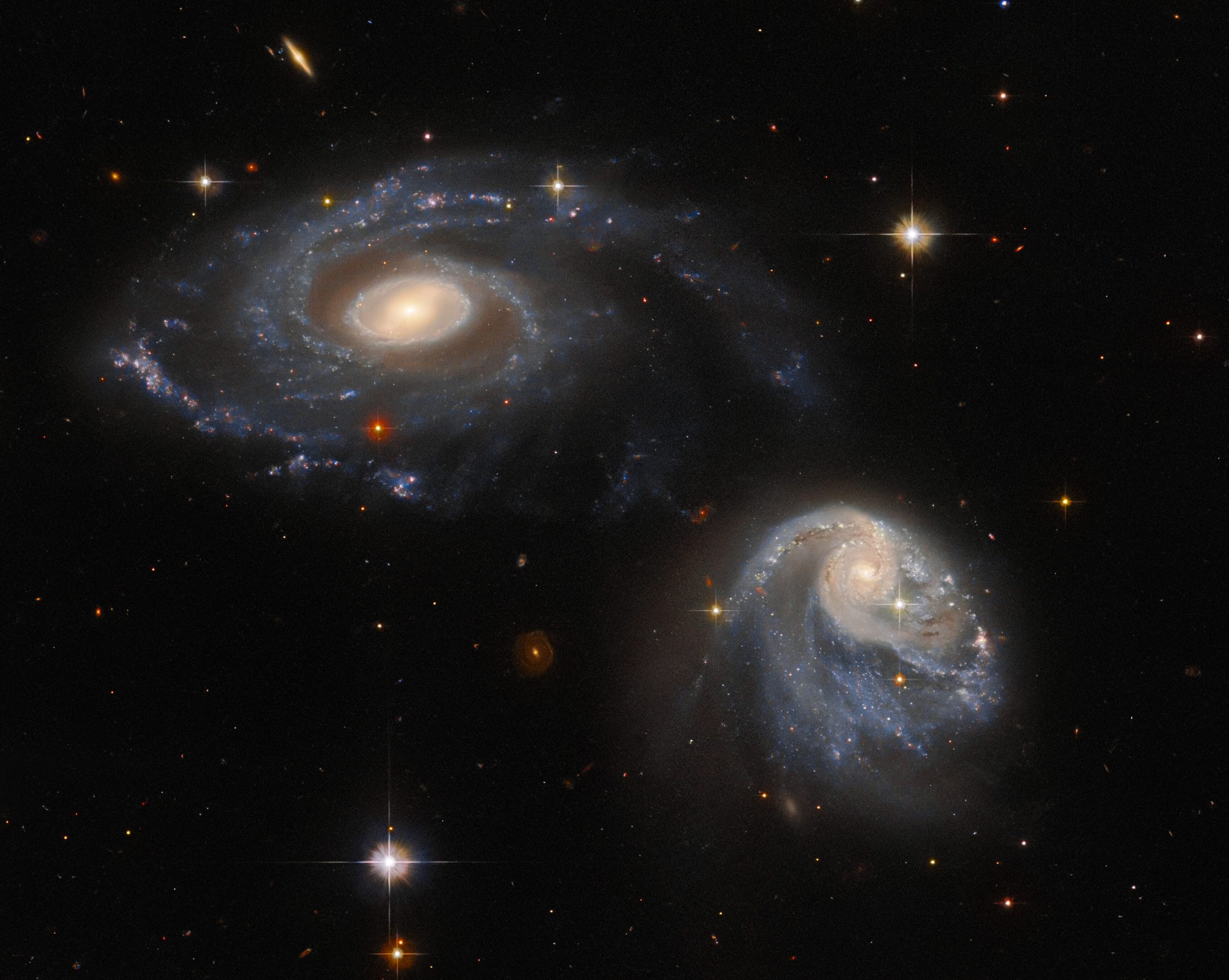 The Hubble observing time allocation process is long and competitive, and observations are scheduled to maximize Hubble time. Hubble spends around 2-3% of its time pointing at new targets, but a small but persistent fraction of that time goes unused. Snapshot programs, like Arp-Madore 608-333, exist to fill in this gap and make use of the time between longer observations. By using snapshot programs, astronomers can not only produce beautiful images but also collect as much data as possible.
Color images were produced using Hubble's Advanced Camera for Surveys (ACS) and Dark Energy Camera (DECam), which are mounted on the Victor M. Blanco 4-m Telescope. Various wavelengths were sampled using four filters. Individual monochromatic images are assigned different hues based on their associated filters.
The Hubble Space Telescope has been in operation for three decades and has already overachieved its initial goals. Right now, NASA is working with SpaceX to come up with a plan to reboost the orbit of the space telescope, this way prolonging its mission life. You can read more about it here.
---
Have something to add? Visit Curiosmos on Facebook. Join the discussion and participate in awesome giveaways in our mobile Telegram group. Join Curiosmos on Telegram Today. t.me/Curiosmos
Share Now