The Hubble Space Telescope has captured awe-inspiring images of the gas giants Jupiter and Uranus, showcasing intriguing interplanetary weather patterns.
A Brief History of the Hubble Space Telescope
Launched in 1990, the Hubble Space Telescope has revolutionized our understanding of the universe by capturing breathtaking images and data from distant galaxies, stars, and planets. As a collaboration between NASA and the European Space Agency (ESA), Hubble has provided scientists with valuable insights into the cosmos and inspired generations of astronomers and space enthusiasts.
Jupiter's Intriguing Atmospheric Phenomena
The Hubble Space Telescope has captured awe-inspiring images of the gas giants Jupiter and Uranus, showcasing intriguing interplanetary weather patterns. Hubble's Wide Field Camera 3 recently snapped photos of these planets as part of the annual Outer Planet Atmospheres Legacy (OPAL) program. The latest images of Jupiter showcase its iconic Great Red Spot and a series of cyclones and anticyclones that have developed in the last ten years. These stunning new images offer a glimpse into the dynamic weather systems of these fascinating gas giants and deepen our understanding of their complex atmospheres.
Io's Shadow and the Great Red Spot
The main (featured) image features Jupiter's volcanic moon Io, casting a dark shadow on the planet's colorful cloud tops. The Great Red Spot, a 400-year-old storm now roughly the size of Earth, can be seen swirling counterclockwise between two opposing cloud bands, with internal winds reaching 425 miles per hour.
Ganymede: Jupiter's Icy Moon
In another image, Jupiter's largest moon, Ganymede, transits the gas giant. Larger than Mercury and Pluto, Ganymede is the only known moon with a magnetic field. Europe's JUICE spacecraft (Jupiter Icy Moons Explorer) is set to launch next month, embarking on an eight-year journey to orbit Ganymede.
The Great Red Worm and Anticyclones
Near the Great Red Spot lies the Great Red Worm, a reddish, sausage-shaped vortex spinning in the opposite direction. Below and behind Ganymede, smaller anticyclones, resembling miniature versions of the Great Red Spot, are visible.
Uranus' Expanding Polar Haze Cap
Hubble also captured images of Uranus, showing a growing polar cap of high-altitude haze. With a unique 84-year orbit around the Sun, Uranus rotates on its side, causing large parts of one hemisphere to be hidden from sunlight for up to 42 Earth years. The Hubble images display the planet's north pole tilting toward the Sun, while NASA's Voyager 2 probe imaged the south pole during a flyby in the 1980s.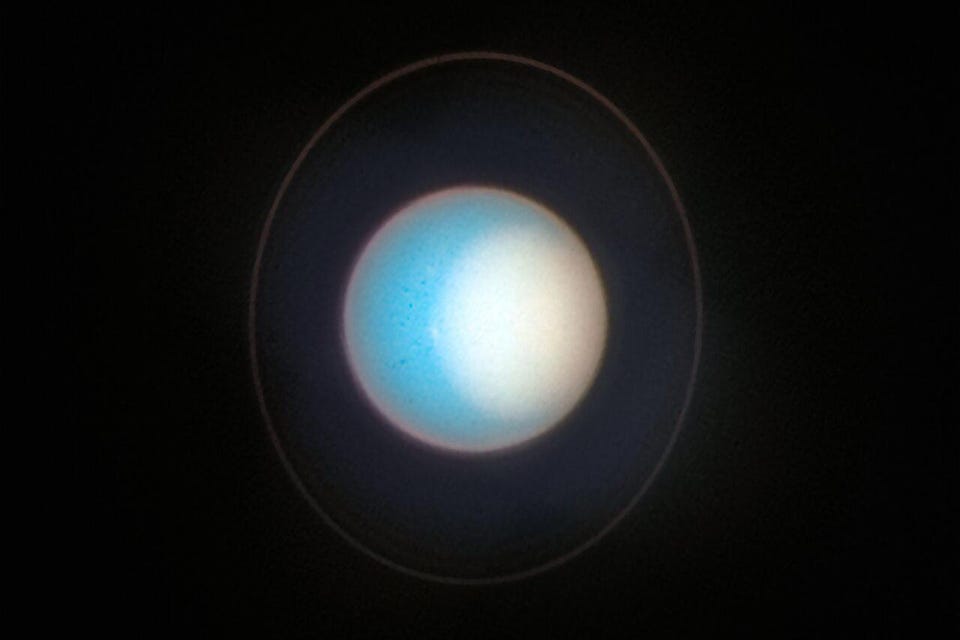 OPAL Project: Exploring Outer Planet Atmospheres
As revealed by Forbes, the annual OPAL project not only focuses on Jupiter and Uranus but also delves into the atmospheric dynamics and evolution of Saturn and Neptune. The project employs Hubble's remarkable 16-megapixel Wide Field Camera 3 (WFC3) to create captivating 360° planetary mosaics. The impressive mosaics provide an unparalleled view of these gas giants and offer a wealth of information on their atmospheric conditions and evolution over time. Through the OPAL project, scientists can further deepen our understanding of these fascinating celestial bodies and the mysteries that lie within their vast atmospheres.
PLEASE READ: Have something to add? Visit Curiosmos on Facebook. Join the discussion in our mobile Telegram group. Also, follow us on Google News. Interesting in history, mysteries, and more? Visit Ancient Library's Telegram group and become part of an exclusive group.