A breathtaking 20 million light-years from our planet, this galaxy stretches an astonishing 45,000 light-years in diameter.
The recent image captured by NASA's Hubble Space Telescope unveils the dazzling intricacy of the barred spiral galaxy, NGC 5068. This mesmerizing space panorama, colored with radiant pinks and deep reds, offers a multi-wavelength perspective on a galaxy brimming with history, star-forming regions, and intriguing cosmic wonders.
Discovered by the iconic British astronomer William Herschel back in 1785, NGC 5068 finds its home within the southern boundaries of the Virgo constellation. A breathtaking 20 million light-years from our planet, this galaxy stretches an astonishing 45,000 light-years in diameter.
The image highlights NGC 5068's luminous central bar at the apex, teeming with seasoned stars. "A black hole lurks behind the bar, tugging the stars together with its intense gravitational pull," depicts Hubble's view. Moreover, the pink-red blotches spread across the image represent regions bustling with ionized hydrogen gas and burgeoning star clusters. Though the vantage point might obscure precise details, these marks are etched along the galaxy's spiraling arms—the nurseries for nascent stars.
Discovering Wolf-Rayet Stars and Hubble's Prowess
A significant revelation from this visual journey includes the identification of 110 Wolf-Rayet stars within NGC 5068. Remarkably massive, these stars undergo rapid mass loss and exhibit luminosity that can dwarf even our Sun—sometimes being up to a million times brighter. To put things into perspective, our Milky Way houses around 220 such radiant Wolf-Rayet stars.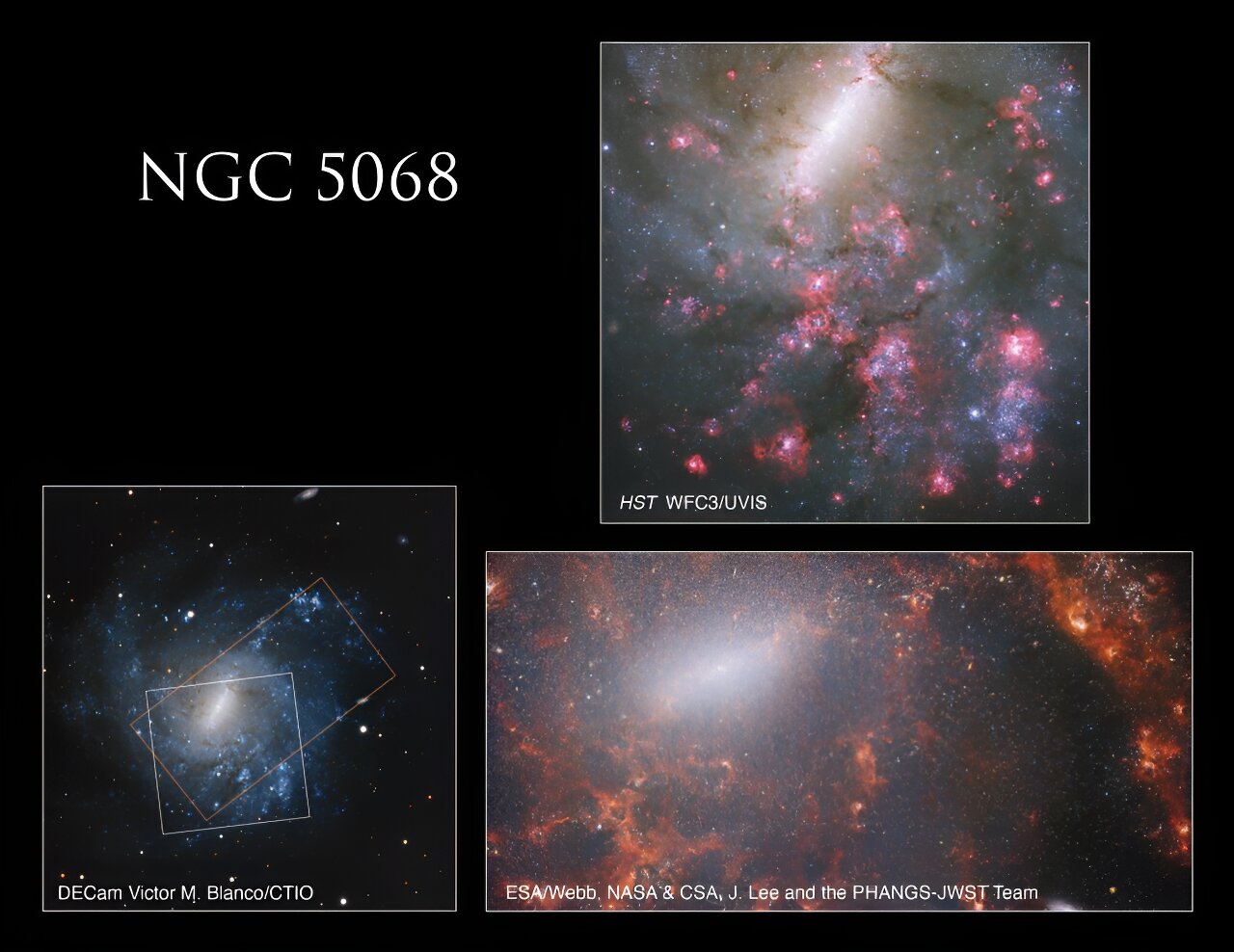 Though NGC 5068's subdued surface brightness might challenge human perception, Hubble's cutting-edge capabilities in ultraviolet, visible, and near-infrared wavelengths rise to the occasion. As young, incandescent stars radiate ultraviolet light, Hubble's ultraviolet observations become instrumental in tracking them down.
Building on Legacy: The James Webb Connection
Adding another dimension to this celestial exploration, NASA's James Webb Space Telescope released an infrared portrayal of NGC 5068 in June 2023. This endeavor aims to deepen our understanding of star genesis within the gaseous expanses of neighboring galaxies. Impressively, many of Webb's insights are reinforcing and expanding upon Hubble's treasure trove of 10,000 star cluster images.
PLEASE READ: Have something to add? Visit Curiosmos on Facebook. Join the discussion in our mobile Telegram group. Also, follow us on Google News. Interesting in history, mysteries, and more? Visit Ancient Library's Telegram group and become part of an exclusive group.
Share Now