In the Pacific Ocean, at a depth of around 2,550 meters of depth, scientists have discovered a hydrothermal vent field that could change how they understand how these vent fields affect life and chemistry in the ocean.
A large number of hydrothermal vents have been discovered in the deep sea, showing the importance of bathymetric mapping in locating these vents.
Scientists may be able to understand better how ocean-floor vent systems affect Earth's oceans and life due to the discovery of a new, high-temperature, off-axis hydrothermal vent field at 2,550 meters depth in the Pacific Ocean.
In an area of the global mid-ocean ridge known as the East Pacific Rise, a group of researchers headed by Jill McDermott, a chemical oceanographer at Lehigh University, discovered the off-axis hydrothermal field called YBW-Sentry.
It is located about 200 miles off the coast of western Mexico. Compared to the nearest active hydrothermal vents in the region, the new vent site covers an area equivalent to a football field. As tall as three-story buildings, the chimneys seem like candelabras.
The findings were published in the Proceedings of the National Academy of Sciences (PNAS) article entitled: "Discovery of Active Off-Axis Hydrothermal Vents at 9° 54'N East Pacific Rise."
In most cases, hydrothermal vents in the deep sea are located along the crests of ocean ridges. Earth's outer shell, or crust, is split by magmatic activity driven by upwellings of heat in the mantle.
Magmatic activity and volcanic eruptions form new seafloor rock as the plates spread. As a result of magmatic activity and tectonic movements, seawater percolates through cracks in the crustal rocks. Like hot springs on land, hydrothermal vents spew mineral-rich liquid underground.
Researchers at the McDermott lab at Lehigh University are credited with discovering the off-axis vent field along the East Pacific Rise. To determine the temperature at which fluids are forming, the team collects fluid from black smoker chimneys and analyzes it for its geochemical characteristics.
Higher temperatures may signal an impending eruption. A self-recording fluid temperature logger is also fitted to the active vent chimneys, so measurements will be taken every ten minutes over a 2-year period.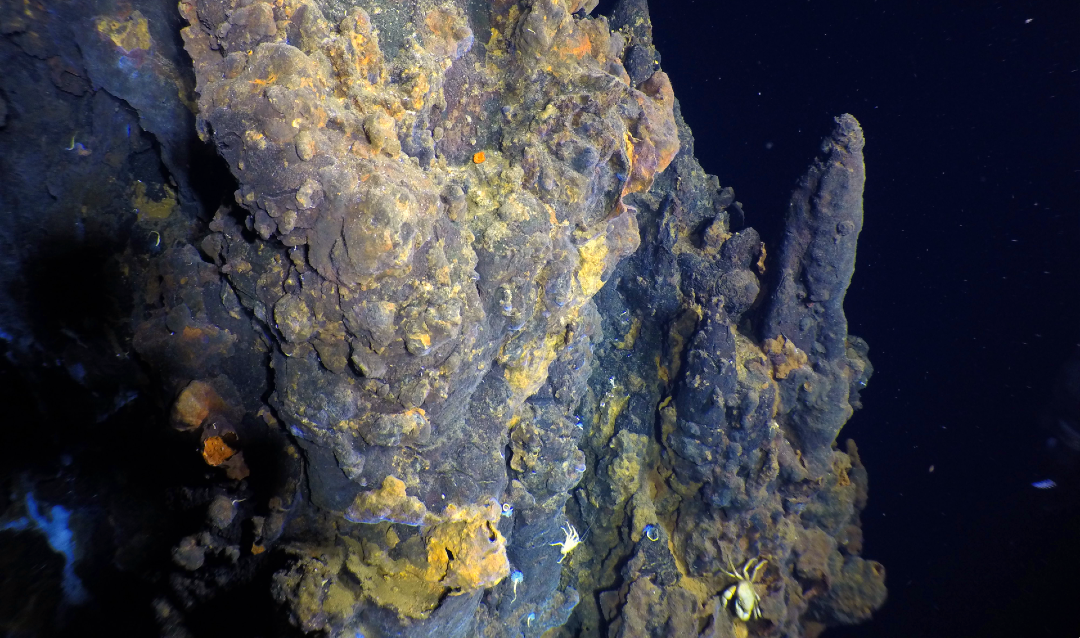 As a result of the temperature measurements, we can track the changes the vents experience over time. The research team has instrumented nine vents in the study area.
The team's high-resolution maps of seafloor features have been studied using the autonomous underwater vehicle (AUV) Sentry, provided by WHOI, which performed near-bottom bathymetry surveys between 2018 and 2021.
Researchers identified a field of tall pinnacles that were off-axis, and they assumed either that these were ornate volcanic spires or old hydrothermal chimneys.
According to Co-author Daniel Fornari, a marine geologist at WHOI, "We were amazed that not only is this field very active, but it is also larger and has a higher origin temperature than any other hydrothermal vent field known along this portion of the East Pacific Rise that has been observed for the past 30 years."
The high-resolution maps produced by autonomous underwater vehicles have revolutionized how scientists study and sample the seafloor over the past 15 years, according to McDermott. AUV sonar maps are similar to those generated by drone mapping and laser scanning, which are used in land-based geological surveying and mapping.
"Very few areas in the deep ocean have been mapped at high-resolution using deep submergence technologies," says Parnell-Turner, co-author.
"However, major discoveries can be made by collecting near-bottom bathymetry using AUVs."
Historically, most volcanic eruptions along the East Pacific Rise have occurred in the trough that marks the axis of active hydrothermal vents. In the past three years, the NDSF's Sentry AUV has been used to expand high-resolution maps of this axial trough, between 9° 45'N and 57'N latitude. McDermott describes NDSF as "NASA of the deep sea."
Geophysicist Thibaut Barreyre, a coauthor and a geophysicist at the University of Bergen in Norway, predicts that the next eruption could occur within the next few years. It occurred in 1991-1992 and 2005-2006.
Featured image credit: Woods Hole Oceanographic Institution.
Further reading material can be found at Lehigh University.
---
Join the discussion and participate in awesome giveaways in our mobile Telegram group. Join Curiosmos on Telegram Today. t.me/Curiosmos
Share Now