NASA's Juno Spacecraft has recently beamed back some of the most amazing images of Jupiter.
In fact, the newly-received photographs are so mesmerizing, some of them almost look like a painting.
The breathtaking images show a close-up of Jupiter's Swirling skies as the spacecraft was orbiting the Gas Giant.
Juno has been gathering data and photographing stunning images ever since its arrival in 2016.
Each close flyby (perijove) results in a new set of images that always offer details that we've missed before.
Since arriving in 2016, the Juno Spacecraft has circled the gas giant 18 times already.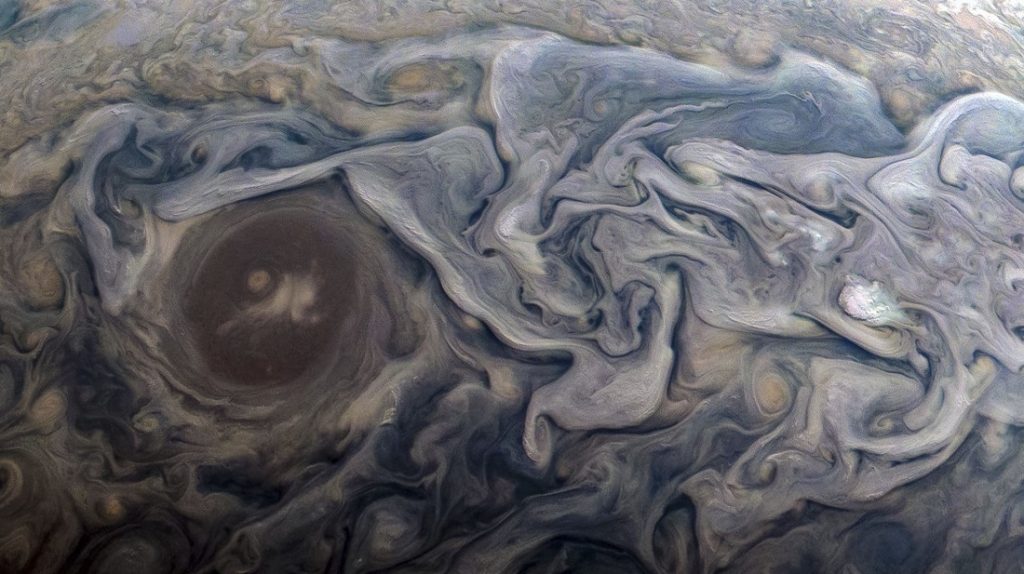 The images captured after its latest flyby only recently started arriving on Earth. NASA has allowed anyone to take the images and enhance them using image processing tools.
And many artists, designers as well as citizen scientists have taken images snapped by Juno and processed them.
The latest masterpiece was worked by JPL's Kevin M. Gill.
The image worked by Gill shows color-enhanced clouds located on Jupiter's Northern Hemisphere.
The darker circular shape in the image is a powerful atmospheric structure known as a jet stream (Jet N6, to be precise).
The latest image was snapped by Juno as the spacecraft was orbiting Jupiter at an altitude of around 13,000 kilometers from the planet's cloud tops, above a latitude of approximately 55 degrees north. It was taken on February 12.
The raw image was taken by Gill who then cropped it and rotated it by around 100 degrees to the right. Gill also enhanced the colors of the image in order to reveal the admiring beauty of Jupiter's totally alien atmosphere.
The image, as you will all probably agree, looks like stunning paintings, and honestly, I can't take my eyes off these images.