Astronomers used two cameras from the James Webb Space Telescope, the NIRCam and MIRI, to capture a new view of the Pillars of Creation.
Two cameras aboard the NASA/ESA/CSA James Webb Space Telescope captured photos of the iconic Pillars of Creation. The combined photographs resulted in a mind-boggling view of one of the most iconic regions in deep space. ESA reports that the near-infrared and mid-infrared images of Webb were merged, giving the region a new level of detail. Located 6,500 light years away, the Pillars of Creation belong to the Eagle Nebula. The scene is dotted with a multitude of stars. NIRCam (Near-Infrared Camera) of the Webb Space Telescope contributes to the visibility of the stars primarily in near-infrared light. Look just outside the dusty pillars for bright orange spheres in near-infrared light that reveal thousands of newly formed stars. The dust can be seen clearly in mid-infrared light. Several layers of orange dust drape the top of the image, relaxing into a V, demonstrating Webb's Mid-Infrared Instrument's (MIRI) contributions.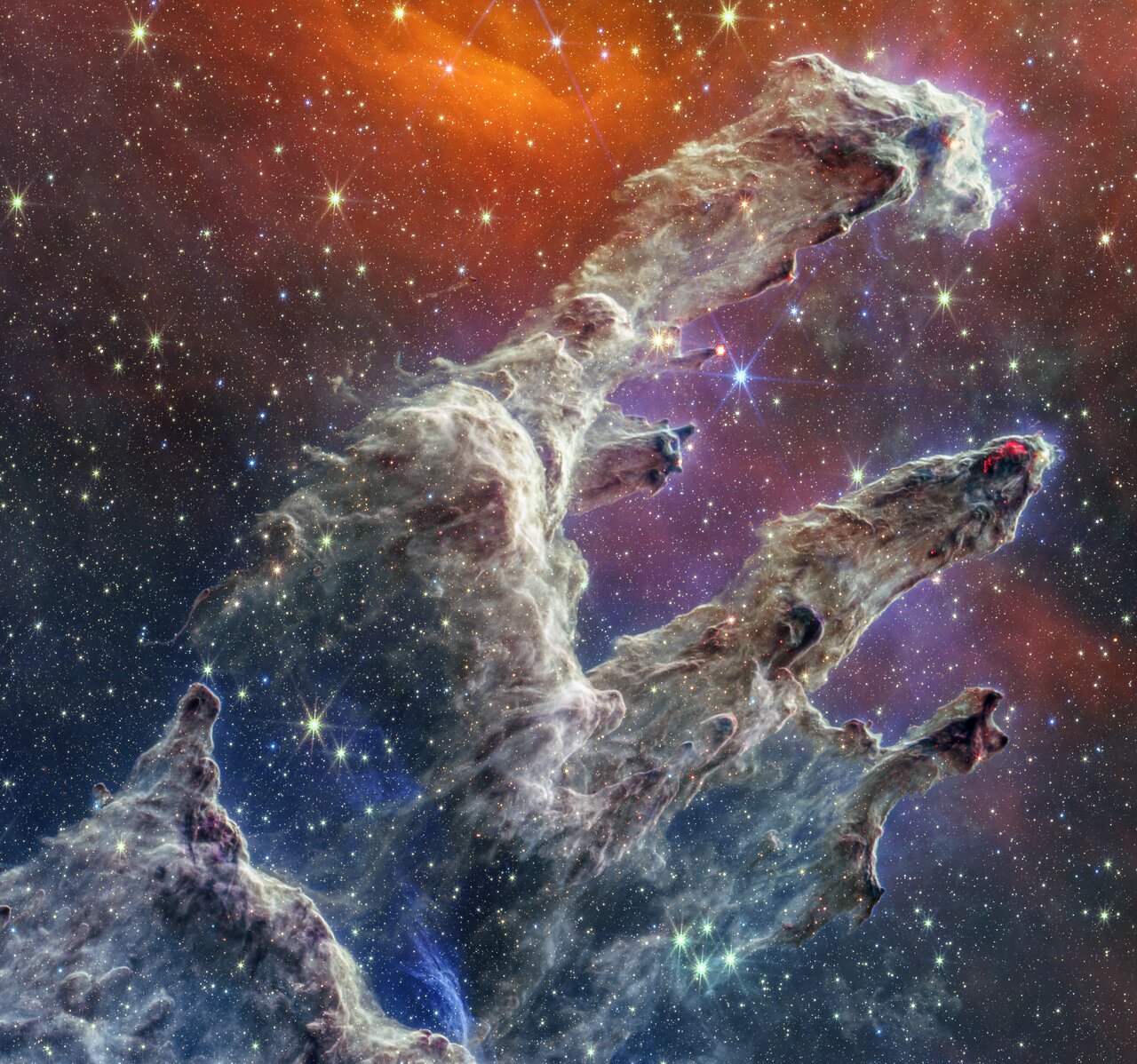 A play of colors
Our view of the activities inside the dense pillars is obscured by deep indigo hues cast by the densest regions of dust. The spire-like pillars to the left and right of the image are also made up of dust. Dust is a major component of star formation, which explains why the region is overflowing with stars. Under their own gravitational attraction, knots of gas and dust with enough mass start collapsing, slowly heating up and eventually forming stars. In the top two pillars, new stars are particularly evident along their edges – they are practically bursting into existence. Undulating details in red hint at even more embedded stars at the top edge of the second pillar. While they are still in the process of forming, they are quite active.
Those lava-like regions are where their periodic ejections are captured. Additionally, stars periodically release supersonic jets as they form, which can interact with thick columns of gas and dust. Millions of years will pass before these stars reach their full potential. They are estimated to be only a few hundred thousand years old.
Have something to add? Visit Curiosmos on Facebook. Join the discussion in our mobile Telegram group. 
Share Now