NASA's James Webb Space Telescope has turned its view towards the famous region in space known as the Pillars of Creation revealing an unprecedented view.
The James Webb Space Telescope has once again proven its worth, showing us how much it changed astronomy and our view of the universe. As we can see from the latest image captured by Webb, we are treated to a stunning and highly detailed landscape of the iconic Pillars of Creation. There, dense clouds of dust and gas form stars. A near-infrared image of these columns shows cool interstellar gas and dust that appears semitransparent. Researchers will be able to update their models of star formation with Webb's new view of the Pillars of Creation, first imaged by NASA's Hubble Space Telescope in 1995. By identifying far more precisely how many stars are born as well as how much gas and dust is present in the region, researchers will be able to better understand how this process works.
Unprecedented View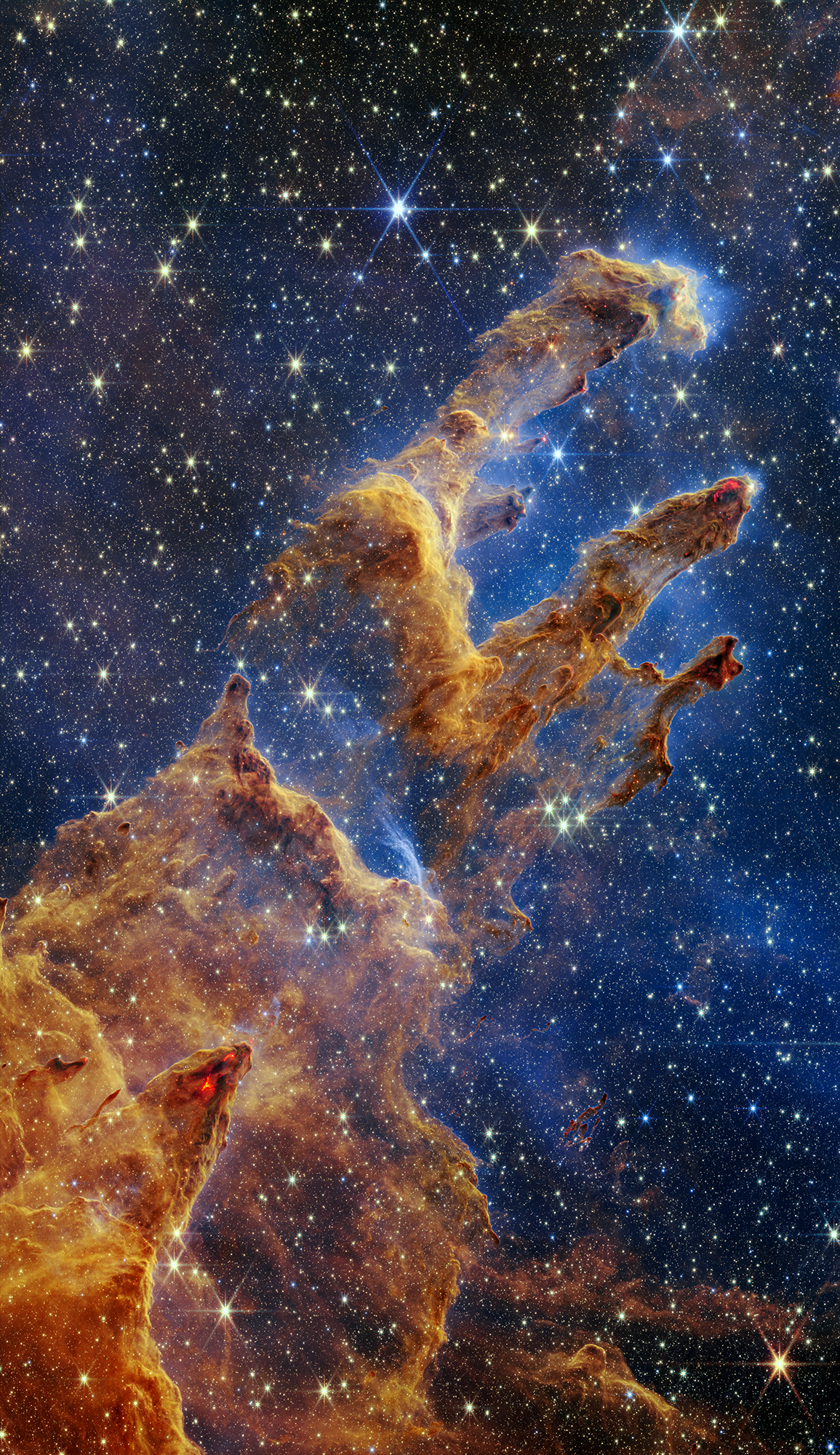 Through time, they will learn more about how stars are formed and burst out of these dusty clouds. Webb's Near-Infrared Camera (NIRCam) image shows newly formed stars that steal the show. These stars, which appear as red dots with diffraction spikes, are located on the outer parts of the pillars. In gas and dust pillars, knots of sufficient mass form and begin to collapse under their own gravity, forming stars. Webb's image also shows wavy lines like lava located on the very edge of the pillars. Those are ejections from stars whose structures are still forming within the gas and dust.
A cosmic wonder
Supersonic jets are periodically emitted by young stars, colliding with clouds of material. As a result, bow shocks can sometimes appear in the form of wavy patterns. This is similar to what a boat does as it travels through water. Jets and shocks produce energetic hydrogen molecules, which give off the crimson glow. In the second and third pillars from the top, we can see their activity practically pulsating in the NIRCam image. Stars like these are only a few hundred thousand years old. Despite apparent piercing through the clouds by near-infrared light, this view doesn't show galaxies beyond the pillars. Our view of the deeper universe is obscured by the interstellar medium, a combination of gas and dust that forms the densest part of the Milky Way galaxy's disk.
In 1995, Hubble photographed this scene and revisited it in 2014, but many other observatories have also studied it. There are literally millions of stars in this region, and every advanced instrument provides new insights into it.
---
Have something to add? Visit Curiosmos on Facebook. Join the discussion in our mobile Telegram group. 
Share Now