Completing the Quadrant: James Webb Space Telescope Immortalizes Saturn, the Last of the Solar System's Four Giants.
The James Webb Space Telescope has changed the way we see outer space. The state-of-the-art space telescope has allowed us to understand the universe better and the solar system we live in. The space telescope recently captured a stunning view of Saturn, completing its collection of the four gas giants of the solar system, by snapping a stunning view of Neptune, Jupiter and Uranus.
James Webb's Images of Saturn, Neptune, Jupiter, and Uranus
A captivating image of Saturn, captured by JWST on June 25, 2023, has been meticulously refined to unveil the radiant rings of the celestial giant, set against the backdrop of cosmic darkness. Conversely, Saturn's disk appears subdued in this recent image, deviating from its usual vibrant cloud bands and exhibiting a largely unfeatured muted brown hue.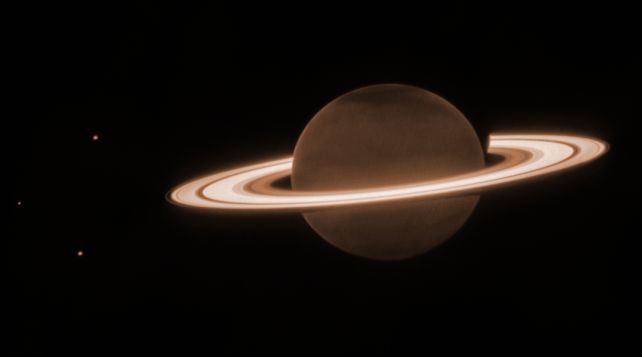 A Different Perspective: The Power of Infrared
JWST's unique perspective is owed to its ability to perceive the universe in near- and mid-infrared wavelengths—sightlines typically invisible to the unaided human eye. However, these spectral bands can be particularly revealing.
Thermal emissions, synonymous with heat, are predominantly conveyed in infrared wavelengths. As such, studying a planet's temperature, obscured by dense, opaque clouds, becomes a feasible method for gathering crucial information about its inner workings.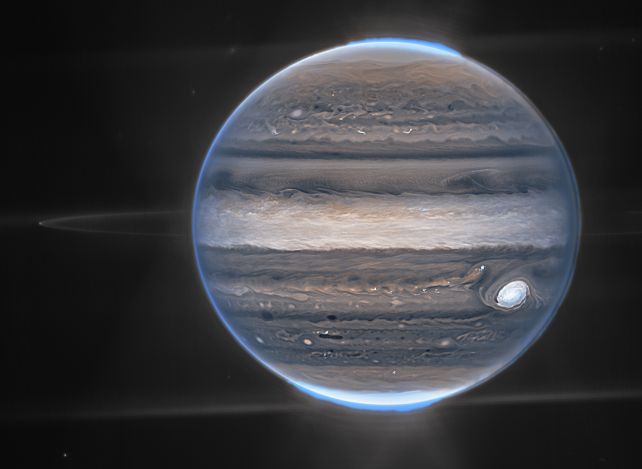 Moreover, certain elements and chemical processes emit infrared light, enabling planetary research outside our visual range and unlocking an expansive scope of knowledge about the Solar System.
Special Filters for an In-Depth Study
Saturn's image acquisition employed filters to attenuate the planet's brightness, while enhancing the luminosity of its rings and moons. This strategic move allows a UK-based team, led by planetary scientist Leigh Fletcher from the University of Leicester, to delve deeper into Saturn's celestial companions.
The researchers aim to discover potential new ring structures and possibly identify previously unknown moons orbiting the gas giant. Though subdued, Saturn's disk also offers valuable insights into the planet's seasonal fluctuations.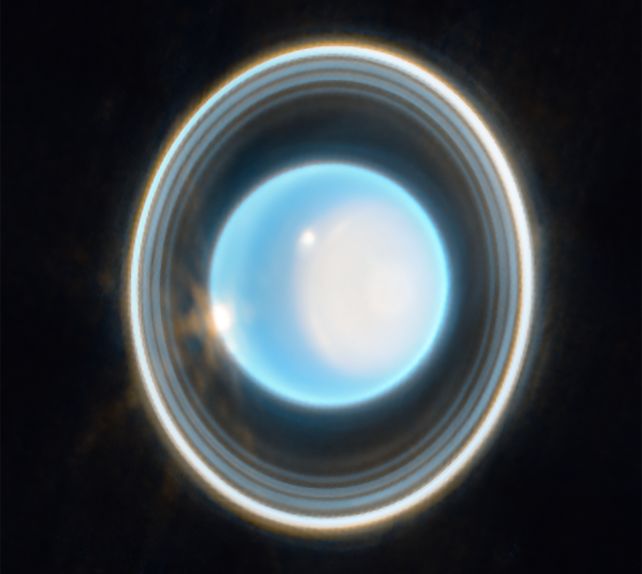 Exploring Saturn's Seasonal Changes and Atmospheric Phenomena
Saturn's northern hemisphere is nearing the end of its 7-year summer, though a dark polar region suggests the presence of an enigmatic aerosol process. The periphery of Saturn's disk emits a stark brightness, potentially resulting from methane fluorescence, trihydrogen glow, or a combination of both. Further study will confirm these hypotheses.
Revisiting the Past: A Stroll Through the Giant Planets
Jupiter was the initial beneficiary of the JWST treatment, with awe-inspiring images unveiled in August 2022. The portrayal of the planet's tempestuous clouds, persistent polar aurorae, and subtle rings did not disappoint.
Next, Neptune's imagery was released in late September 2022. This fresh perspective, a refreshing contrast from Voyager 2's decades-old images, showed the ice giant's delicate rings and dynamic atmospheric activity in stunning infrared detail.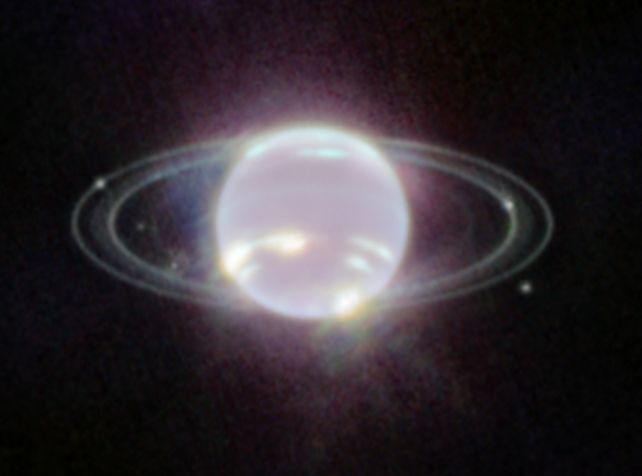 The oddball Uranus followed in April 2023. Although JWST's images didn't solve the planet's mysteries, they revealed impressive elements of its unique ring system and unexpected atmospheric brightening over its polar cap.
As JWST's inaugural year of operations concludes, it's evident that the telescope has much more to contribute to our understanding of the universe. The next years will surely bring about more exciting cosmic discoveries.
PLEASE READ: Have something to add? Visit Curiosmos on Facebook. Join the discussion in our mobile Telegram group. Also, follow us on Google News. Interesting in history, mysteries, and more? Visit Ancient Library's Telegram group and become part of an exclusive group.
Share Now