According to reports from JAXA, its spacecraft, Hayabusa2 dropped and detonated an explosive charge on the surface of the asteroid it is currently exploring, some 300 million kilometers away.
Hayabusa 2 has been orbiting the asteroid Ryugu for several months. The spacecraft, launched in 2014, is carrying out a number of tests on the asteroid.
A few months ago, it successfully touched down briefly on the asteroid's surface and fired a 'projectile' into its surface at 4,400 mph using the Small Carry-on Impactor, in order to obtain soil and dust samples.
Now, it has been reported that the second part of the mission, detonating a bomb on its surface has been performed by the spacecraft. The device used by the Japanese Spacecraft is called the Small Carry-On Impactor (SCI), and was one of several deployable modules transported to Ryugu by the Hayabusa2 spacecraft.
The goal of the surface detonation is to create a 10-meter wide crater on the asteroid, where the spacecraft will land, and attempt to obtain more surface samples.
"It is a challenging mission, but we have made thorough preparations for it," said Takashi Kubota, a professor at JAXA's Institute of Space and Astronautical Science, adding, "I leave the rest to fate."
During the release and detonation process, the spacecraft moved away from the impact site, all the way to the other side of the asteroid in order to protect itself from possible debris released by the explosion.
Whether or not the explosion was successful is something that we will still see.
A small camera on board the spacecraft is thought to have filmed the moment the explosion took place.
However, it is unclear how long the footage will take to travel back to Earth.
If everything goes according to plan, the spacecraft will begin its descent onto the asteroid surface and collect pristine samples from the crater created by the explosion.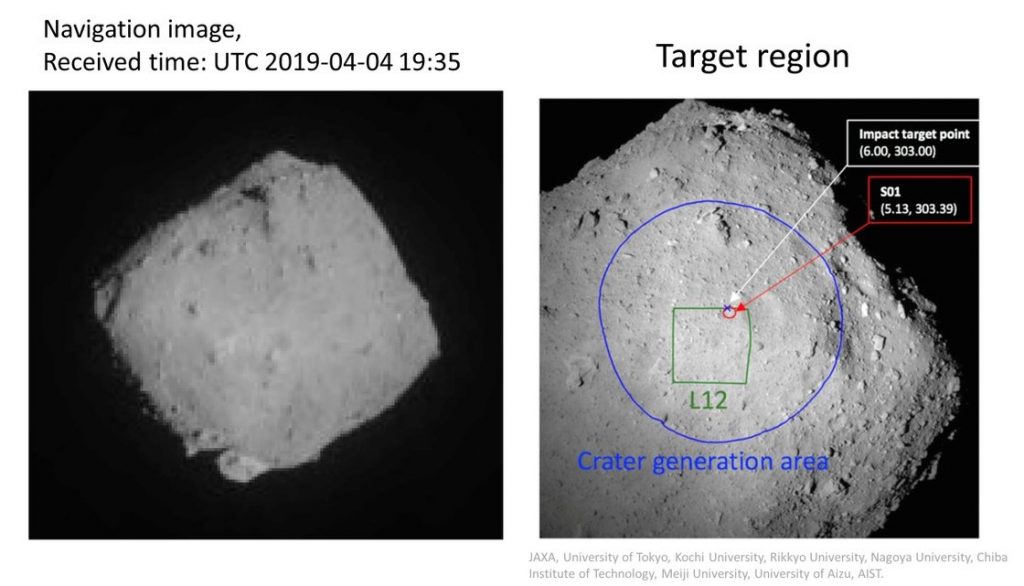 These samples will hopefully give scientists unprecedented data on not only planet formation during the early solar system but even possibly clues on the origins of life.
"We expect the impact accuracy [of the SCI] to be something like a 200m radius, it's very large… we expect to have a hole somewhere in that very big region." explained previously Yuichi Tsuda, the mission's project manager.
"We will try to find that artificial crater two weeks later, by descending to a lower altitude and making extensive observations."
Hayabusa2 is due to return to Earth at the end of 2020 with samples collected from the Asteroid's surface.
You can follow live mission updates, and see the spacecraft's status in real time here.