The Egyptian Ministry of Tourism and Archeology announced an extraordinary find by the country's archaeologists – the discovery of more than 100 coffins and 40 statuettes, some of them gilded.
The objects found are over 2,500 years old. They were introduced to the media and special guests in an improvised exhibition near the Step Pyramid of Djoser in Saqqara.
The previous batch of artifacts was demonstrated by the ministry on October 3, when 59 sarcophagi were reported and exhibited in front of the media.
"This batch contains more than 100 closed sarcophagi dating back to the Late Period of Ancient Egypt (662-332 BC) and the Ptolemaic era (332-30 BC). This region is a real treasure trove of antiquities," said Minister of Tourism Khaled al-Anani at a press conference in Saqqara, near Cairo.
According to the minister, at the moment, only one percent of the total number of artifacts in this zone has been found. Even if this was true to some extent, it would mean that the best may be yet to come and archaeologists might discover artifacts of even greater significance.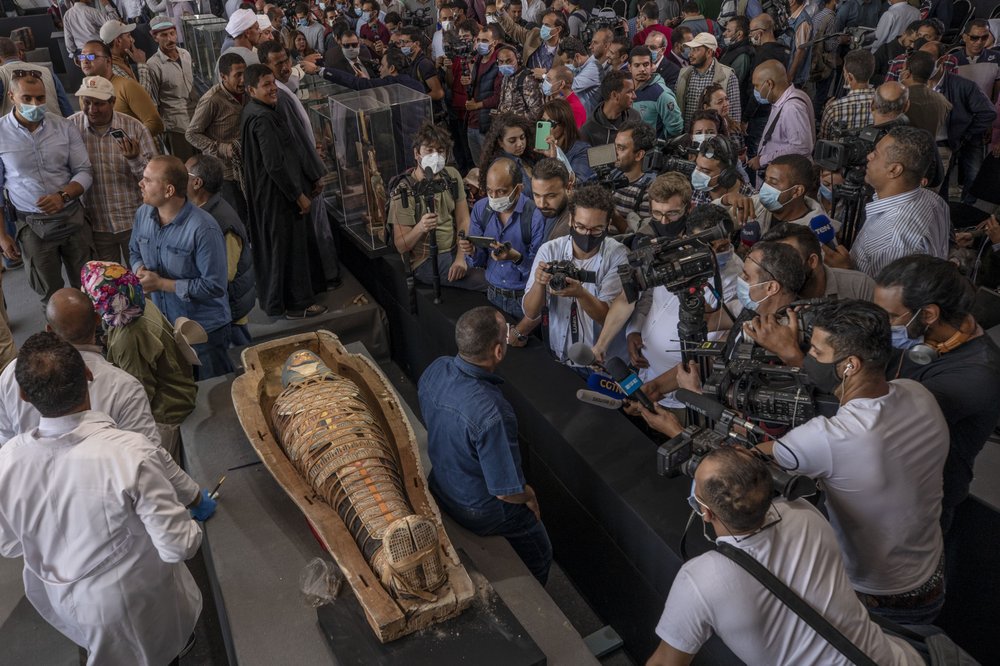 The sarcophagi and figurines found in the necropolis of Saqqara will be distributed between three or four museums in Egypt, including the Great Egyptian Museum which remains under construction but should be completed soon.
In turn, the Secretary-General of the Supreme Council for Ancient Monuments of Egypt Mustafa Vaziri said that the wooden coffins were found in three burial wells with an average depth of 12 meters, and the excavation was carried out exclusively by the Egyptian mission.
"The fact that the sarcophagi are made from local wood proves the existence of a sarcophagus workshop, the location of which has not yet been discovered. But the mission continues to excavate and should reach the site (workshop) in 2021," Waziri said.
After the press conference, experts showed the contents of one of the sarcophagi – the mummy of a man about 165 centimeters tall. In addition, they used X-Ray technology to evaluate the condition of the body inside. This whole process was shown to the guest public and the results showed that the mummy in the coffin has remained in perfect condition for more than 2000 years.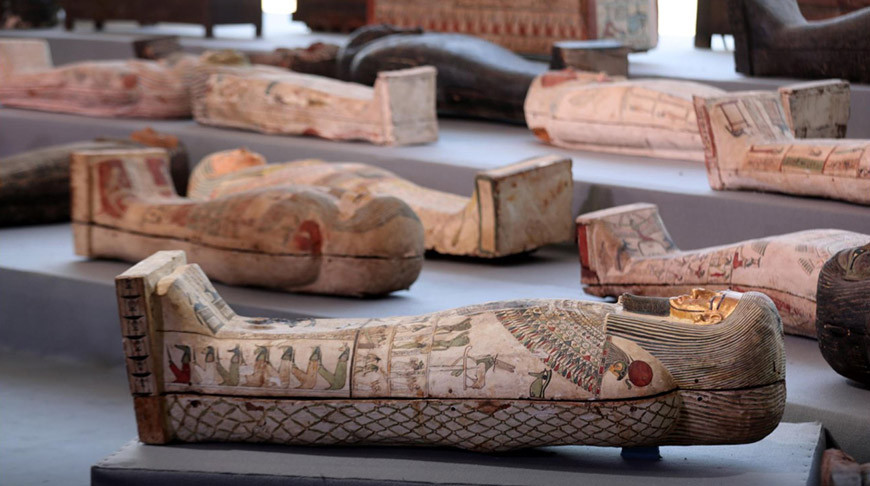 The burials still found in the necropolis of Saqqara mainly belong to the period of the Old Kingdom (approximately XXIII – XXI centuries BC), but, centuries later, during the XXVI dynasty (VII – VI centuries BC), a large-scale restoration was carried out here. According to historians, this was the era of the renaissance for the Egyptian civilization. It is to that period that scientists also attribute animal mummies.
It will take time before we get further details about the exact origin and dating of the coffins and statuettes from the latest discovery. By far, this has been the greatest archaeological discovery of 2020 but knowing how much the region of Saqqara has to offer, we can definitely expect many more outstanding discoveries in the very near future.
Join the discussion and participate in awesome giveaways in our mobile Telegram group. Join Curiosmos on Telegram Today. t.me/Curiosmos