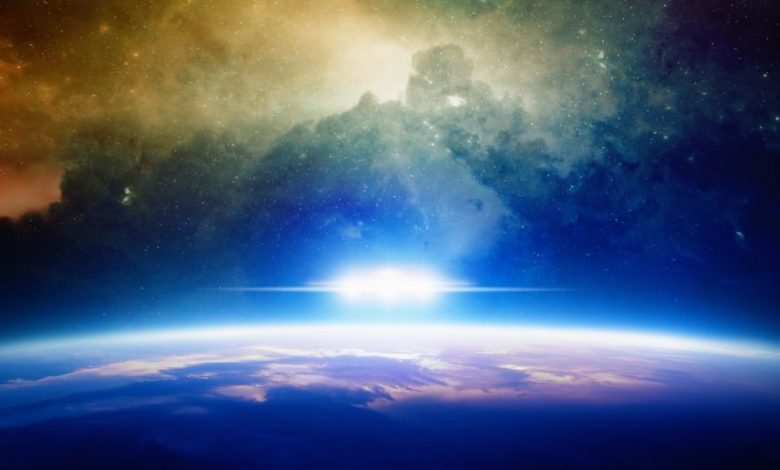 "This is Friendship Seven. They're all over the sky," former NASA astronaut John Glenn is heard saying in the radio transmission, before adding, "I'll try to describe what I'm in here. I am in a big mass of some very small particles, that are brilliantly lit up like they're luminescent. I never saw anything like it. They round a little; they're coming by the capsule, and they look like little stars. A whole shower of them coming by."
---
Some UFO hunters will probably suggest this audio recording serves as one of the best examples of astronauts reacting to seeing UFO's.
Experts, and skeptics, on the other hand, will most likely say that a perfectly rational explanation for what John Glenn saw. (some have proposed Ice Particles).
This audio file lets you listen into a small part of the conversation between the Mercury-Atlas 6 (MA-6) capsule which was piloted by John Glenn and CAPCOM, dating back to the 20th of February, 1962, a historic moment that marked the first manned orbital mission of the United States.
Launched from Kennedy Space Center, Florida, John Glenn completed a successful three-orbit mission around our planet and reached a maximum altitude (apogee) of approximately 162 statute miles and an orbital velocity of approximately 17,500 miles per hour.
Glenn's "Friendship 7" Mercury spacecraft landed approximately 800 miles southeast of KSC in the vicinity of Grand Turk Island.
Mission duration from launch to impact was 4 hours, 55 minutes, and 23 seconds.
The fascinating audio recording allows us to listen to the moment the former NASA astronaut describes seeing our planet's "brilliant blue horizon" coming up behind him as it approaches sunrise.
But shortly after, he is witness to a fascinating sighing in space. In the audio recording, we can hear John Glenn's reaction as his spacecraft is surrounded by countless unidentified flying objects that end up engulfing his capsule.
Here is the transcript of the event:
John Glenn: This is Friendship Seven. It's blinding through the scope on clear. It's started up just as I gave you that mark; I'm going to the dark filter to watch it come on up.
CAPCOM: Roger.
John Glenn: This is Friendship Seven. I'll try to describe what I'm in here. I am in a big mass of some very small particles, that are brilliantly lit up like they're luminescent. I never saw anything like it. They round a little; they're coming by the capsule, and they look like little stars. A whole shower of them coming by.
John Glenn: They swirl around the capsule and go in front of the window and they're all brilliantly lighted. They probably average maybe 7 or 8 feet apart, but I can see them all down below me, also.
Intrigued by the events, CAPCOM asked Glenn to describe the objects, and whether they were impacting his spacecraft.
CAPCOM: Roger, Friendship Seven. Can you hear any impact with the capsule? Over.
John Glenn: Negative, negative. They're very slow; they're not going away from me more than maybe 3 or 4 miles per hour. They're going at the same speed I am approximately. They're only very slightly under my speed. Over.
John Glenn: They do, they do have a different motion, though, from me because they swirl around the capsule and then depart back the way I am looking.
John Glenn: Are you receiving? Over.
John Glenn: There are literally thousands of them.
After having described the objects Glenn gets no response from CAPCOM and asks if he is in contact with anyone while continuing to discuss the strange objects around his spacecraft.
John Glenn: This is Friendship Seven. Am I in contact with anyone? Over.
Eventually, nearly five minutes after describing the events, CAPCOM responds, saying that Glenn sounded a little "garbled", and is asked what his oxygen levels were.
Strangely, CAPCOM did not address the strange set of events with Glenn, who explained that the mystery particles were still clearly visible around the spacecraft.
As radio silence continues, and CAPCOM is left unable to explain what their astronaut was seeing in space, John Glenn decided to photographs the mysterious objects.
Eventually, he is asked by CAPCOM how big the light particles were and whether they were just moving along side him, or whether they were actually floating by.
Despite the fact that UFOs were later dismissed by NASA as ice crystals coming from the craft, Glenn at the time said they were all over the sky, that they were not coming from the capsule, and that they were something that was already up there. Glenn later described them as being like "fireflies."
John Glenn: This has been going on since about 1 plus 15. Over. Just after I remarked about the sunset. I looked back up and looked out the window, and all the little swirl of particles was going by. Over.
John Glenn: This is Friendship Seven. This is Friendship Seven, broadcasting in the blind again on HF.
John Glenn: This is Friendship Seven, broadcasting in the blind. Sunrise has come up behind in the periscope. It was brilliant in the scope, a brilliant red as it approached the horizon and came up; and just as the—as I looked back up out the window, I had literally thousands of small, luminous particles swirling around the capsule and going away from me at maybe 3 to 5 miles per hour. Now that I am out in the bright sun, they seem to have disappeared. It was just as the sun was coming up. I can still see just a few of them now, even though the sun is up some 20° above the horizon.
CAPCOM: Friendship Seven, Friendship Seven. This is Guaymas Com Tech, Guaymas Com Tech, transmitting on HF-UHF. Do you read? Over.
John Glenn: Hello, Guaymas Com Tech, Guaymas Com Tech. This is Friendship Seven. Receive your HF loud and clear. How me? Over.
CAPCOM: Friendship Seven, Friendship Seven. This is Guaymas Cap Com. You're little garbled right now, but understandable. What is, what is your status? Over.
John Glenn: This is Friendship Seven on HF. My status is excellent. Everything is going according to plan. Control fuel is 90-100 [percent], oxygen is 72-101 [percent], amps 22. Over.
You can read the entire log by clicking here.