Scientists note that the self-copying mechanism does not require any gene modification and additional control of chemical interactions - this is a purely kinematic mechanism in clusters of ordinary stem cells.
American biologists have collected clusters from frog stem cells that are capable of almost endless self-copying.
A cluster in the shape of a spheroid with a cut rakes single stem cells into a new cluster of the same shape, which after five days can also begin to collect copies of its own from individual cells. Previously, this method of self-copying and self-organization had not been observed in cellular systems.
---
Living Robots: How were they created and what do they do?
Reproduction
The ability to reproduce itself is one of the key properties of any living system. The processes of making copies (or analogs) of an entire organism, an individual cell, or even a molecule are necessary for the survival of a species or individual. At the level of organisms and cells, the principle of self-reproduction is the cultivation of a similar system under the control of the parent organism, while the stages of development of the daughter organism are honed in the course of evolution.
Self-reproduction
Self-reproduction at the level of individual molecules occurs differently: it is complete copying of the chemical and spatial structure. Copying is a much faster and more flexible process, and for individual molecules of molecules it is relatively simple to carry out, but at the level of complex cellular structures in nature, it is not observed.
Living robots: cell clusters that can copy themselves
American biologists led by Sam Kriegman of Tufts University discovered that cell clusters can make copies of their own, simply by assembling individual cells into a structure similar to itself. To demonstrate the feasibility of this method, the scientists used stem cells from the blastula of the smooth clawed frog (Xenopus laevis).
Using stem cells
If we take stem cells from the animal pole of the embryo and place them in a salty water solution at a temperature of 14 degrees Celsius, they naturally develop in five days to spheroid clusters of about three thousand cells. Inside these clusters are cells of the epidermis, and on the surface – cells of the ciliated epithelium, thanks to which the cluster can actively move.
Environment
Scientists have found that if these cellular spheroids enter an environment in which there are many single stem cells, then actively move in it, the clusters can "rake" individual cells into new clusters of the second generation, which five days later grow to spheroids with a similar structure.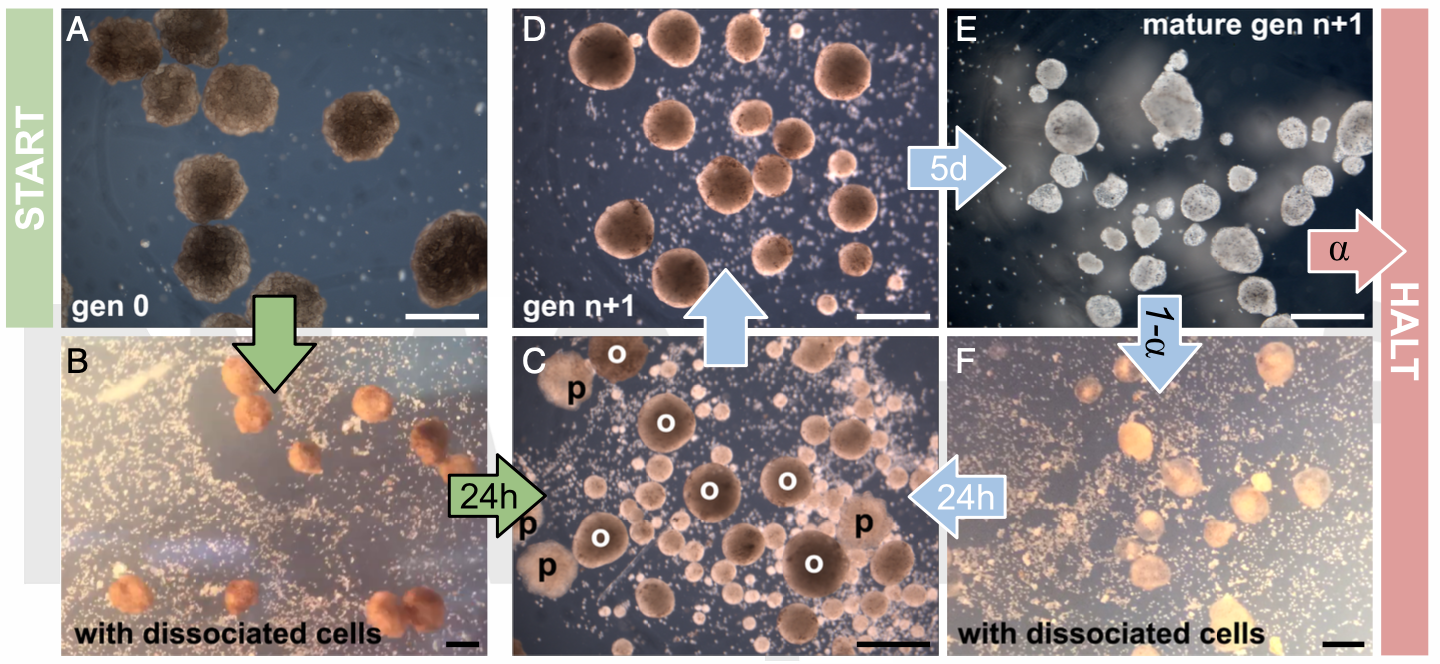 The second generation of living robots
If cell clusters of the second generation are separated from the parental clusters and also placed in an environment with a large number of single stem cells, then they, in the same way, due to random active movement, collect these cells into new clusters. However, after one or two generations, the ability to self-copy is lost – either due to a violation of the form or due to a change in the trajectories of movement.
Computer simulations
To increase the number of generations through which cell clusters lose the ability to create copies of their own, scientists have used computer simulations. It turned out that for reproducibility, it is sufficient to slightly modify the shape of the cluster by making depressions or holes in the spheroid.
Living robots that resemble Pac-Man
By testing many different possible shapes using an evolutionary algorithm that describes two-dimensional arrays of particles, scientists have found a shape that allows them to self-replicate almost indefinitely. The cluster, which resembles Pac-Man in shape, rakes cells in itself similar structures, which then after five days can do the same.
The living robots do not require gene modification
Scientists note that the self-copying mechanism proposed by them does not require any gene modification and additional control of chemical interactions – this is a purely kinematic mechanism in clusters of ordinary stem cells. For this, it is possible to copy clusters with a very wide variation in size.
According to the researchers, the results of their work make it possible to better understand in what conditions self-reproduction is generally possible in living organisms, and may also be useful for creating similar artificial systems.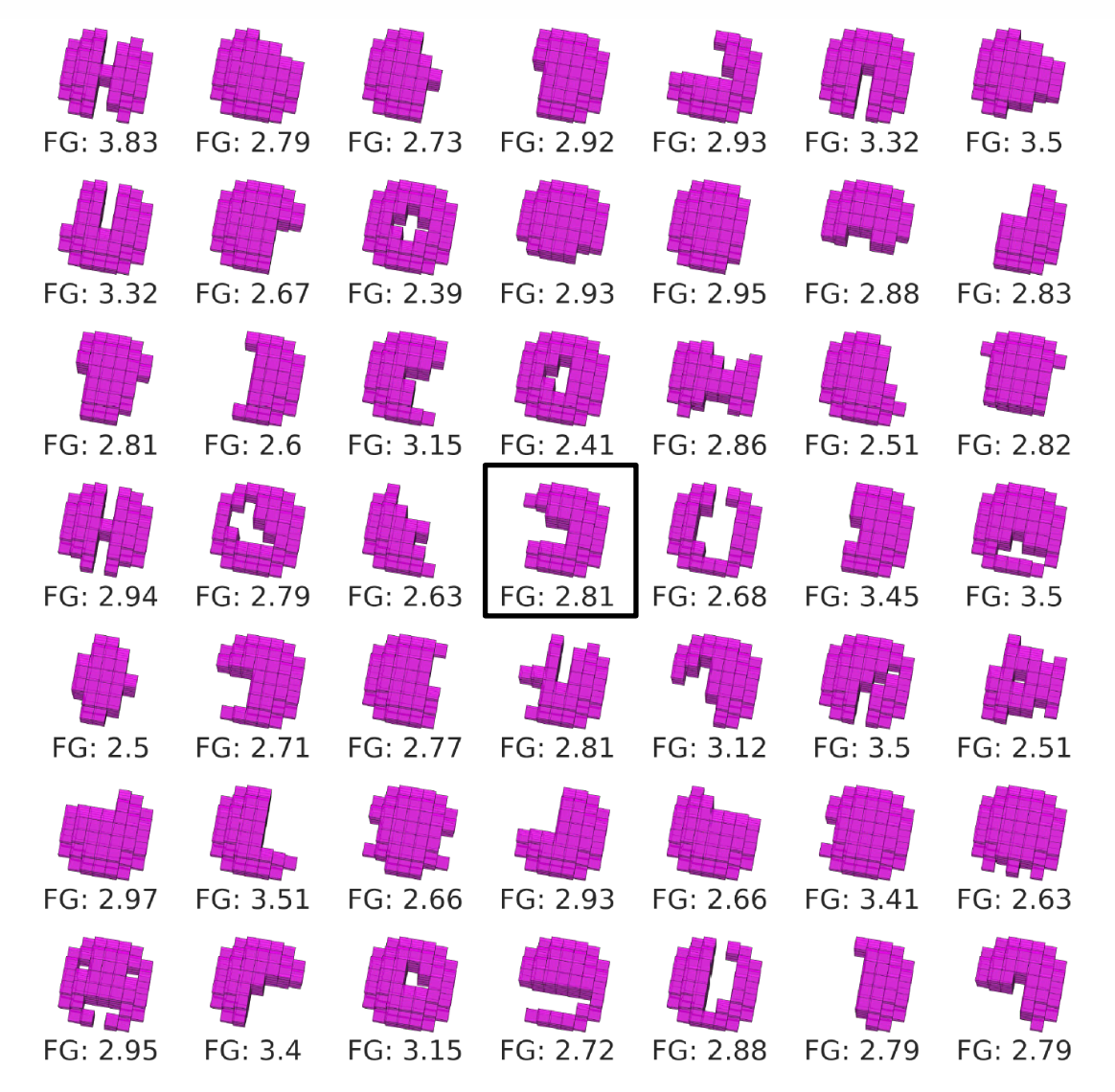 Self-copying in organic molecules
For organic molecules, self-copying is a more natural process than for cellular structures, but it is quite difficult to achieve. For example, in order to create a system within which self-copying of rotaxane is possible, chemists had to make a mixture of a template and several reagents for assembly, in which four types of reactions took place simultaneously.
And another group of scientists has created a system in which the self-replication of fibers occurs under the influence of light. According to scientists, one of the goals of such work is the chemical modeling of protometabolism and the creation of a protocell.
---
Join the discussion and participate in awesome giveaways in our mobile Telegram group. Join Curiosmos on Telegram Today. t.me/Curiosmos
---
Sources:
• Dockrill, P. (n.d.). Bizarre creatures are world's first self-replicating 'Living robots', scientists say. ScienceAlert.
• Iati, M. (2021, December 1). These living robots made of frog cells can now reproduce, study says. The Washington Post.
• Kriegman, S., Blackiston, D., Levin, M., & Bongard, J. (2021, December 7). Kinematic self-replication in reconfigurable organisms. PNAS.
• The University of Vermont. (n.d.). Team builds first living robots that can reproduce.
Share Now