Metal From Asteroid that Killed the Dinos Eliminates Cancer Cells When Blasted with Light
A rare 'extraterrestrial metal; Iridium' when blasted with light has the ability to eliminate cancer cells.
The asteroid that caused the extinction of the Dinosaurs was a heavy blow to Earth.
And while the asteroid that brought an end to the Dinos was a terrifying event, scientists have now found that iridium, a metal commonly found in space rocks can act as a sort of stealth bomb, penetrating the nucleus of cancer cells.
When blasted with a burst of light, it causes oxygen molecules to reactivate destroying the cell.
As noted by scientists from the University of Warwick who published a new study, "a new compound based on Iridium, a rare metal which landed in the Gulf of Mexico 66 M years ago, hooked onto albumin, a protein in blood, can attack the nucleus of cancerous cells when switched on by light."
Scientists have revealed that certain molecules, when exposed to light, produce oxidizing agents.
These oxidizing agents have been found to be more harmful to cancer cells than to healthy cells.
If scientists can figure out a way for the right molecules to reach the nuclei of cancer cells, these can be light up using optical fibers, in turn allowing tumor cells to be destroyed, without risking nearby healthy cells.
But the Iridium complex doesn't know where it needs to go on its own.
But Professor Peter Sadler of Warwick University has a solution.
A transport system is needed. And the blood protein albumin happens to be not only attracted to cancer cells, but it has the ability to penetrate the nucleus, being the perfect solution to carry the Iridium payload.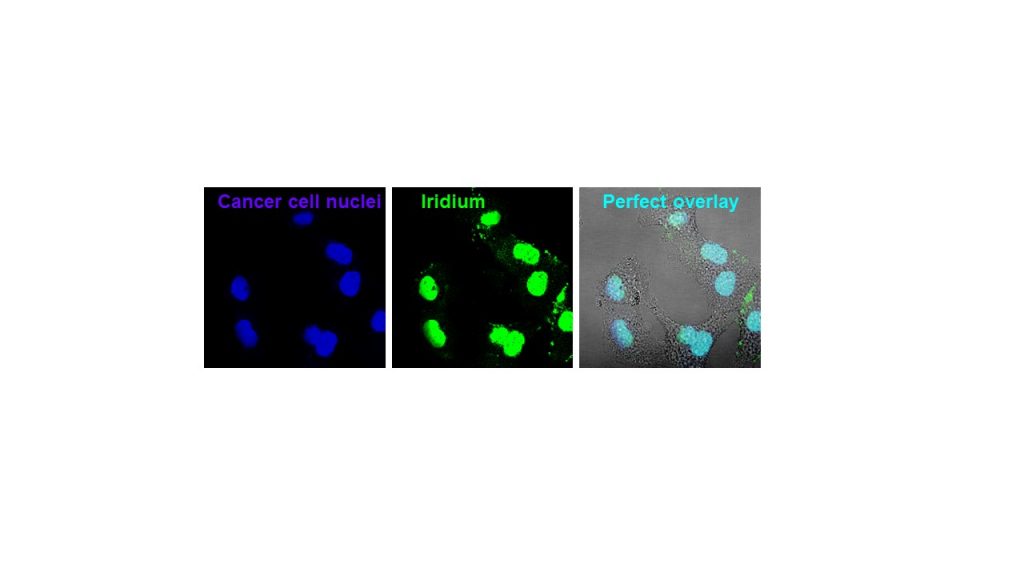 "It is fascinating how albumin can deliver our photosensitizer so specifically to the nucleus, co-author Dr. Cinzia Imberti explained in a statement.
The proposed iridium complex has two main advantages over current photosensitizer methods; It has the ability to directly target the cell nucleus, aboding less essential parts of the cell, and is also very luminescent. This means that scientists don't have to rely on assumptions on whether or not the tumor cells have been destroyed, but can observe in real time as the molecules get down to work.
It is noteworthy to mention that iridium photosensitizers have still not been tested.
Scientists will aim to test the new method in animals, and depending on the results, human trails will follow.