Mystery on Mars: Check Out This Weird "Colored Rock" on the surface of Mars
What is that on the surface of Mars?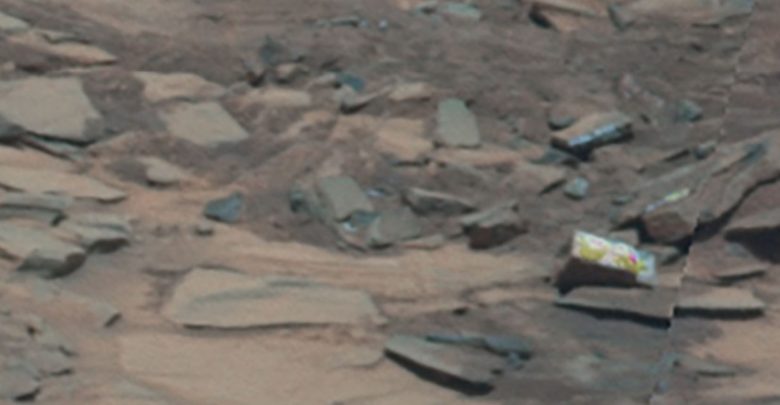 Just as there are millions of people who are convinced that aliens exist, and we are being visited every single day by beings not from Earth, there are countless people who remained convinced that Mars, the fourth planet from the sun, was once inhabited by intelligent beings.
Mars is a planet that is extremely interesting to scientists. Not only because of it technically still within the so-called habitable zone of our star, but because we've learned that in the very distant past, Mars was a planet that was almost identical to Earth.
The last decade of studies has shown that unlike the barren, inhospitable world we see today, in the distant past, Mars was much more life-friendly.
Scientific studies made thanks to data gathered from the surface of Mars by different rovers and satellites orbiting the red planet has shown that Mars was a much different world in the past.
Studies have proposed that the red planet had a thick atmosphere, oceans, rivers, and lakes on its surface.
The red planet is believed to have had a life-friendly temperature and met all the necessary requirements to host life as we know it on its surface. Years of study have shown that Mars was much wetter than previously believed, and most likely had a massive northern ocean which is believed to have covered as much as a fifth of the total surface of the planet.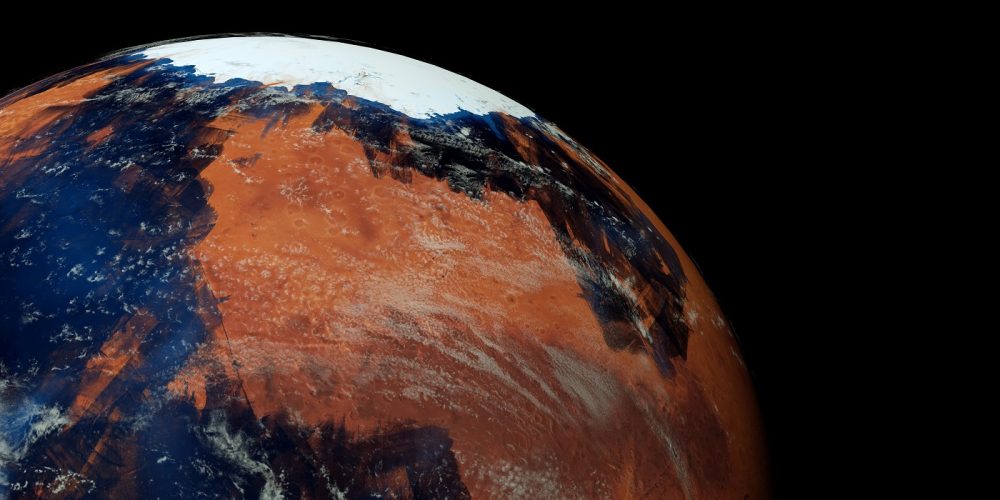 Experts have argued that the ocean on Mars may have been similar to the Arctic Ocean on Earth, and may have survived on the surface of the red planet for millions of years, raising possibilities that Mars came to develop the necessary requirements for life as we know it to exist on its surface.
But if life did evolve on Mars, how much did it evolve? Is it possible that entire civilizations arose on Mars? IS it possible that if there were civilizations on the red planet that they developed technology to the level we have today on Earth? Or is it possible that life on Mars was no more than simple bacteria? The truth is we don't know, but nonetheless, we are working on understanding Mars a bit more with each new mission.
NASA's Curiosity rover, part of NASA's Mars Science Laboratory mission (MSL) has offered unprecedented insight on Mars and its history.
The six-wheeled robotic rover landed on Mars in August of 2012. It was designed to only function for two years on Mars, but it has ensured beyond expectation and still continues exploring the Martian surface while snapping mind-bending images of what its cameras observe on the surface. Its main mission was to try and determine whether or not Mars could have ever supported life. In addition to that, the rover was sent there in order to determine the role of water, and study the climate and geology of the red planet.
Curiosity's path on mars is a long one. Among its many achievements on Mars, the rover discovered that the Gale Crater was once filled with water that remained on the surface for millions of years. It also found that Mars was home to numerous lakes. The data gathered by Curiosity and other scientific missions have helped scientists determine that the water that existed on Mars was eventually lost to space.
Scientists have estimated that Mars' ancient ocean covered the entire surface of the planet with a layer of around 137 meters deep. Experts suggest that another possible scenario is that a vast ocean covering almost half the northern hemisphere, or nearly 20 percent of the planet's surface was most likely underwater with depths reaching more than 1.5 kilometers in some areas.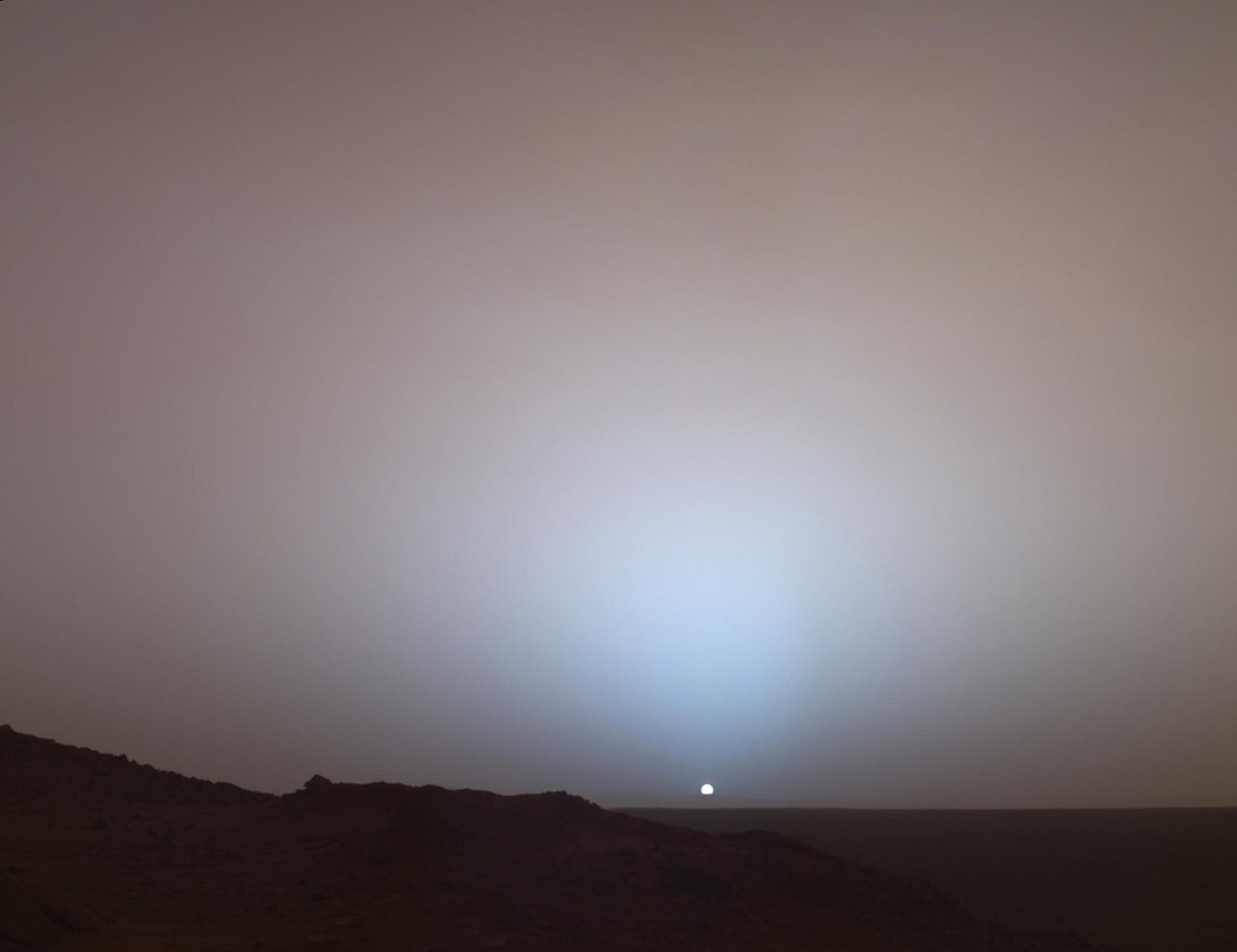 All of this tells us Mars at some point in its history was most likely an extremely life-friendly planet.
The question is, was it inhabited? And to what degree?
If we are to take a look at some of the images from Mars, one could even venture out and say that a very ancient, but developed, civilization may have once existed on Mars.
There are many people today that spent hours and hours searching through images of Mars. While some of them explore Mars just to see what the surface of another planet is, there are those who look for clues or tell-tale signs of past civilizations on Mars.
There are countless Facebook pages, Twitter accounts, and YouTubers who broadcast their discoveries to the world thanks to the internet.
But there are also those who just love to admire the beauty of Mars, without jumping to conclusions.
Many discoveries have been made on Mars that people immediately jumped to conclude; its evidence of ancient aliens on Mars. We've seen discoveries suggesting pyramids, on Mars, aliens, shoes, cannonballs, and even squirrels. But most of these images are no more than pareidolia; the tendency to interpret a vague stimulus as something known to the observer, such as seeing shapes in clouds, seeing faces in inanimate objects or abstract patterns, or hearing hidden messages in music.
While most of the alleged 'Alien' discoveries on Mars can be perfectly explained as a trick of lights, shadows, reflections, and pareidolia ultimately, there are certain discoveries that question everything we've been told about Mars.
I found one such discovery as I was scrolling through my Facebook feed. I saw someone publish four particular images of the surface of Mars in a group. The images were showing an object that, unlike the rest of Mars, was colorful and almost resembling a kind of cereal box. It was colorful. It was different. It was odd.
Having seen many similar discoveries, and without hesitating, I immediately thought "this is just another fake". But I decided to take a look. The guy who had posted the image did what a few people do these days, post the source from the original image.
I ended up checking out the original file on Gigapan, and I was in for a surprise. When I clicked on the image on Gigapan, I spent a couple of minutes trying to find the object that was posted in the Facebook Group. All I could see was the typical Martian landscape. There was nothing extraordinary, and I thought to myself, it must have been another photoshopped image.
But after a few minutes, I spotted the anomaly, and I couldn't believe what I was seeing. It's not every day that you actually see something like this.
It is odd. It's colorful, and its nearly as if someone painted a small rock on Mars. But could this little piece of rock be evidence of something artificial on the Martian surface? Something that offers a small glimpse into what Mars was like millions of years ago, when it was, perhaps, inhabited?
Whatever I am looking at, it looks like nothing I have come across before. I've seen a bunch of images showing alleged artificial artifacts on Mars, but none of them interested me as much as this one did. It is perhaps because it is different. But not because it is different does it mean that it HAS to be artificial. It is not evidence of anything, and it could just be light reflecting off of bright rocks creating a kind of rainbow effect.
It looks odd, and there are a number of similarly colored "rocks" in the area surrounding this "rock". The image we see above was snapped more than 10 years ago by the Spirit rover as it explored Mars. Images from Sols 1412 to 1428 were taken from December 23, 2007, to January 8, 2008. The above image was taken on Sol 1412.
I found more panoramas of the area where the odd object appears. One of them is posted below:
To find out more about the odd object, I spoke with Neal Spence, the man who had originally uploaded the image to Gigapan.  I asked Neal whether he altered the image in any way? This is what he responded:
"In over 1000 Gigapans I have NEVER added any elements like this "box" anomaly or anything else for that matter 👍. No one would ever take me, or my Images seriously if I edited things in like this. If it's in a Gigapan or one of my Flickr pics then the weird stuff is there from the source data."
I asked Neal whether he would do me the favor and take a better look at the image and tell me what he saw.
"The structure is most definitely a hollow square construct ~ Not a common or natural shape as far as my understanding of geology and natural stone goes! The splash of odd color atop of the rectilinear oddity is most likely to be strong/harsh reflected light which seems to have this effect on the Oppy and Spirit Cams, so perhaps the color is misleading – we are seeing either a highly reflective metal/glass/ polished surface though – I would hazard a guess at a composite artifact of at least 2 materials. Is it a Machine part? Part of a Structural Beam perhaps? Or simply a 'Box' for storing something – Whatever it was/is, it's pretty clear to see it was designed and created at some point by someone or something," he answered.
My guess that we are looking at some sort of crystals maybe? Additionally, the odd colors on the rock's surface could be due to color variations within the image itself. In other words, just because it looks sensational, does not mean there's a less sensational explanation. Evidence of Aliens? Probably not, but nonetheless, it shows that Mars has some pretty surprising things on its surface that are worth taking another look at.
The image was posted on Facebook by Lee Brandon who first saw the enigmatic object on the image posted by Mr. Spence. The images were posted in the ArtAlienTV – Mars Magazine facebook group.
You can see the original Gigapan image by clicking here.
You can follow me on Twitter.