Here's your chance to check the daily weather on Mars.
Thanks to NASA's InSight Lander, we now have the opportunity to see the daily weather reports from the red planet.
Part of the InSight Mission, the NASA lander will provide daily updates on Martian weather.
For example, this week's average temperature on Mars was around -82°F, or around -63°C.
You can check updates on the weather on Mars on Curiosmos ever day.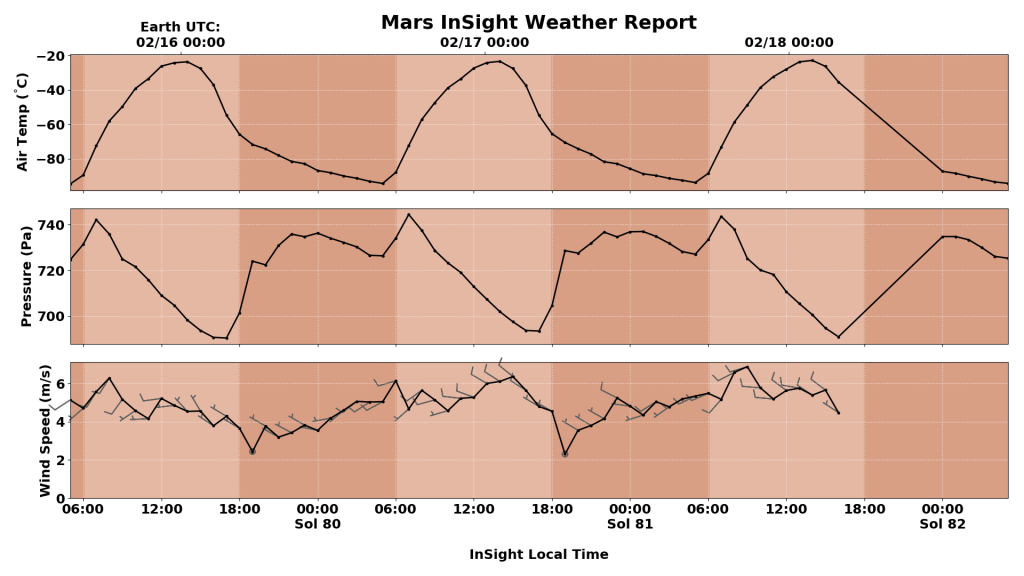 "The InSight lander is close to the Martian equator – just north of the equator – so it is experiencing Martian winter," said meteorological mission lead Don Banfield in a statement.
As you are reading this, the red planet's Northern Hemisphere is going through a stormy winter season.

"Since the lander is close to the equator, I didn't think we'd see any evidence of the storms that are 60-degrees north latitude, but we're already seeing evidence of the high and low pressure-signal waves that create weather on Mars," explained Banfield.
"We can see those waves all the way down near the equator, as the waves are big enough that they have a signature. That was a surprise."
"High and low pressure is indicative of the weather systems," Banfield said.
"Compared to Mars, Earth is pretty chaotic. Mars has a nearly perfect, smooth sinusoidal (up and down) waves – it's a very regular seesaw guided by a metronome on Mars. On Earth, the pressure is guided by a hyperactive child."
But not only is the InSight Lander recording the temperature on Mars.
As you are reading this, the lander is also recording tectonic activity and meteorite impacts as they happen in real-time. The newest Maritan mission is also tasked with monitoring the planet's crust, mantle, and core.