NASA's latest data reveals record-setting temperatures, amplifying the urgency of President Biden's robust climate initiatives.
As per the latest reports, NASA records July 2023 as the warmest month since 1880 revealing worrying data. July 2023 surpassed previous records to become the hottest month in global temperature history, as per research by scientists at NASA's Goddard Institute for Space Studies (GISS) in New York. The month's temperature was 0.43°F (0.24°C) higher than any past July and stood at 2.1°F (1.18°C) above the 1951-1980 July average. Notably, NASA's records showcase that the five warmest Julys since 1880 have occurred in the last five years.
Ali Zaidi, White House National Climate Advisor, emphasized President Biden's longstanding commitment to addressing climate change. The recent climate challenges, including wildfires, floods, and record temperatures, bolster the significance of Biden's ground-breaking climate measures. These measures range from the Inflation Reduction Act's historic climate investment to fortifying climate resilience across the nation.
The Global Heat Impact: July 2023 as Warmest Month Since 1880
NASA Administrator Bill Nelson voiced the sentiments of billions globally, asserting that July 2023's temperatures weren't just figures but a felt experience. With soaring temperatures affecting citizens everywhere, the pressing need for Biden's aggressive climate strategies is evident. "The time to safeguard our planet and communities is now. We have only one Earth," added Nelson.
Specifically, areas like South America, North Africa, North America, and the Antarctic Peninsula witnessed temperature surges approximately 7.2°F (4°C) above the norm. This summer's intense heatwave put countless individuals at risk, with numerous succumbing to heat-induced ailments.
A Glimpse Behind NASA's Data Collection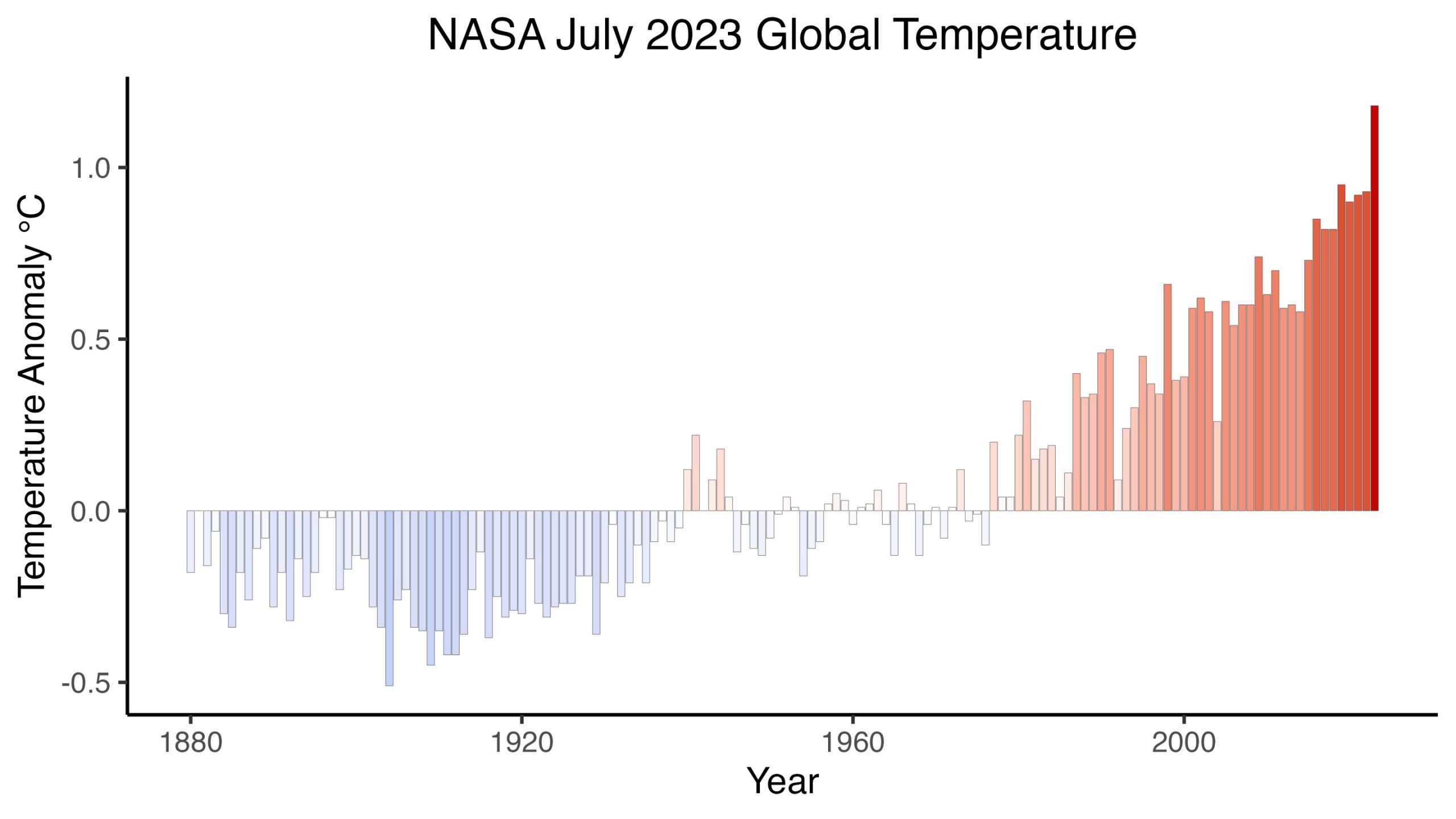 NASA constructs its temperature findings from vast amounts of surface air temperature readings and sea surface data. The collected raw data undergoes rigorous analysis to ensure accuracy, factoring in urban heating effects and global temperature station distributions.
Katherine Calvin, a top scientist and climate advisor at NASA, voiced concerns over escalating impacts of climate change on global ecosystems and communities. NASA remains dedicated to monitoring climate change and its causative factors, such as greenhouse gas emissions, aiming to arm society with crucial insights for future planning.
Additional Factors: The Role of Ocean Temperatures
But there are additional factors that contributed to July 2023 being the warmest month since 1880. July's extraordinary warmth is also linked to heightened sea surface temperatures, particularly in the eastern tropical Pacific. This rise signals the El Niño that commenced in May 2023. While phenomena like El Niño and La Niña influence global temperatures to some extent, their effects are usually minimal during their developmental phase in the Northern Hemisphere summer. However, the most substantial El Niño repercussions are anticipated around February to April 2024.
GISS Director Gavin Schmidt concluded, "July 2023 wasn't merely the warmest July—it set a record since 1880. The unprecedented global warming, predominantly fueled by human-induced greenhouse gas emissions, is indisputably alarming. This uptick in temperatures is the primary catalyst for the perilous heatwaves felt globally."
PLEASE READ: Have something to add? Visit Curiosmos on Facebook. Join the discussion in our mobile Telegram group. Also, follow us on Google News. Interesting in history, mysteries, and more? Visit Ancient Library's Telegram group and become part of an exclusive group.
Share Now