he telescope's sharp vision brings forth new discoveries in this star-forming haven, considered the brightest and largest within the SMC.
Peering deep into the heart of the Small Magellanic Cloud (SMC), NASA's James Webb Space Telescope reveals the vibrant star birth region—NGC 346—in an unparalleled mid-infrared panorama. The telescope's sharp vision brings forth new discoveries in this star-forming haven, considered the brightest and largest within the SMC.
Previously, NASA's Hubble Space Telescope showcased the NGC 346 with a sea of stars visible to the naked eye. But the recent James Webb's rendition has uncovered a myriad of gas and dust streams, punctuated by luminous patches teeming with budding protostars.
A notable prowess of the James Webb Telescope is its capability to furnish detailed insights into the birthing chambers of stars. This new image, captured through Webb's Mid-Infrared Instrument (MIRI), accentuates this prowess, spotlighting NGC 346's vibrant character amidst the SMC backdrop.
The Mystique of the Small Magellanic Cloud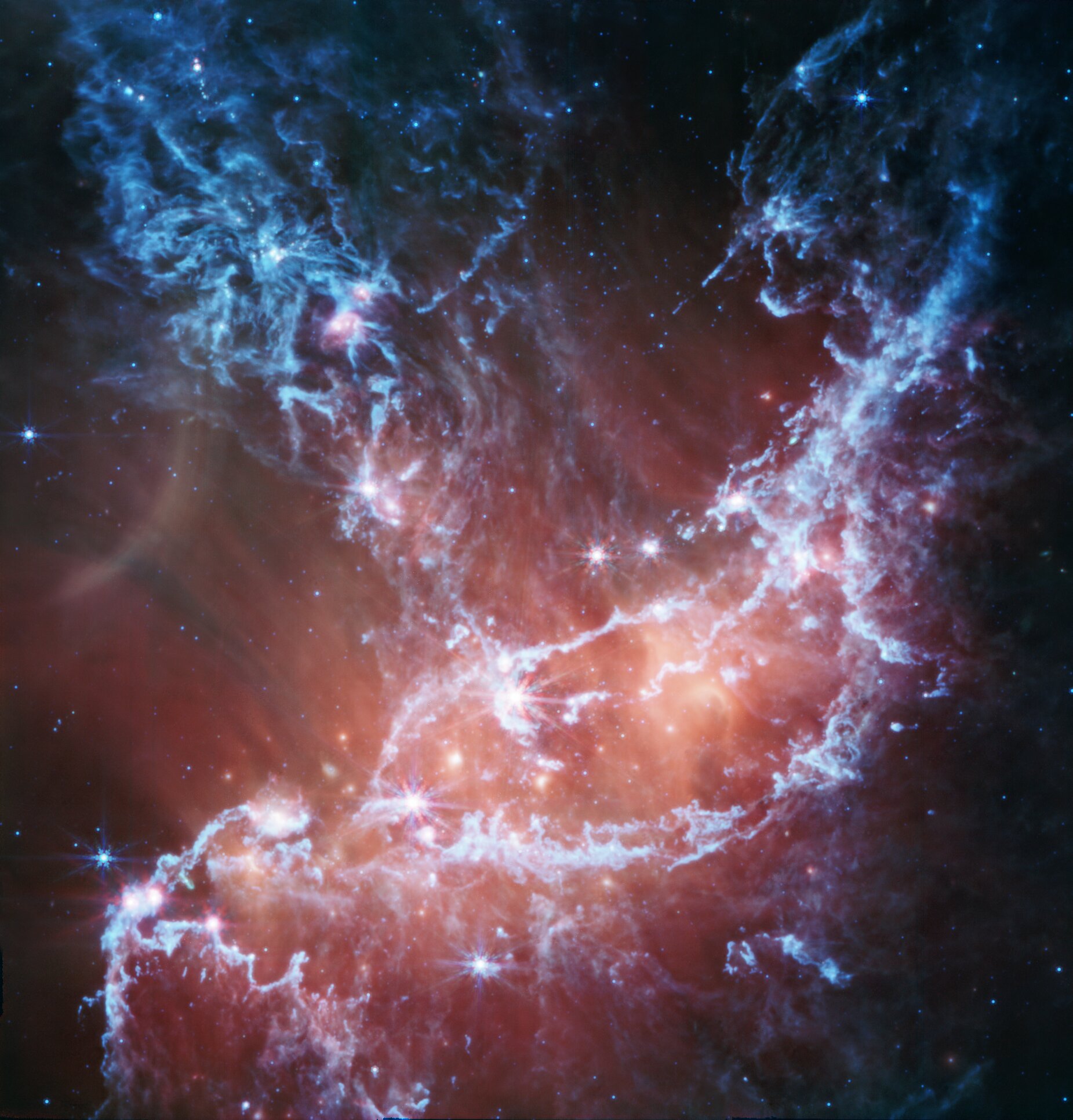 Situated as a satellite to our Milky Way, the SMC, visible within the southern constellation Tucana, paints a more ancient picture compared to its larger counterpart. What's intriguing is its relatively lower abundance of heavy elements, born from the core of stars and cataclysmic supernova events.
Contrary to expectations, owing to the SMC's paucity of heavy elements like silicon and oxygen, recent images—including one released this January—indicate a significant presence of dust, especially within the NGC 346.
Decoding the Colorful Emissions
In the image under the telescope's scrutiny, blue wisps indicate the presence of dusty silicates and complex molecules labeled as polycyclic aromatic hydrocarbons (PAHs). A more dispersed red glow emanates from warm dust, a testament to the massive stars residing in the region's core. Several fascinating arcs of light, possibly reflecting starlight, add to the scene's complexity. Predominantly, these bright patches and tendrils signify areas densely populated by protostars. The diligent team identified over a thousand sources of radiant light, with the majority being nascent stars cocooned in dust.
By fusing data from both near-infrared and mid-infrared scopes, researchers can now craft a comprehensive inventory of the stars and protostars within NGC 346. These findings promise to reshape our grasp of ancient galaxies, reminiscent of a time in the cosmos termed the "cosmic noon," a period marked by heightened star births and reduced heavy element densities akin to the SMC.
PLEASE READ: Have something to add? Visit Curiosmos on Facebook. Join the discussion in our mobile Telegram group. Also, follow us on Google News. Interesting in history, mysteries, and more? Visit Ancient Library's Telegram group and become part of an exclusive group.
Share Now