A series of close-up photographs captured by NASA's Juno spacecraft reveal the stunning colors, swirly cloud tops, and storms raging on Jupiter.
Stunning new images of Jupiter have been captured by NASA's Juno probe revealing the striking beauty of the king of planets.
After its 43rd close flyby on July 5, Juno observed the swirling patterns and intricate colors of the planet's clouds.
Taking advantage of the JunoCam instrument's raw images, software engineer Björn Jónsson processed them. In order to generate an approximate representation of the colors seen by the human eye from Juno's perspective, Jónsson processed one image.
"Approx true color/contrast and greatly exaggerated versions where contrast has been increased, color saturation increased, and small scale details sharpened. Also, special processing to reduce noise and compression artifacts," Jónsson wrote on Twitter.
Using the same data, he then created another with increased saturation and contrast, showing Jupiter in a more colorful and clearer manner.
This instrument was approximately 3,300 miles (5,300 kilometers) above Jupiter's cloud tops at a latitude of 50 degrees when it snapped the image. There was a relative speed of 130,000 mph (209,000 kilometers per hour) between the spacecraft and the planet.
In an effort to illustrate the structure of Jupiter's clouds, Mr. Jónsson, a citizen scientist, described himself as an advanced amateur planetary image processor. By increasing color saturation and contrast, he was able to sharpen small-scale details and reduce compression artifacts. There is a variation of colors in the planet's atmosphere due to its different chemical compositions.
Additionally, Jupiter's swirling vortices and the bright, smaller clouds that form in the atmosphere's higher areas can be seen in the processed images in three dimensions. The Juno spacecraft is an important tool for studying the Jovian system. The spacecraft reached the gas giant on July 4, 2016, after a five-year journey of 1.8 billion miles (2.8 billion kilometers).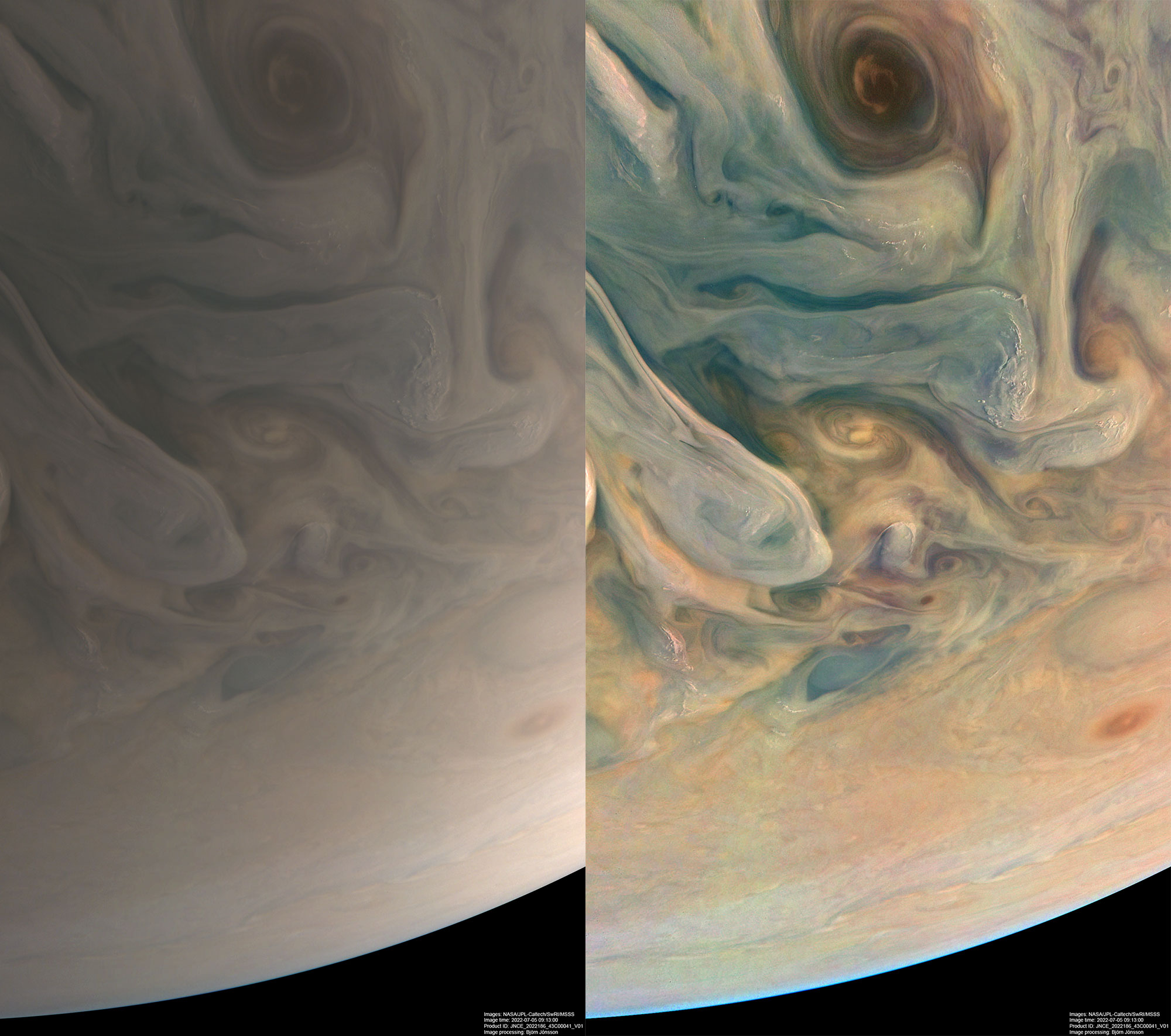 Having completed a successful braking maneuver, it flew within 3,100 miles (5,000 kilometers) of the planet's swirling clouds. The probe skimmed to within just 2,600 miles (4,200 km) of the planet's clouds providing incredibly detailed images of the gas giant, its swirling clouds, storms, and atmosphere.
Two other spacecraft have plunged into Jupiter's atmosphere to their destruction, but no spacecraft has ever orbited so close to it.
It comes just a few days after NASA released images of Jupiter's north and south pole auroras by the James Webb Space Telescope (JWST). During Jupiter's rotation, the magnetic field is bombarded by solar wind particles, causing fluctuations that result in auroras. Auroras are created on Earth by solar winds in a similar way.
Jupiter is the fifth planet from the Sun and the largest planet in our solar system. It is a massive ball of gas mainly made of hydrogen and helium, but also containing heavy elements. According to NASA, Jupiter's familiar stripes and swirls are the results of cold, windy ammonia and water clouds floating in a hydrogen and helium atmosphere.
Jupiter's iconic Great Red Spot is a supermassive storm that is much larger than our planet, and it has been raging tirelessly for hundreds of years. In fact, it's twice as large as all of the other planets combined, and there's enough room inside the Great Red Spot to fit the entire Earth and its Moon.
---
Join the discussion and participate in awesome giveaways in our mobile Telegram group. Join Curiosmos on Telegram Today. t.me/Curiosmos
Share Now