The truth is out there.
According to reports from CNN en Español and ExoNews, the Peruvian Air Force confirmed, for the first time, the sighting of two unidentified flying objects near the international airport of Lima.
The event took place between 1.30AM to 2.12 AM or 2.14AM local Lima time on the 27 of February 2019, around 6.30 UTC and 7.14 UTC (Universal Time).
This verification was made by the Information and Aerospace Interests Directorate of Peru (DINIA).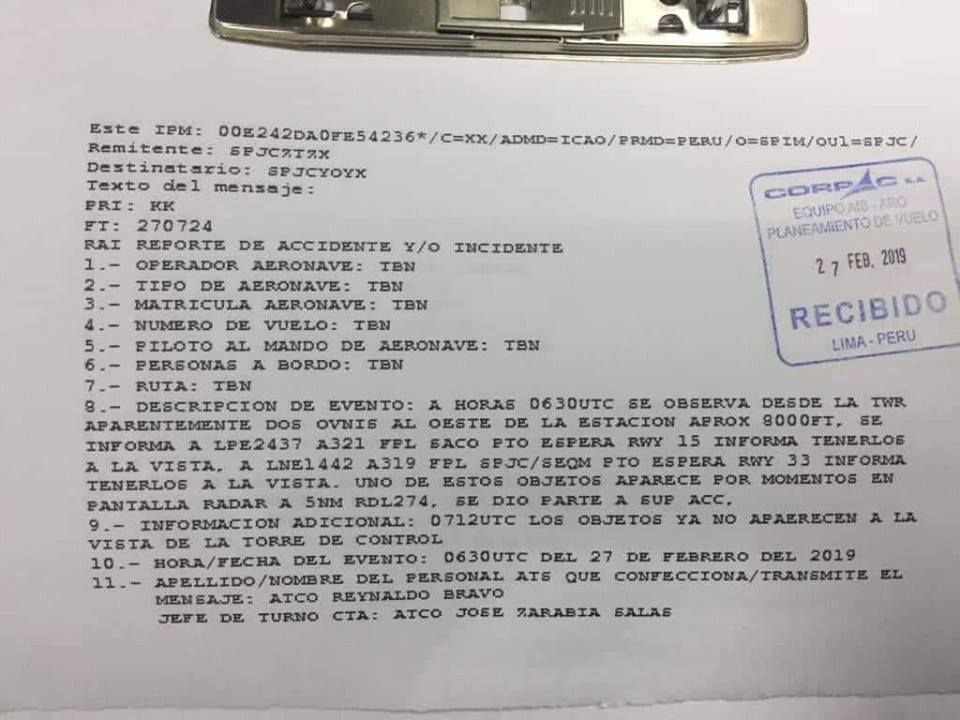 Major General of the Peruvian Air Force, Robert Baxerias Vucanovich referred CNN to the principal investigator of the office in charge of the case, Marco A. Barraza, who shared more details of the incident and confirmed that it is not the only case that is under investigation.
"This verification was made through the Information and Aerospace Interests Directorate of Peru (DINIA) and the major general FAP Robert Baxerias Vucanovich, who noted: 'the occurrence that you refer in fact existed and for this it is necessary to point out that in that opportunity air operations, both civil and military, were never at risk due to location'", CNN wrote.
CNN en Español also had access to the official documents that certify the case.
The report referred to two very luminous unidentified flying objects (UFOs) located 5 nautical miles away from the Jorge Chavez international airport in the city of Lima at an approximate height of 2,400 meters, which caught the attention of the crew of two commercial flights that were preparing to take off.
As the report indicates, the crew of the aircraft LANPERU2437 and LATAM ECUADOR 1442, who were on the taxiways, corroborated the sighting in the communication they had with the control tower.
This incident lasted approximately 40 minutes and was recorded on the radar screen operated by CORPAC, as can be read in the report made available by CNN.
Unlike what's happening in the United States and all the UFO secrecy, Latin American countries have been quite open to studying the phenomenon for years.
UFO Disclosure in the U.S.
The United States has only now recognized that the government has been actively monitoring and studying Unidentified Flying Objects.
It has also been revealed how back in 2014 and 2015, US Navy fighter pilots reported seeing strange objects with 'no visible engine or infrared exhaust plumes' in United States airspace.
The Chilean Navy also happened to record similar encounters.
The Navy pilots that spotted, intercepted and pursued the UFO argue that the objects were seen flying at around 30,000 feet. The UFOs were traveling at 'hypersonic speed' and were seen on a  daily basis by fighter pilots during exercises from 2014 and 2015.
Share Now