The iceberg known as A-76A, which measures 135 kilometers long and 26 kilometers wide is drifting away from Antarctica.
In 2021, a massive piece of ice broke off of the Ronne Ice Shelf. Now, with the help of satellites orbiting the planet, we have a new image of the iceberg. A clearing in the clouds revealed a large, geometric piece of ice floating in the Drake Passage in October 2022. A-76A is the largest remaining piece of what was once the most massive iceberg floating in Earth's oceans. Natural-color images acquired by NASA's Terra satellite's Moderate Resolution Imaging Spectroradiometer (MODIS) on October 31, 2022, confirm the presence of the berg. Also, observe how the shape of the iceberg differs from the sea ice in the Southern Ocean further south. In contrast to sea ice, which is frozen seawater that floats on the surface of the ocean, icebergs are floating pieces of glaciers or ice shelves.
A massive berg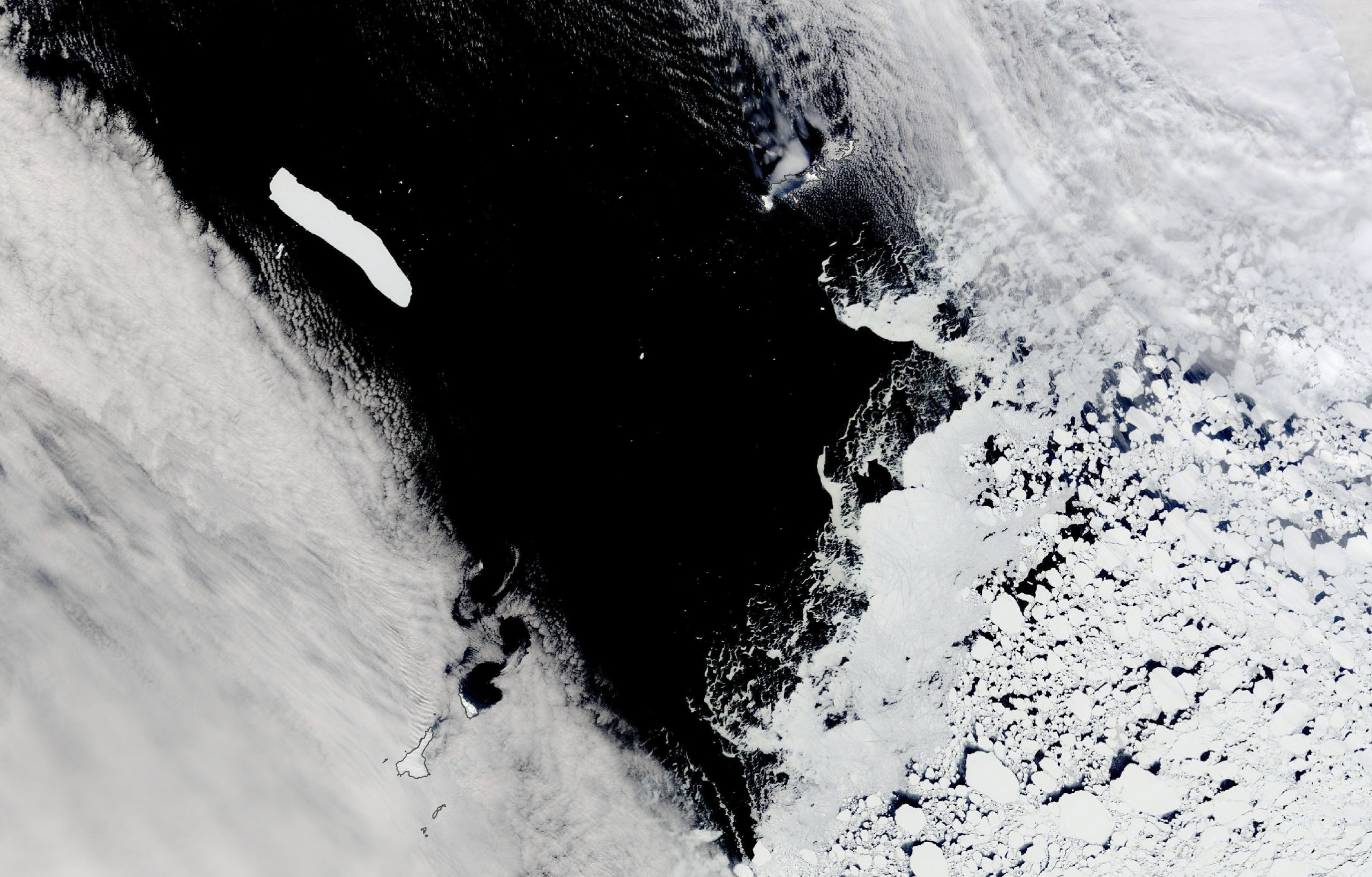 It was formed when the iceberg's parent berg (A-76) broke free of Antarctica's Ronne Ice Shelf in May 2021. There was no iceberg on earth as large as this one at the time. This status was lost within a month when the iceberg split into three named pieces. One of these pieces, Iceberg A-76A, has drifted nearly 2,000 kilometers (1,200 miles) into the Drake Passage. This image shows Elephant Island, which lies between Cape Horn, South America, and the South Shetland Islands, Antarctica. Although the iceberg has traveled a long way, its size remains remarkably unchanged. It measures 135 kilometers long and 26 kilometers wide, which is almost twice as big as London, as reported by the United States National Ice Center (USNIC) in June 2021. As reported by USNIC, the berg maintained its dimensions in October 2022.
Going North
In the future, it will be interesting to see where A-76A drifts. According to the Sentinel-1 satellite operated by the European Space Agency, the berg has already passed the Antarctic Peninsula and is over 500 kilometers north of its position in July 2022. A synthetic aperture radar instrument, carried by Sentinel-1 satellites, can observe surfaces in austral winter's darkness. By drifting north, icebergs are typically pushed east by the Antarctic Circumpolar Current flowing through the Drake Passage. Additionally, when icebergs hit that point, they often whip northward toward the equator, where they melt in warmer waters.
Have something to add? Visit Curiosmos on Facebook. Join the discussion in our mobile Telegram group. 
Share Now