Mars may seem a reddish, dusty, barren world today.
However, in the distant past, scientists have found the red planet was more than just that.
Evidence of massive amounts of surface water are thought to have covered the surface of the red planet.
Now, we have even found conclusive evidence of Mars' watery past.
"Early Mars was a watery world, but as the planet's climate changed this water retreated below the surface to form pools and 'groundwater'," European Space Agency (ESA) researcher Francesco Salese said in a press release.
"We traced this water in our study, as its scale and role is a matter of debate," he continued, "and we found the first geological evidence of a planet-wide groundwater system on Mars."
Thanks to data gathered by the High Resolution Stereo Camera (HRSC) aboard the ESA's Mars Express spacecraft, NASA's High Resolution Imaging Science Experiment (HiRISE), and the Context Camera aboard NASA's Mars Reconnaissance Orbiter, researchers from the European Scape Agency explored two dozen enclosed Martian craters located on the northern hemisphere of the red planet.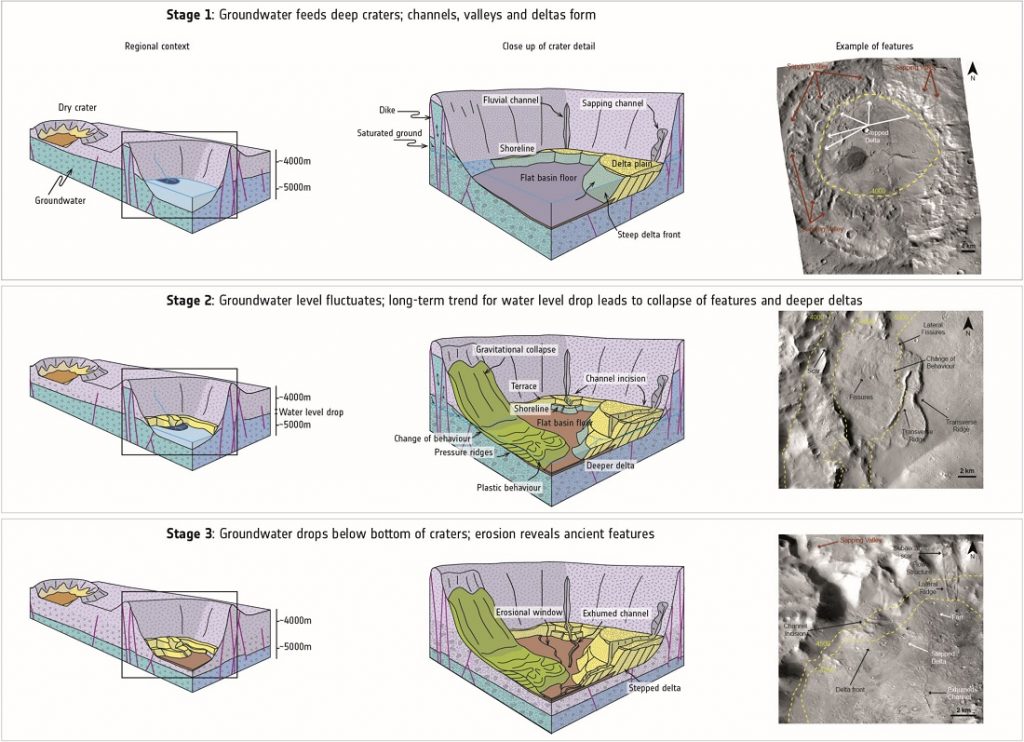 And there, on the very bottom of the Martian craters, scientists discovered evidence that indicates the craters were once home to "pools and flows of water that changed and receded over time."
Researchers were even able to estimate past Martian water levels and found they matched up with the expected shorelines of an alien ocean that may have existed on the surface of Mars around 3 or 4 billion years ago.
This massive ocean is now thought to have been connected to a massive system of subterranean lakes.
"We think that this ocean may have connected to a system of underground lakes that spread across the entire planet," explained co-author Gian Gabriele Ori, director of the Università D'Annunzio's International Research School of Planetary Sciences, Italy.
"These lakes would have existed around 3.5 billion years ago, so may have been contemporaries of a Martian ocean."
This is huge news.
As far as we know, where there is water, there is life.
Knowing that Mars contained both surface and subterranean water in a liquid form means that there aver y high chances that life, as we know, may have developed there.
But researchers from the European Space Agency did not only discover evidence of a massive planet-wide groundwater system, but they also found signs of minerals that past studies have connected with the emergence of life here on Earth.