What do you think - extraterrestrial artificial material or an aluminum piece that broke off when Hayabusa2 was collecting soil samples?
Is it possible, after so many decades of searching, to get a clear sign of the existence of extraterrestrial intelligence or technology in the most unexpected way? This question and the text that follows are influenced by an interesting statement by the Japan Aerospace Exploration Agency about the recent asteroid soil samples brought by the Hayabusa2 mission.
The work on the samples is slow but consistent and 6 days ago scientists found something curious when they opened another sample chamber.
Most of the collected samples by Hayabusa2 resemble small pieces of charcoal, but much stronger and unbreakable. The strangest thing, in this case, is a miniature piece of material captured in an optical microscope image of the collected samples.
One thing is certain about the material – it is artificial. The photo below shows the piece of material whose origin currently remains unconfirmed.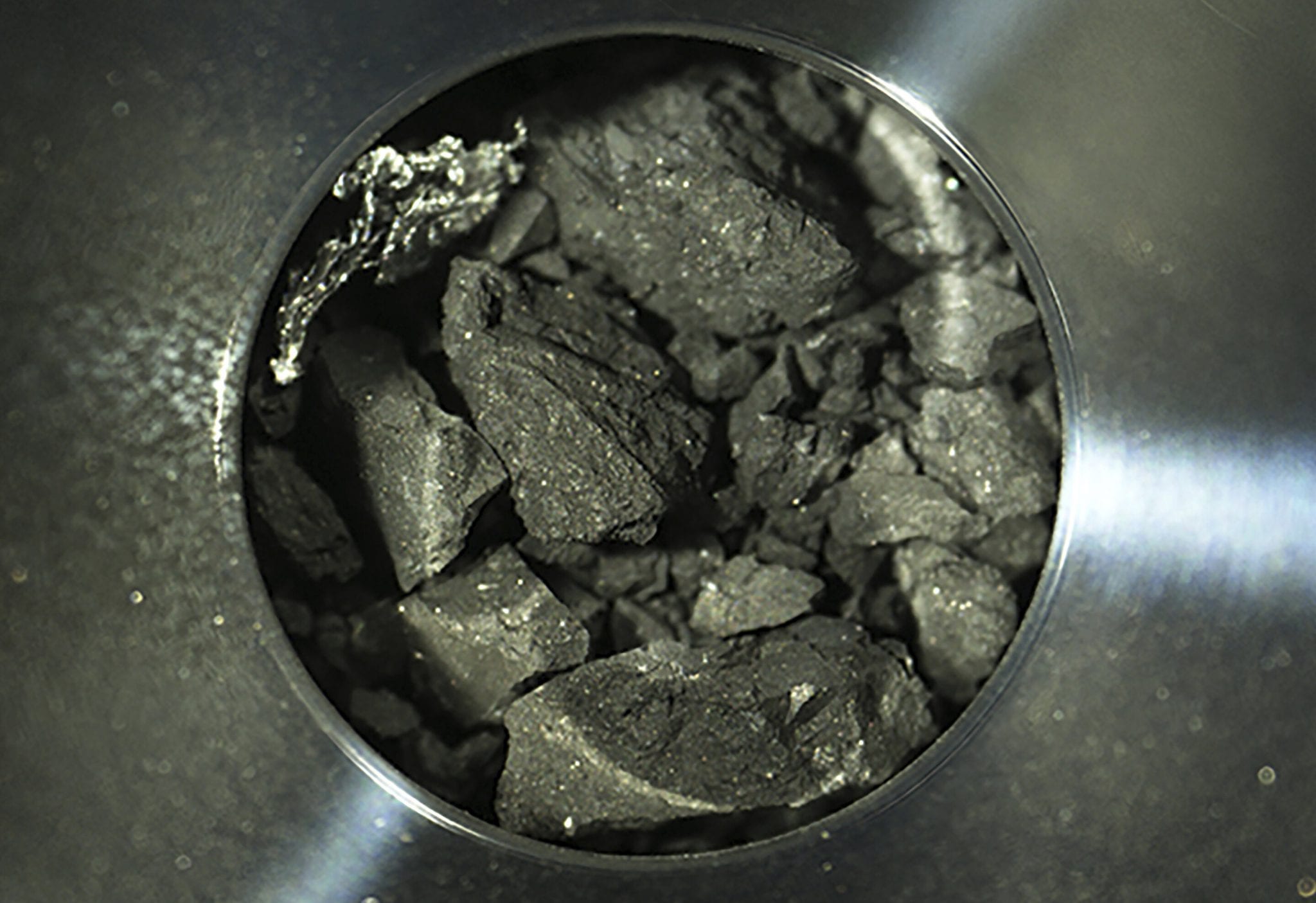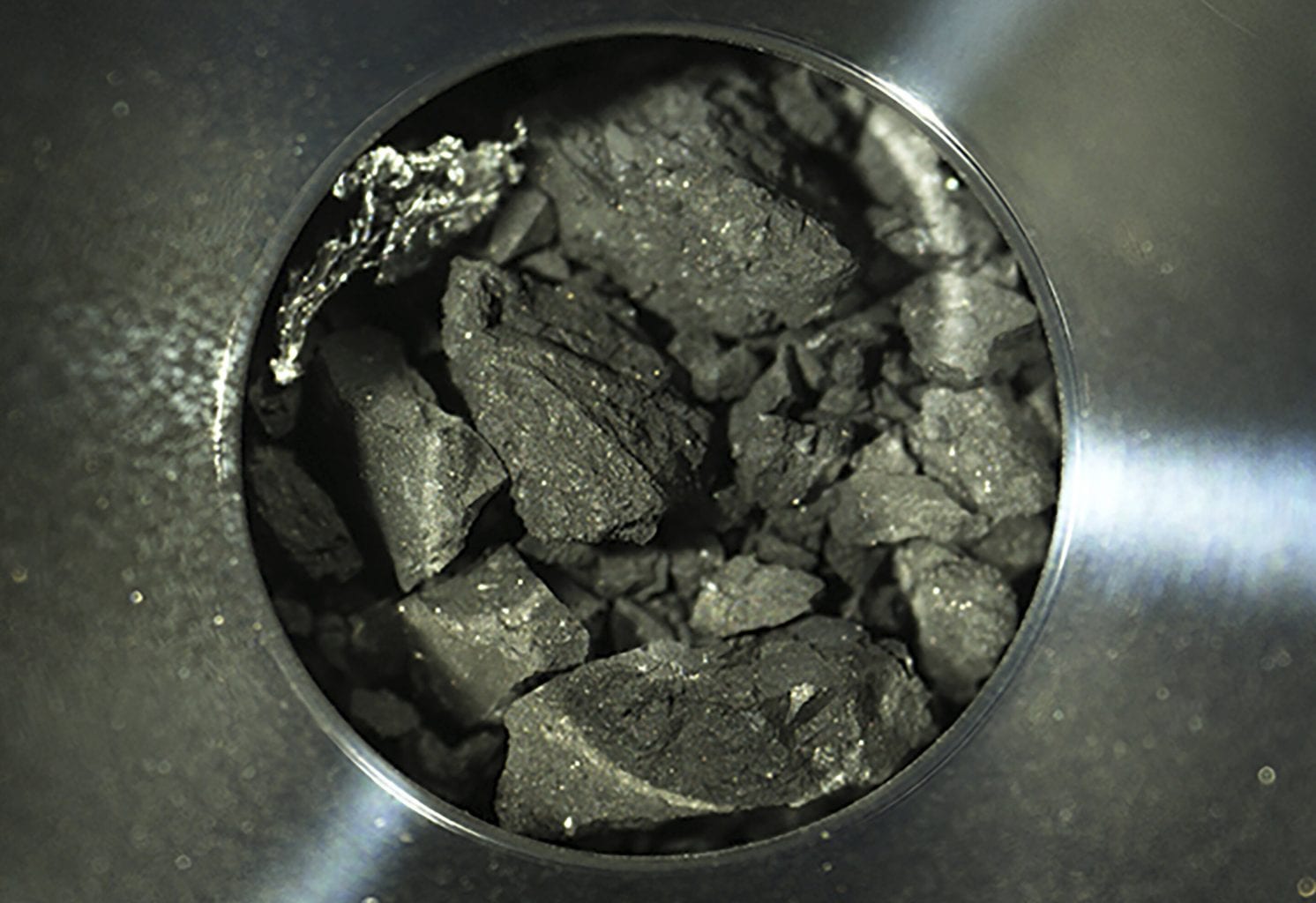 I have to clarify that every single piece you see in the photo is a few millimeters to a centimeter in size, so it's not something as spectacular as it might look in the photo under a microscope.
Even JAXA themselves published a comment on the topic, specifying that at this time it has not been established what exactly we see in the photo. As they say, it is quite possible that this is a piece of aluminum that broke off during the sample collection on the asteroid. However, this may not be the case, right?
Each of us has the right to create and propose our own theories, and we believe that we should not rule out the possibility that this is indeed extraterrestrial artificial material.
In any case, that would be the most incredible example of absolute luck, right? To find something like this after a space mission to collect soil samples from a small asteroid, considering how little is actually collected. What are the chances that Hayabusa2 could collect something similar in one of its only two landings on the asteroid? And more precisely, why would there be alien artificial material right there?
Six days after the photos were published and three days after the comment from JAXA, there is still no explanation of what exactly was found among the samples from Hayabusa2. Of course, progress in such research is very slow and difficult, but when it comes to something so mysterious and unexpected, any delay stimulates more and more theories.
In the end, it is most likely a piece of aluminum that has broken off and found its place among the collected samples. Of course, this should not prevent us from hoping for the exact opposite. We will surely find out the truth very soon.
Meanwhile, after it returned the soil samples from Ryugu to Earth, Hayabusa2 began its journey to two other asteroids and is expected to return in more than 11 years. The expectations for the collected samples from the asteroid Ryugu are to give us new information about how the solar system was formed, as well as many other important data.
As for Hayabusa2's current new mission, the goal is to study asteroids and give us the knowledge to take the next step toward creating defenses against potentially dangerous meteorites on their way to our planet. In each case, the Japan Aerospace Exploration Agency has big plans for the future.
---
Join the discussion and participate in awesome giveaways in our mobile Telegram group. Join Curiosmos on Telegram Today. t.me/Curiosmos
---
Sources:
• Katie Forster, A. (n.d.). Japan Just Revealed The First Image of Ryugu's Asteroid Dust to The World.
• Mailonline, I. (2020, December 24). Space: Charcoal-like chunks of rock taken from the surface of the asteroid Ryugu are revealed.
• Yamaguchi, M. (2020, December 24). Japanese spacecraft's gifts: Asteroid chips like charcoal.
Share Now