Geneticists and gerontologists tested the effect of partial reprogramming on mice - a method in which all the cells of their bodies are "shifted" a little closer to the stem cells. It turned out that such therapy is quite safe and reduces the epigenetic age of individual cells. 
Will anti-aging technologies become a reality?
In 2020, it became known that Jeff Bezos and Yuri Milner invested in Altos Labs, a new startup in the field of life extension. This company has bet on reprogramming technology, which, according to some guesses, can theoretically not only stop aging but also make already aged cells younger – also known as reverse aging tech.
In short, the essence of this method is that it is necessary to start the work of several transcription factors (Yamanaka factors) in cells – and they, in turn, start the repackaging of cellular DNA. As a result, more genes become available for reading, and the cell as a whole becomes younger (that is, in terms of its capabilities and the work of genes, it more closely resembles the cells of a young organism).
In the extreme version, such reprogramming turns any adult cell into an embryonic stem cell, devoid of specialization. But in order to extend life, scientists expect to use the method of partial reprogramming – that is, to start the work of Yamanaka factors for a short time in order to only slightly reduce cell age.
Scientists created genetically modified mice
Several groups of researchers, including the team of Juan Carlos Izpisua Belmonte (Juan Carlos Izpisua Belmonte), a professor at the Salk Institute, have created genetically modified mice.
A regulatory region was inserted into their genome, which began to work in the presence of the drug doxycycline and triggered the expression of Yamanaka factors. Belmonte's group made these mice age at an accelerated rate – and showed that giving them small doses of doxycycline could prolong their lives.
However, this experiment has not yet been replicated with healthy mice. The researchers only studied the effects of reprogramming on specific processes, such as muscle regeneration. So now the Belmonte team (who has since become a member of Altos Labs) decided to test how effective different reprogramming regimens are in a healthy body and which tissues are affected by them.
The authors of the work used the same method as before: they worked with mice, in the cells of which Yamanaka factors began to be expressed in response to doxycycline. The researchers tested three modes of partial reprogramming.
Some mice were given doxycycline regimen 2 after 5 (2 days of medication, then 5 days off) from 12 to 22 months of life, others from 15 to 22, and still others only one month when they were already 25 months old. These regimens mimic different strategies for possible use in humans: starting in middle age, starting in pre-retirement age, or already in old age.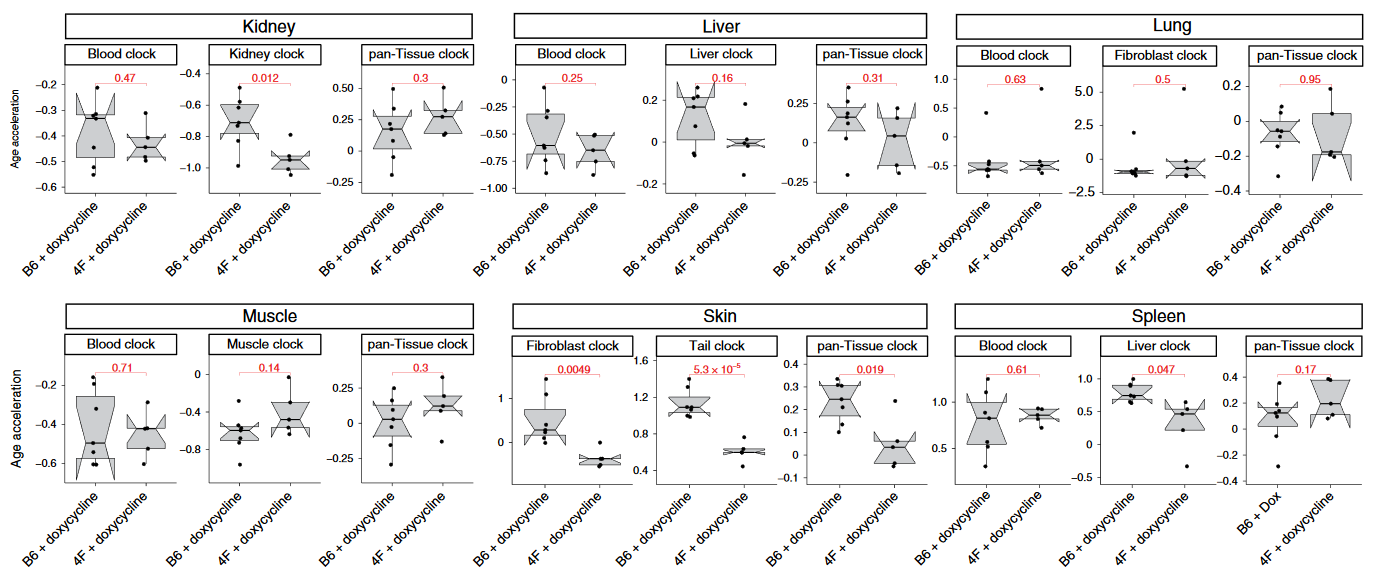 Scientists feared that such therapy could be unsafe: cells that reprogram regularly are at risk of turning into tumor cells. However, no group of mice began to lose weight, nor did they notice neurological abnormalities in them.
Did the reverse aging on mice work?
To find out whether reprogramming affects the aging of individual tissues, scientists used the epigenetic clock, a model that estimates the biological age of cells by a set of epigenetic marks on DNA. They checked the cells of the blood, liver, lung, spleen, skin and muscles – and found that the biological age significantly (p < 0.05) decreases only with long-term therapy (7 months) and then not in all tissues, mainly only in the skin and kidneys.

Scientists have found similar effects at the transcriptome level, that is, gene expression in cells. The impact of long-term therapy was much more noticeable than short-term – the set of working genes became more similar to that in young mice. However, even with a short-term reprogramming of 1 month, the number of genes whose activity distinguished young mice from old ones decreased.
But when the researchers looked at what was happening at the blood level – that is, they measured the concentration of three hundred different substances in the serum – they were once again convinced that reprogramming must be long-term.
In mice that received doxycycline from 12 to 17 months of age, the serum levels of substances did not differ much from the control group, which was not treated with anything. Noticeable differences appeared only by the 22nd month of therapy – only then did the blood of the experimental group of animals become noticeably similar to the blood of young mice.
Thus, long-term therapy turned out to be a more winning strategy than short-term therapy – although the latter, apparently, also does not go unnoticed. Nevertheless, many questions remain about the technology of partial reprogramming. For example, it is not very clear why the skin and kidneys respond better to it than other organs – whether because they are easier to "rejuvenate", or is it just a flaw in the experimental methodology.
Future of anti-aging research
In addition, it is not clear what exactly happens to the aging process in mice. Apparently, they do not stop aging immediately, since, according to some signs, mice after 5 months of therapy are indistinguishable from relatives aging in the usual way. But after that, differences appear – and it is not clear whether this means that aging has stopped or that "rejuvenation" in some form has begun. Finally, it is not known can reprogramming really extend the life of healthy mice. No such data has yet been published.
Nevertheless, partial reprogramming gives good results in the treatment of certain diseases – so far, however, also only in mice.
---
Join the discussion and participate in awesome giveaways in our mobile Telegram group. Join Curiosmos on Telegram Today. t.me/Curiosmos
---
Sources:
• Bowler, J. (n.d.). Cellular 'rejuvenation' experiment in mice reverses signs of aging, scientists say. ScienceAlert.
• Browder, K. C., Reddy, P., Yamamoto, M., Haghani, A., Guillen, I. G., Sahu, S., Wang, C., Luque, Y., Prieto, J., Shi, L., Shojima, K., Hishida, T., Lai, Z., Li, Q., Choudhury, F. K., Wong, W. R., Liang, Y., Sangaraju, D., Sandoval, W., … Izpisua Belmonte, J. C. (2022, March 7). In vivo partial reprogramming alters age-associated molecular changes during physiological aging in mice. Nature News.
• Papadopoulos, L. (2022, March 8). Researchers have safely reversed signs of aging in middle-aged mice. Interesting Engineering.
• Salk Institute for Biological Studies. (2022, March 7). Cellular rejuvenation therapy safely reverses signs of aging in mice.
Share Now