JAXA's Subaru Telescope recently photographed the Hayabusa2 spacecraft in space while on its way back to Earth. It is carrying precious asteroid soil samples believed to be from around the time of the formation of the Solar System.
About a week ago, we discussed the latest news about the impressive six-year mission of the Japan Aerospace Exploration Agency (JAXA) called Hayabusa2. The spacecraft is currently on its way back to Earth with very precious alien samples – soil from an asteroid called Ryugu.
Not only will the this be the greatest success of JAXA if the Hayabusa2 spacecraft returns successfully but it will also give us perhaps the oldest soil samples ever returned on Earth. After all, Asteroid Ryugu was selected for a specific reason.
Experts believe that Ryugu contains unchanged material from the formation of the Solar System more than 4.5 billion years ago. Studying such soil samples could lead to massive discoveries about the history and development of space.
It is curious that Hayabusa2 will not land back on Earth. The soil samples will be sent down in a capsule around December 6 while the spacecraft will begin its journey to two other asteroids. Its mission should continue for more than another decade if everything continues as planned.
Hayabusa2 Caught in Space by JAXA's Subaru Telescope
A curious animation made of consecutive images was released by the National Astronomical Observatory of Japan a few days ago. By using the impressive Subaru Telescope, experts were able to catch the approaching Hayabusa2 "on tape" which is not only fascinating but extremely useful as we now know the exact location of the spacecraft.
Here is the short animation comprised of five separate images of Hayabusa2: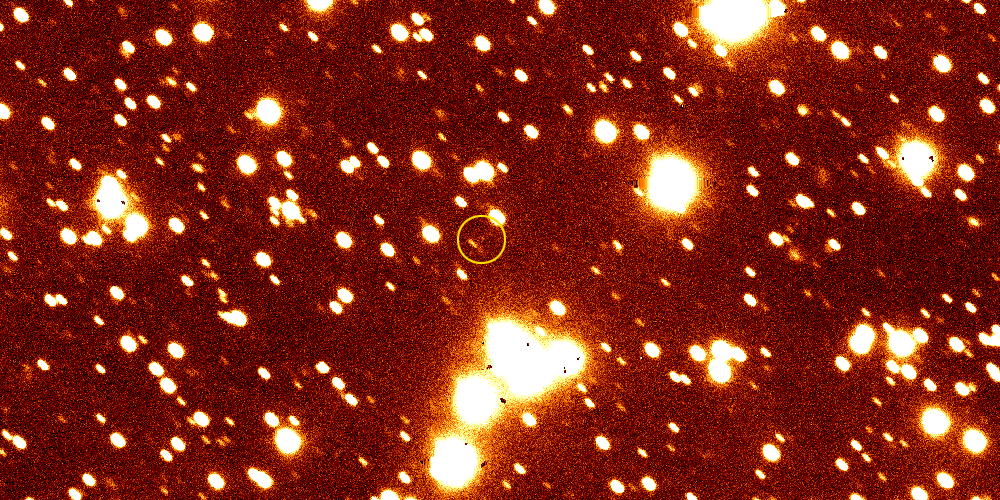 We rarely have a chance to observe such images from space which makes it so fascinating. It is curious that the Subaru Telescope has given us several similar pictures in the past. The observatory has released previous images of asteroid Ryuku which was later visited by Hayabusa2. About a decade ago, the Subaru Telescope also caught the predecessor mission Hayabusa on tape several hours before it landed back on Earth.
Just to mention, the previous mission was also supposed to bring back alien soil samples but unexpected problems with the soil sampler failed the initial collection of material. The amount it brought to Earth was so insignificant that it wasn't enough for even the simplest kinds of tests.
Hayabusa2 should send us a large batch of soil samples that will be sufficient for serious tests. In other words, we should expect new discoveries soon.
As for the Subaru Telescope and all similar technological wonders of our time, we can only wonder how much it can be achieved by using them properly. I am sure that not one or two of you, our readers, would ask the question: "Can we use such telescopes to search for UFOs in space? 
I would like to believe that a UFO would photobomb one of the future images from space but for now, this is highly unlikely. Jokes aside, telescopes of this size and power are constantly used in the search for space anomalies. What are the chances of seeing a UFO if there are such in existence? I would say highly unlikely and I can't imagine how much focus and determination it takes to examine countless hours of footage and photos from space in search of anything abnormal.
Join the discussion and participate in awesome giveaways in our mobile Telegram group. Join Curiosmos on Telegram Today. t.me/Curiosmos
---
Sources:
• Starr, M. (2020, November 23). Spacecraft With Precious Asteroid Cargo Is Almost Home After 5-Billion Km Trek. Retrieved November 24, 2020, from https://www.sciencealert.com/hayabusa2-is-about-to-return-to-earth-bringing-us-a-piece-of-precious-asteroid/amp?fbclid=IwAR3_NTdoNIMXADykYVWqViGBjvmbce_Zj7Dsox5fucufwwQB8Aw2Enh9VRs
• The Subaru Telescope Hails Return of Hayabusa2. (n.d.). Retrieved December 02, 2020, from https://www.nao.ac.jp/en/news/topics/2020/20201126-subaru.html?fbclid=IwAR3amgtbaxzI7-ppUydaxi2LvIyHP3zE2_ACSZyt203QGjhNTeQyryAiFsI
• The Subaru Telescope Hails Return of Hayabusa2: Topics & Announcements. (n.d.). Retrieved December 02, 2020, from https://subarutelescope.org/en/news/topics/2020/11/25/2914.html
Share Now