The mystery continues! More monoliths appear around the world but this time, the one in Colombia is golden. Why is this one different?
Another day, another mysterious monolith! Or to be exact – three at completely different locations across the world.
Several hours ago it was reported that a brand new monolith has been spotted in the municipality of Chia,  department of Cundinamarca, or more broadly said – Colombia.
Why are we discussing this one instead of the new one in the Netherlands or the third one that appeared in England? Because, unlike the previous metal monoliths, this one is golden.
I assume you already can imagine how this sudden change of appearance affected the tireless theorists. People instantly started to wonder why this monolith is golden and not silver or metallic like the ones everywhere else.
One of the main questions in the past three weeks has been whether the monoliths are connected in some way. To me, each one that appeared after the original one in the Utah Desert has been made for attention. I see it as something people do for fun now.
Observemos el #MonolitoenColombia, antes que lo grafiteen o se llene de conspiranoicos… pic.twitter.com/MNDQ0Wo6m9

— james guapacho (@guapacho) December 5, 2020
This is how I explain the golden color of this new one in Colombia to myself. Of course, people worldwide immediately began to question this and some suggested that this might be "the monolith that controls them all", something like a paraphrase of the famous lines from the legendary Lord of the Rings movies.
Many believe that even if all previous monoliths were not placed by aliens, this golden one must have been created by extraterrestrials.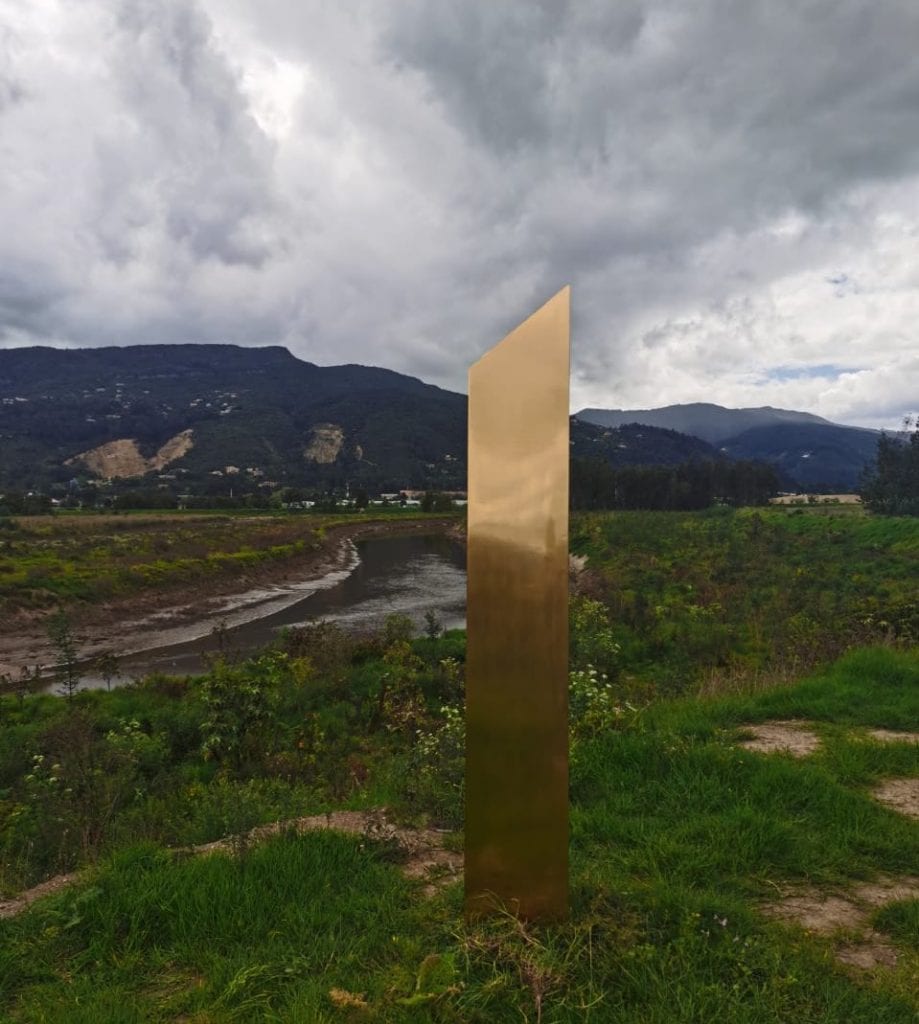 It is curious that an art collective from the US called 'The Most Famous Artist' has claimed to be behind the creation of the monoliths or at least behind at least several of them.
American artist Matty Mo, founder of the community, was interviewed during the weekend when he announced that they were supposedly behind the monoliths.
There are rumors that the art collective is currently selling no less than three monoliths priced at USD 45,000 (GBP 33,413). To me, it sounds a bit high for something like this. Honestly, if you have the machinery and the right tools, anyone can figure it out and make it themselves.
Of course, as this mystery continues, it is normal for people to take advantage and produce identical monoliths and sell them. Whether or not this community is truly behind the original monolith, I do see people taking it a step further.
Mr. Mo also said that this "mystery" is now beyond them and they have no control.
"The monolith is out of my control at this point. Godspeed to all the aliens working hard around the globe to propagate the myth."
How do you think this will end? Will this be an endless mystery that continues for months? There are many places around the world that have not had their own metal monolith. Where will the next one appear?
Join the discussion and participate in awesome giveaways in our mobile Telegram group. Join Curiosmos on Telegram Today. t.me/Curiosmos
---
Sources:
• Mailonline, A. (2020, December 07). 'One monolith to rule them all': Golden tower appears in Colombia. Retrieved December 07, 2020, from https://www.dailymail.co.uk/news/article-9026019/One-monolith-rule-Golden-tower-appears-Colombia.html?ito=social-facebook
• Newsflash), (. (2020, December 07). Latest mystery monolith is gold and could be structure 'that controls them all'. Retrieved December 07, 2020, from https://www.dailystar.co.uk/news/weird-news/latest-mysterious-monolith-gold-could-23128693
• Westbrock, P., Mailonline, A., & *, N. (2020, December 07). 'One monolith to rule them all': Golden tower appears in Colombia. Retrieved December 07, 2020, from https://newswep.com/one-monolith-to-rule-them-all-golden-tower-appears-in-colombia-5060/
Share Now