More than 525 meters (1,722 ft) deep and considered the 4th in the world.
Siberia has a lot of amazing things to offer. It has stunning landscapes, an ample history, and massive holes.
Located some 1,000 miles inland for the Pacific Ocean, and 1,500 miles from Moscow sits the city of Mirny in the Sakha Republic in Russia.
The settlement was established in 1955 by the Soviet Government, and after three years, it gained the official town status in 1959.
The city was established because of what eventually became an open-pit diamond mine.
The mine is more than 525 meters (1,722 ft) deep and is considered the 4th in the world. It has a diameter of 1,200 m (3,900 ft) and is one of the most massive excavated holes in the world.
But not only is the Mir Mine famous for its diamonds, but some claims suggest winds around the mine are so strong, they can suck unsuspecting helicopters into its 500-meter swirl.
Its development began in 1957, only two years after its diamond-bearing deposits were discovered by Soviet geologists Yuri Khabardin, Ekaterina Elagina, and Viktor Avdeenko during the large Amakinsky Expedition in Yakut ASSR.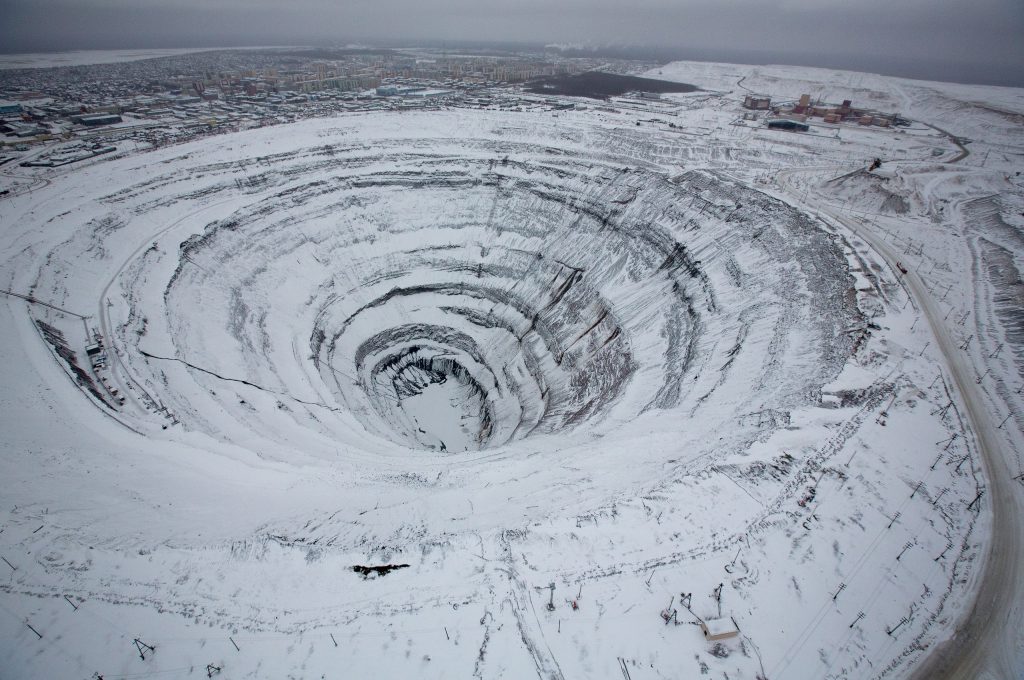 By 1960, the mine was producing 10,000,000 carats (2,000 kg; 4,400 lb) of diamond per year, of which a relatively high fraction (20%) were of gem quality.
It is estimated that during its operational time, the Mir yielded around 2 million carats of diamonds on an annual basis.
Despite the fact that open-pit mining was halted in 2001 since 2009, the Mir Mine is used as an underground diamond mine.
The Mir mine was the first developed and the largest diamond mine in the Soviet Union.
But keeping the mine running was a massive challenge.
That's because the area of Siberia is one of the most inhospitable regions in the world.
The Siberian winter lasts for seven months.
This is an issue that meant that for seven months of the year, the mine operators had to solve temperature related issues and deal with extreme temperatures that would cause the rubber tires of the vehicles to break.
Furthermore, if the above wasn't enough of a problem, the oil that was needed to fuel the equipment used in the mine would freeze, and even the steel used to build the riggings would snap due to the temperature.
When summer came, problems continued.
That's because, in the summer months, the land was covered in a sheet of permafrost.
The Siberian permafrost would become mud as the temperature rose, throwing the entire mining operation into a land of sludge.
Despite this, the mine somehow survived.
Share Now