Our Solar System officially has a new family member, and its a tiny moon orbiting Neptune.
The newly found moon orbits Neptune, and it is the gas giant smallest satellite discovered to date: it's about 20 miles across.
Astronomers have called it Hippocamp.
The moon was discovered by astronomers led by Mark Showalter of the SETI Institute who found the moon hiding in data gathered by the Hubble Space Telescope. The moon was identified for the first time in 2013, but only now has it been given its name.
To confirm the existence of the moon, astronomers used Hubble data combined with an innovative new method to track dim and small objects in space.
Since the newly found moon is so small, there is much astronomers don't know about it. Despite this fact, there's a lot we do know.
According to scientists, the moon orbits around Neptune close to one of the gas giants larger moons, Proteus, which is up to 4,000 times the size of Hippocamp.
Combined with the moon's size, astronomers believe that Hippocamp may be a fragment of the larger moon.
According to one scientific theory explaining the origin of the moon, scientists say that some 4 billion years ago, Proteus was impacted by a large asteroid, which left being a crater that covers most of its surface.
That massive impact crater is dubbed Pharos, and it stretches at least 230 kilometers (143 miles) across its surface.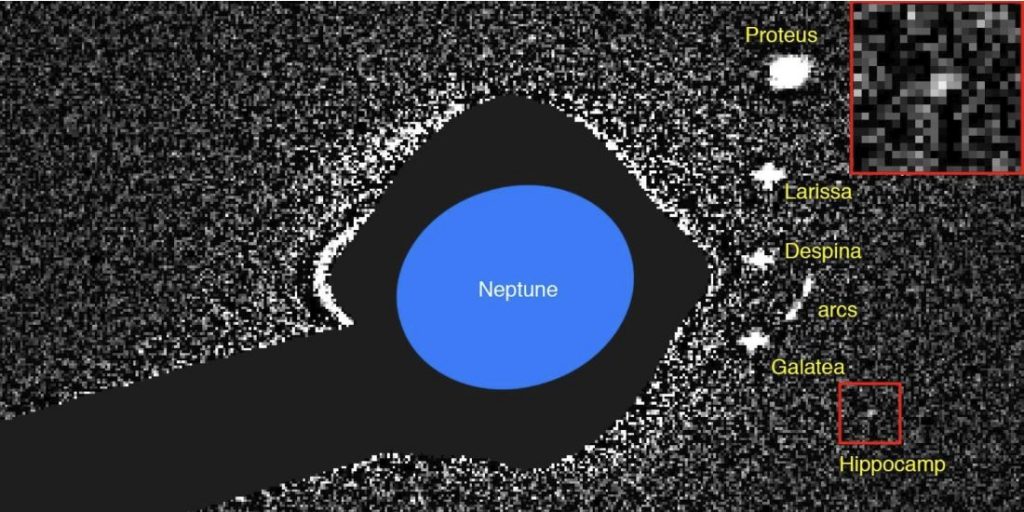 If the newly-named moon is the product of that impact, it means its only a small piece of the entire wreckage, about 2% of the total mass excavated from Proteus during the shattering collision.
"The discovery of tiny Hippocamp contributes to our understanding of the history of Neptune's inner system," the researchers wrote in the study.
"Proteus and Hippocamp were even closer in the past because Proteus is migrating outwards owing to tidal interactions with Neptune."
"It is, therefore, worth exploring the possible connection between these moons," they added.
As by Nature, "whether Hippocamp formed in place from the material that did not originate from Proteus or was born of Proteus remains to be determined."
It has been reported that Hhppocamp, which is now officially smallest known inner moon of Neptune, orbits just 12,000 km inside the orbit of Proteus, the planet's largest inner moon.
However, scientists explain that both moons migrate outwards because of gravitational interactions with Neptune, but smaller Hippocamp moves much more slowly than Proteus.